Christmas Scent in a Jar contains affiliate links. I earn from qualifying purchases.
The countdown to Christmas continues! It's the time of the year when I always think back to my childhood. Mom always made sure Christmas time was purely magical.
I remember my family hiking out into the wooded part of our farm to pick out the Christmas tree.
My siblings and I would leaf through the big Sears Wish Book until the pages were worn. One of my fondest memories is what I refer to as the Christmas Scent.
The smell of the tree mingled with the smells of Christmas cookies always takes me back home. I've captured some of the smells of Christmas in a DIY gift in a jar. Keep reading to get a free printable direction tag and the recipe.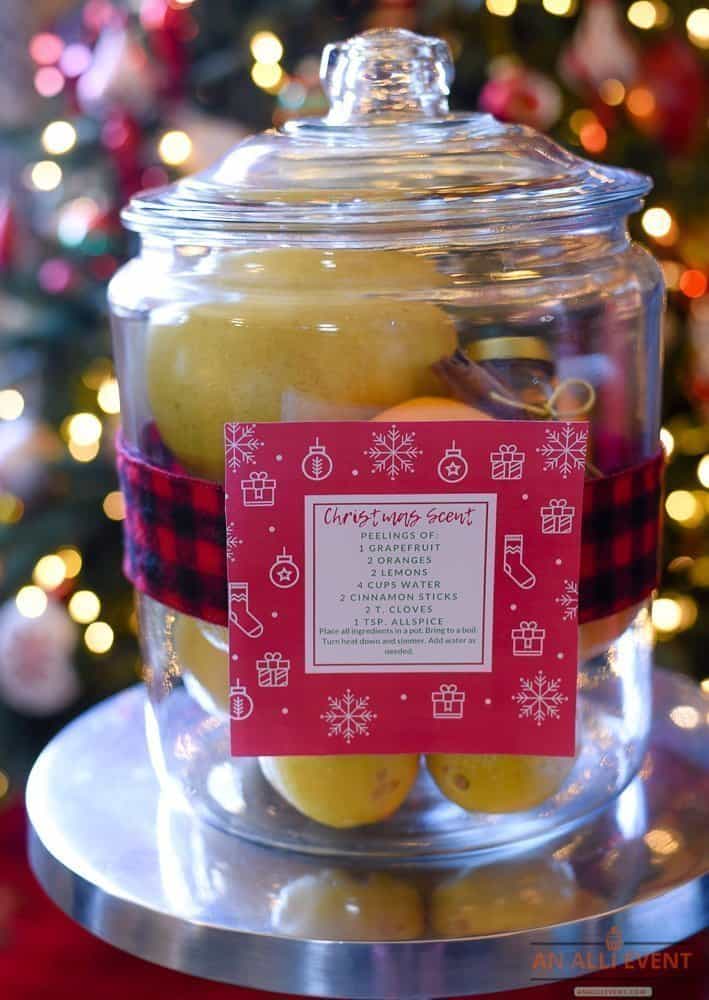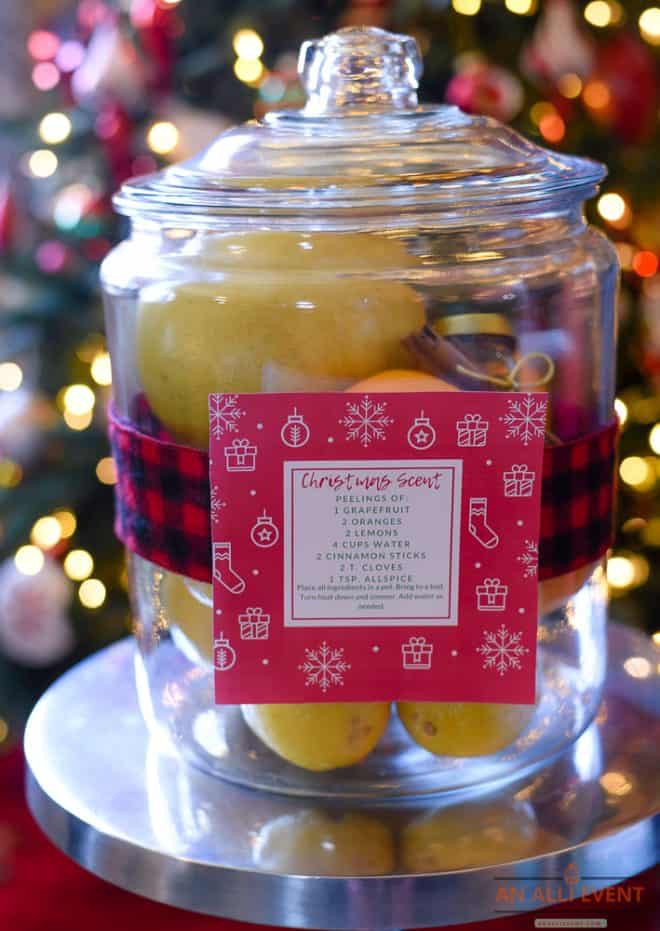 I love to give this as a gift but I also like to simmer my own during the holiday season. It smells so good and it's an all-natural way for your house to smell like Christmas.
Ingredients You'll Need For Christmas Scent In A Jar
grapefruit (You can use the peelings from the fruit or you can slice the fruit and use it all)
oranges
lemons
water
cinnamon sticks
cloves
allspice
You can also add fresh rosemary springs and whole cranberries, but it's completely optional.
The full recipe card is at the end of this post!
I like to simmer this Christmas scent on low on the stovetop during the day when I'm wrapping presents or cleaning the house. Make sure you watch the water level and add water as needed.
You Can Also Simmer This Christmas Scent In A Slow Cooker
You could also put the ingredients in a small slow cooker and heat on low. Check every 4 hours and add water when needed.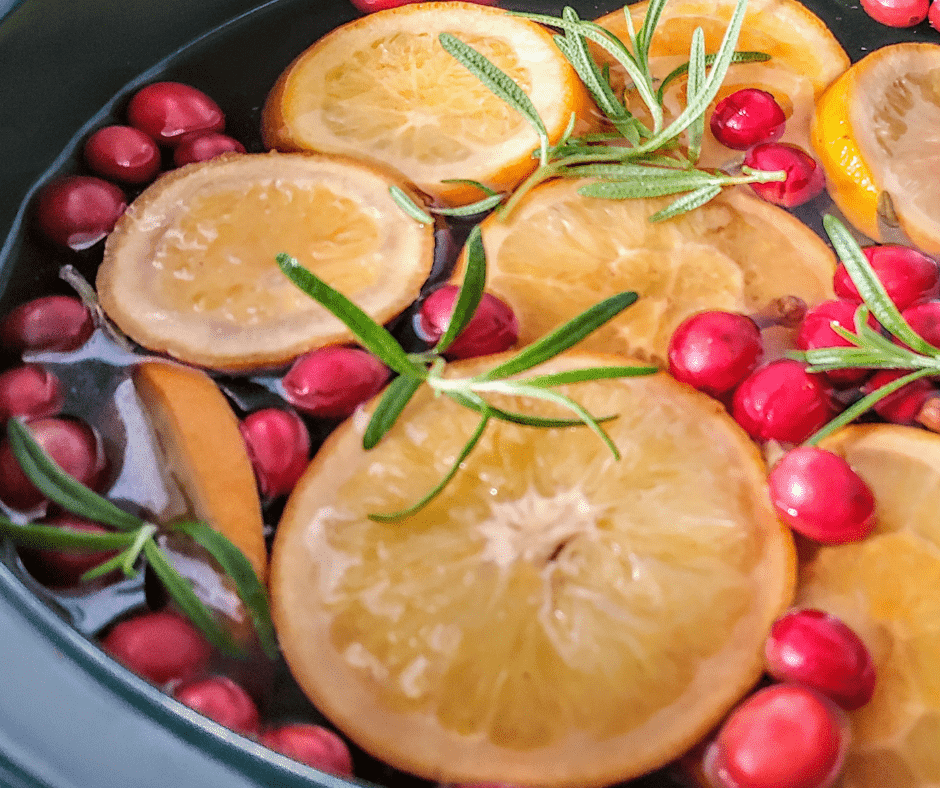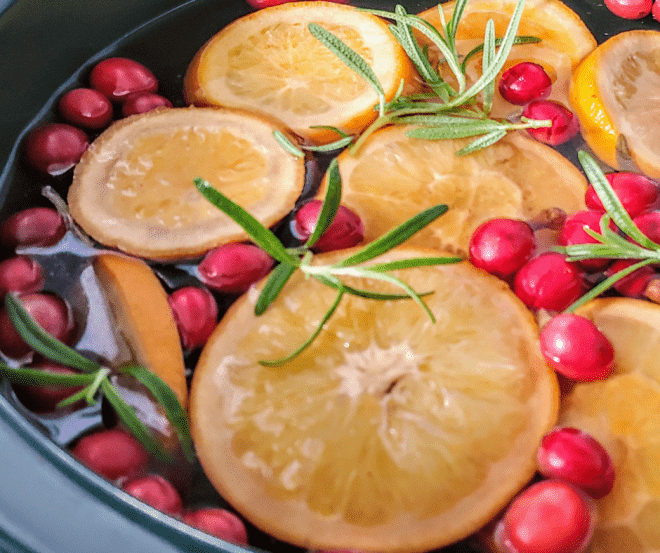 How To Store Crockpot Potpourri Christmas Scent
If you're using your slow cooker, this potpourri keeps in the slow cooker for up to three days. Cover with the lid when not in use and add water as needed.
If you're simmering on the stovetop, remove the pot from the stove and cover when not in use. Add water as needed.
I Love This All-Natural Scent
Plugins and most candles cause my husband's eyes to water and before long he's grabbing a tissue to blow his nose. That's another reason to make my house smell like Christmas without resorting to plugins.
Christmas Scent in a Jar
Christmas Scent in a Jar is actually three gifts in one. I include enough fruit to make the scent (plus you get to eat the fruit) and the jar is a gift as well.
If you don't have a glass jar, you can order one here.
This is the easiest gift to put together. Place all the ingredients in a large glass jar. I use a smaller jar for the spices. Or you could use a small ziplock bag for the spices.
The grapefruits I purchased are huge! I bought three, but couldn't fit them all in the jar.
Print out the tag with the directions (after the recipe below), add some ribbon around the center of the jar, and glue the tag to the ribbon. You're done!
Yield: One Batch
Christmas Scent In A Jar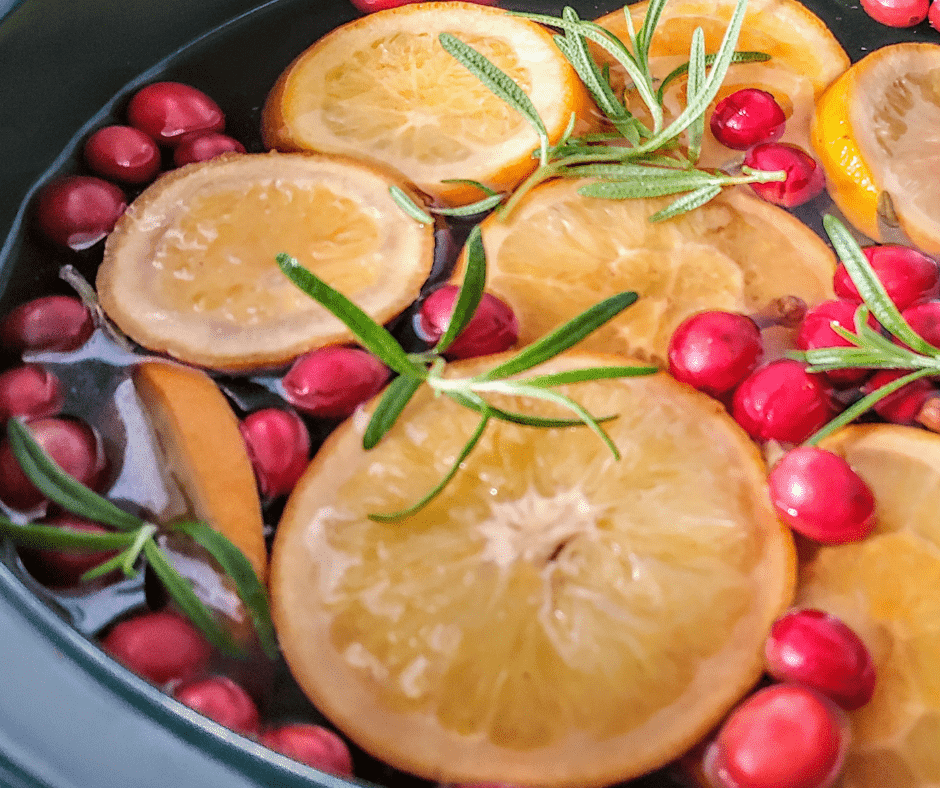 I love to simmer this Christmas scent during the holidays. It makes the house smell so good.
Ingredients
Peelings Of:
1 grapefruit
2 oranges
2 lemons
4 cups of water
2 cinnamon sticks
2 Tablespoons cloves
1 tsp. allspice
Instructions
Place all ingredients in a pot. Bring to a boil. Turn down the heat and simmer. Keep an eye on the simmering Christmas scent and add more water as needed.
Notes
You can also use a slow cooker to simmer this potpourri. Simmer on low. Check every few hours and add water as needed.
I use the peelings of the fruit for this potpourri. You can also use sliced fruit if desired.
Print The Free Printable Gift Tag Below
You can grab my FREE printable gift tag by clicking here >>> Christmas-Scent
Check Out These Popular Holiday Recipes!