It's no secret that I love to decorate and I was thrilled and very flattered when a non-relative teen walked into my house for the first time and said, "Oh my gosh, this looks like it could be in a magazine."  She's now my favorite person in the entire world!  (But what do teens know?)
Decorating is not that hard once you get the hang of it.  And to help you out, I've listed my top 10 tips to make your living room pop (and the word pop made me think of a song so I'm singing my lip gloss be poppin' in my mind, because I have a song for that!)

1.  Stick with neutral colors on high end pieces (sofa, rug, etc.).  
Neutral does not mean boring!   Bring in patterns with your rug.  It will ground your space.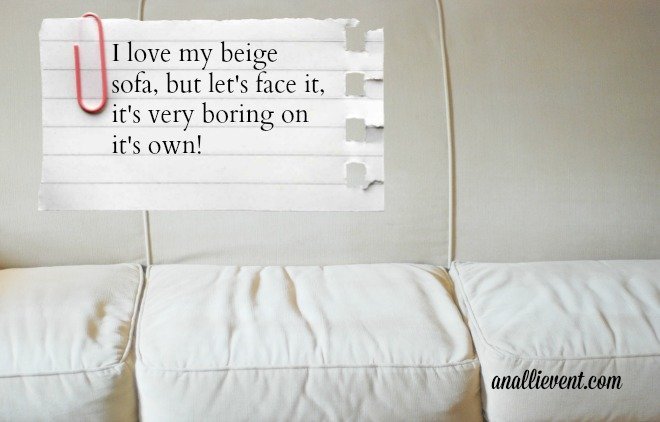 2.  Add pops of color with accent pieces like pillows, etc.  
When most of your color comes from accent pieces, it's easier to change things up with the seasons or when you get bored.
I normally use the rule of three – have at least three pops of the same color family.  But I always remember that rules are sometimes meant to be broken when it comes to decorating.
One way to bring in color is to introduce it on your walls. It's a heck of a lot cheaper to repaint walls than to buy a new sofa.
Helpful Hint:  As you know, new throw pillows can be expensive!  I buy pillow covers instead.  I have found them on Amazon for as little as $9.00!  And they have some really cute ones that have a zipper so that you can insert your own pillow.  You can click on my Amazon ad to the right of this post and I'll get a tiny little commission if you order from my site.
3.  Shop with style and function in mind.
Choose a lamp that is beautiful when switched on or off.  And who says you have to use an actual coffee table?  I love my garden stools!  I use them as a place to park my coffee, books, magazines, etc. and they also work for extra seating.  And you can use them indoors and outside.  


4.  Choose furniture that is timeless.
I don't know about you, but my style has changed several times over the years. My sofas are timeless and will look good for years to come.

5.  Leave the matchy matchy sets on the storeroom floor. 
When every piece of furniture has the same texture, color, look, etc., it screams boring!

6.  Measure your space before buying large pieces.
I hear time and time again how someone fell in love with a sofa because it looked so great in the showroom, but when they brought it home it was much too large for their space.  (You need to read this, daughter #1)
That's why I keep a measuring tape in my purse.  Measure your space and you also need to measure the pieces in the show room or pay attention to the measurements if ordering online. Furniture looks much smaller in the large showroom than it will in your living space.
Helpful Hint:  Use painter's tape and tape off the area where your new piece of furniture will go.  Measure it and you're all set!

7. Repurpose  
Think outside the "end table" box. Use a tea cart or a garden stool.  It usually takes me a while to find the perfect end table, so sometimes I've even used TV trays for a while.  End tables and night stands don't have to match!  (See #5)
Make sure you use some circular pieces to break up all the squares and rectangles.
Helpful Hint:  My favorite rooms are those that look like they have been put together over time.  Everything goes together, but it doesn't all match.  

8. If using a mirror as wall art, make sure it's positioned to bring in light and to reflect something beautiful. You can find my tips for hanging artwork here!


9.  Can't seem to get inspired?  
Grab inspiration from a painting, a magazine or the paint store. My entire living room was designed around my wool rug that was a steal!  I broke my own rule and purchased a rug that was neutral, but with a pop of red.  Red is my favorite color and goes with so many other colors, and I couldn't resist the price!

10.  Above all, own your space.
Make sure it's a reflection of you.  Go check out your closet.  Yes, your closet.  The colors that you tend to wear will work perfectly in your home! Buy a copy of HGTV magazine and browse through it.  Mark all the pages that speak to you and before long you will come up with the perfect color scheme for your living room!
Got any great decorating tips you'd like to share?