I've loved sweet potatoes ever since I was a little girl. I like them baked and filled with butter and cinnamon. I adore them casseroled (made-up word alert!) and topped with a flour, butter and pecan mixture. Sweet potato fries dipped in spicy ketchup are amazing. I love sweet potatoes so much that I couldn't resist sharing 25 Fantastic Sweet Potato Recipes with you today – just in time for the holidays.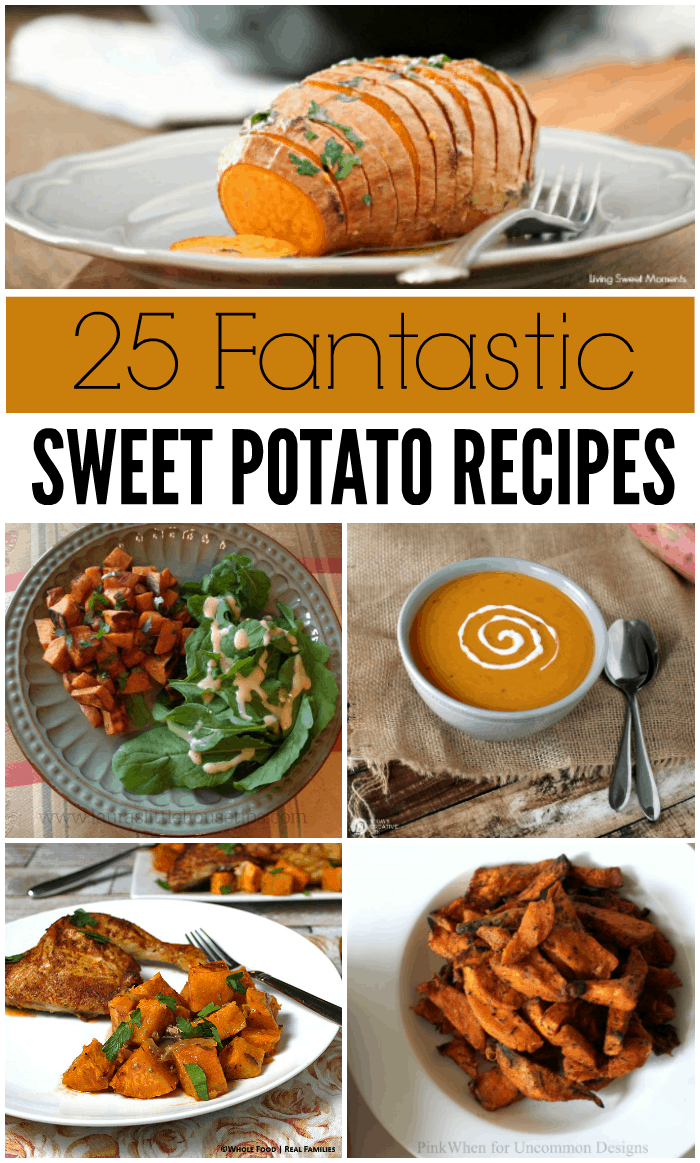 My Thanksgiving menu always has sweet potatoes in some form, usually a southern sweet potato casserole. In case you haven't printed my FREE Thanksgiving Day Planner Packet, you can do it here: thanksgiving-planner
Last Thanksgiving, I created  Sweet Potato Pancakes for Aunt Jamima. They loved them so much that they purchased the recipe. Blush. Blush.
Sweet Potato Dumplings are delicious and so easy to make and who can resist a sweet potato pie with pecan topping?
Wait . . . there's more . . . even Paleo Pancakes! Enjoy!
25 Fantastic Sweet Potato Recipes
1. Popcorn Sweet Potato With Homemade Barbeque Sauce [Recipe This]
2. Candied Sweet Potatoes [The Gracious Wife]
3. Candied Sweet Potato Casserole Recipe [Living On A Dime]
4. Meatloaf Cake With Sweet Potato "Frosting" Recipe [Spaceships And Laser Beams]
5. Sweet Potato Pie Bars [Baking Beauty]
6. Hearty Vegetarian Sweet Potato Chili And Healthy Living [The TipToe Fairy]
7. Sweet Potato Casserole, Southern Style [Between Naps On The Porch]
8. Paleo Pancake Recipe [Confessions Of An Overworked Mom]
9. Sweet Potato Kale And Shrimp Skillet [The Frugal Navy Wife]
10. Tasty Sweet Slow Cooker Sweet Potato Casserole [Family Friendly Frugality]
11. Ginger Chili Lime Roasted Sweet Potatoes Recipe [Laura's Little House Tips]
12. Back To School Sweet Potato Chili [April Go Lightly]
13. Quick And Easy Sweet Potato Chickpea Burgers [Real Momma]
14. Grilled Sweet Potato Fries [Uncommon Designs]
15. Horseradish Mashed Sweet Potatoes [CopyKat]
16. Warm Spiced Roast Chicken Over Sweet Potatoes [Whole Food Real Families]
17. Slow Cooker Spicy Sweet Potato Soup [Today's Creative Life]
18. Hasselback Sweet Potatoes [Living Sweet Moments]
19. Maple Sweet Potato Home Fries Recipe [Just 2 Sisters]
21. Crock-Pot Sweet Potatoes With A Hint Of Orange [Crock-Pot Ladies]
22. Loaded Sweet Potatoe Skins [My Oraganized Chaos]
23. Sweet Potato Pepperoni Hash [Mom Foodie]
24. Balsamic Maple Roasted Sweet Potatoes & Green Beans [The Complete Savorist]
25. Rosemary Mashed Sweet Potatoes [See Mom Click]