After a few months of almost pulling my hair out, my blog is finally verified for rich pins. Praise the Lord and pass the ammunition! I have a song for everything!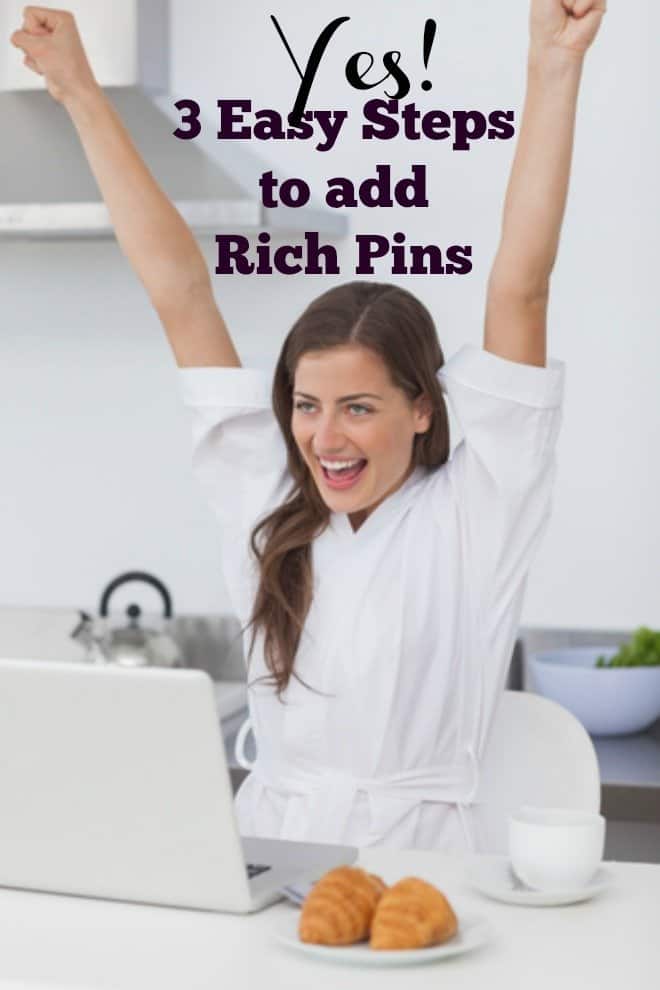 What are rich pins? They are pins that include extra information, along with your site, right on the pin.
For instance, if you pin a recipe from your sight and someone clicks the pin, the ingredients are listed right there on the pin!
There are 5 types of rich pins: movie, recipe, article, product, and place. You can read more about rich pins here.
Here's an example of my rich pins:
Why did it take me so long to get rich pins? When I tried to follow the instructions from Pinterest, I almost gave up. First of all, there was that nasty "C" word – coding! I'm a girl who happens to love a good party, but I'm not a coder! I do admire all of you computer coders out there and I'm a little jealous!
Secondly, I couldn't make head nor tails of the explanation and I consider myself one smart cookie!
Then what happened? I found an easy, peasy, surefire way to get verified for rich pins for self-hosted WordPress without using code at all! Could I keep this secret to myself? Of course not!
3 Easy Steps to Add Rich Pins
1. You must have a business Pinterest account.
That's an easy fix! And I'm not going to reinvent the wheel when you can find a great step-by-step tutorial right here!
2. Download the Yoast SEO Plugin
If you're like me, you probably already have it installed. It was one of the first plugins I activated when I started blogging.
Hover over the SEO on your dashboard.
Click on Social
Make sure the "Add Open Graph meta data" box is checked. Don't forget to click save!
3. Go to the Rich Pin Validator here!
Enter the URL from a valid blog post (not your home page URL) and click validate.
Right up under the box where you entered your post URL, another box will pop up that reads, "Your Pin's been validated, Apply now." Click on apply now. Pinterest will review your application and send your final approval via email within a couple of weeks. Here's my email approval!
Helpful Hint: The first few times I entered a post URL in the rich pin validator, I got nothing, just a dark gray screen for a moment and no validation. I probably entered a URL 5 times or more before it "took." I don't know why, but if that happens, keep trying. It will eventually work!
Once that one post URL is verified and approved, you never have to do it again – all of your posts will be rich pins!
Now wasn't that easy? No coding required!
Helpful Pinterest Hint: When you pin pictures from your post, make sure you add a good description to the picture. I hate to repin a pin that only has the size of the picture underneath.