Thanks to AC Lens for gifting An Alli Event with fabulous mother/daughter sunglasses for my daughter's wedding. All opinions are my own. While the wedding is fresh on my mind, I want to share 5 things a bride needs for her outdoor wedding day.
We could not have asked for a more perfect weekend for my daughter's wedding aboard a beautiful yacht in Charleston, SC. The weather was special ordered for the day and man, did it deliver. The bride was absolutely gorgeous and the food was scrumptious. My dancing wasn't so bad either (according to whom you ask).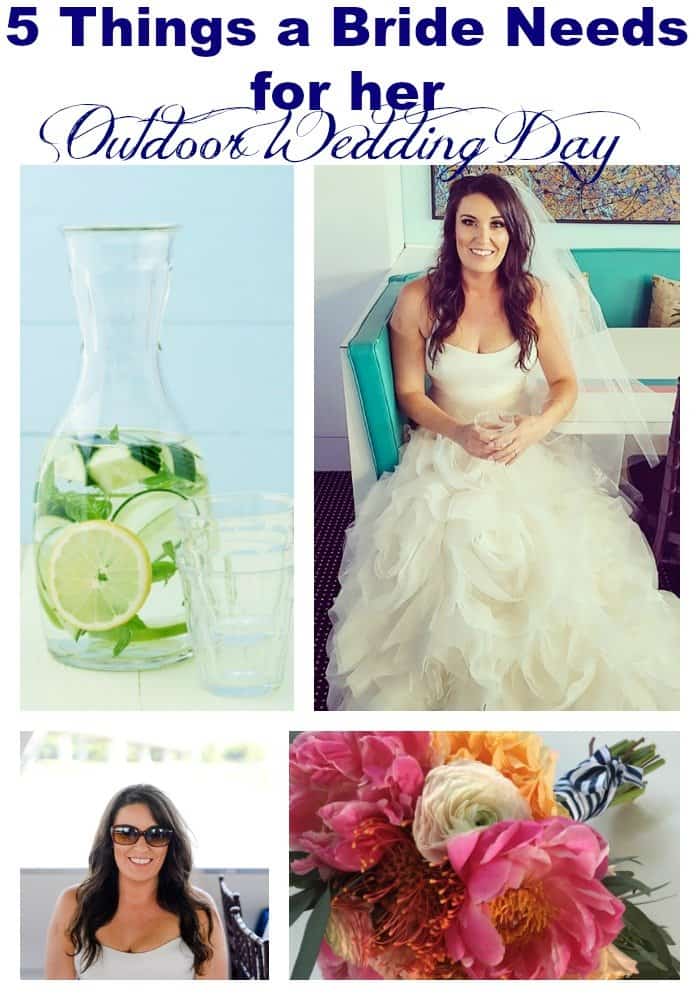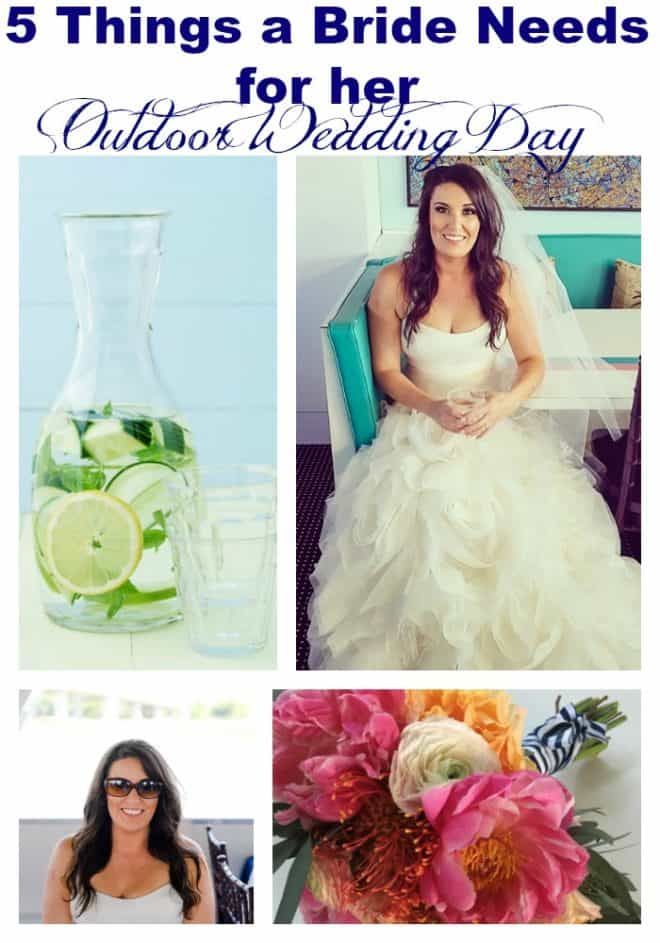 My Baby Girl Got Married!
This past weekend, on May 14th, my "baby" girl and her new husband pledged their love to each other surrounded by close friends and family. A gentle breeze and a beautiful sunset added to the ambiance. It was magical! So many of the guests told us how very much they enjoyed the 3-hour wedding cruise.
The professional photographer's photos haven't arrived yet and I'm looking forward to seeing the video footage, especially from the overhead drone. Of course, I'll be sharing those photos too.
The bride, her bridesmaids and I boarded the vessel early to get dressed and do makeup and all that good stuff, so I was able to snap a few candid photos of the bride and a selfie of myself BEFORE my hair was done. 🙂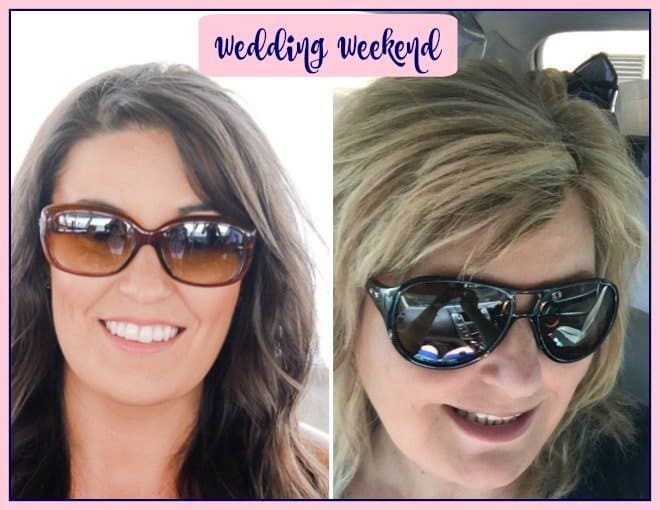 Because we were on the yacht so early, the sun was blazing. It was the perfect time to surprise my daughter with beautiful Ray-Ban® Jackie Ohh sunglasses. She was thrilled! Thanks, AC Lens!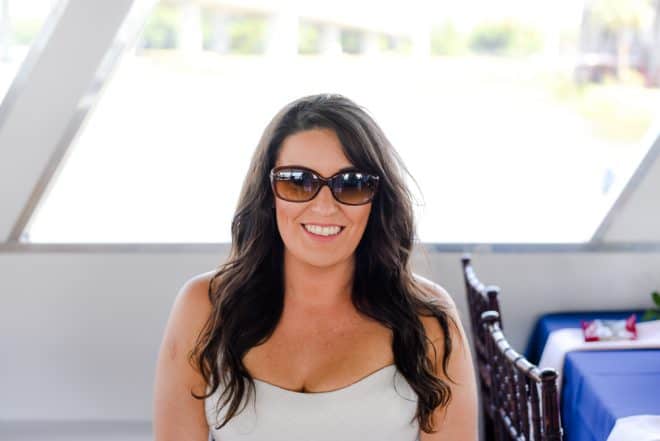 And my new Oakley Twentysix.2 Polarized were much appreciated as I was running up and down the three tiers making sure everything was running perfectly. The wedding planner had to tell me to go down to the bridal suite and relax because all those things were taken care of by her. So I obeyed.
Here's a sneak peek of the beautiful bride that my daughter snapped with her phone, in the bridal suite, minutes before she walked down the aisle. She was cool, calm, and collected. Me, not as much.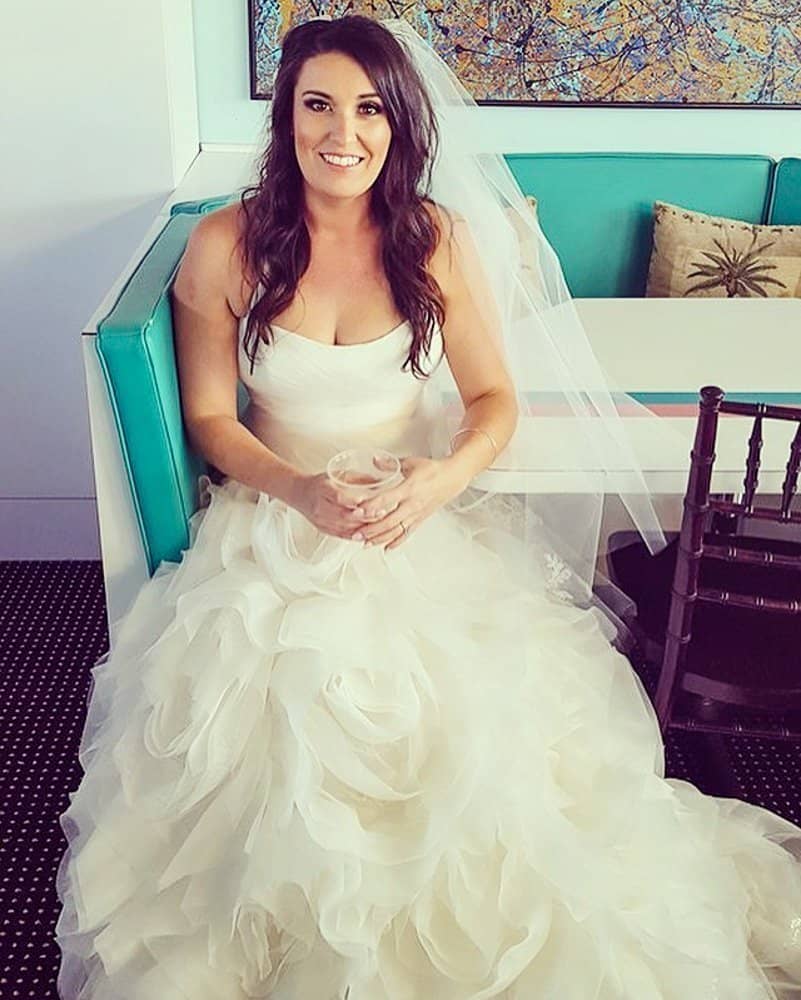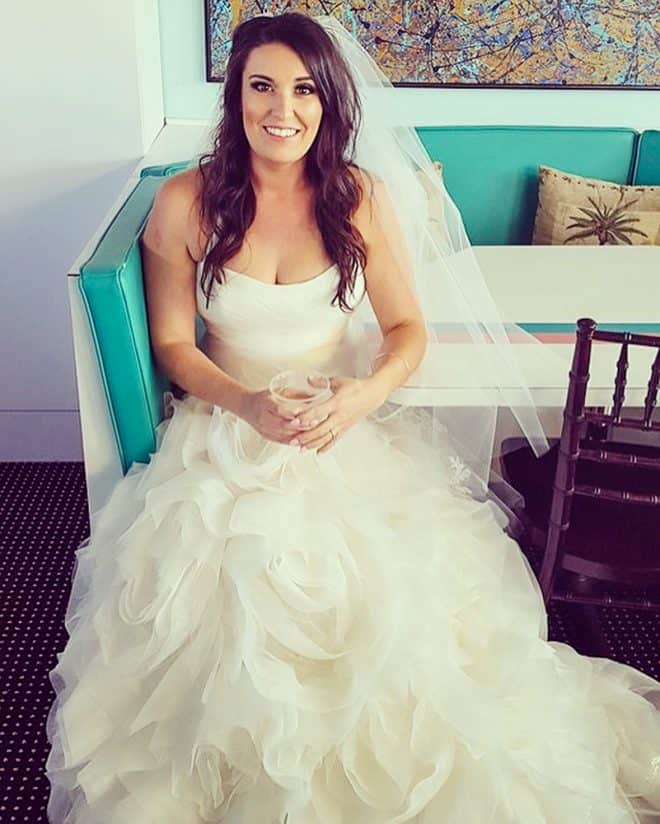 This was my third and last daughter to be married. I've directed many weddings myself and I actually directed my other two daughter's weddings with an assistant to help once I was seated. For the final daughter's wedding, I didn't want to do a thing on her wedding day so we had a for-real wedding planner.
We all know that a bride needs an emergency kit, all her stuff with her, etc. on the big day.
5 Things a Bride Needs for her Outdoor Wedding Day
1. Water
It's so important to stay hydrated on the day of your wedding. With all the running around, sometimes the bride and the bridal party forget to drink plenty of water.
Trust me, you need lots of water on the day of your wedding. Our wedding planner made sure we had plenty of ice-cold water to sip on while having our makeup and hair done.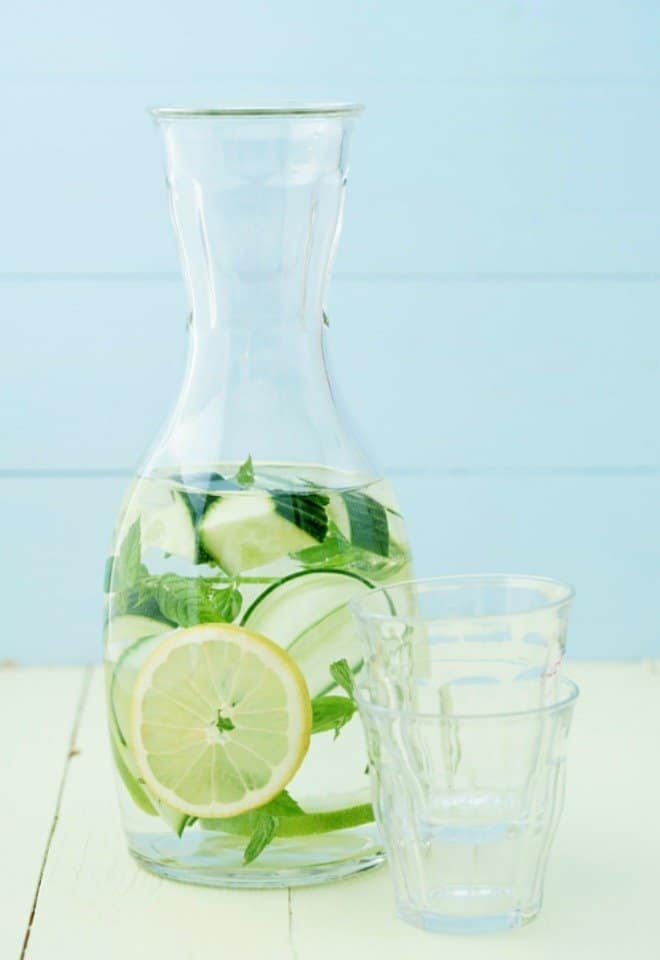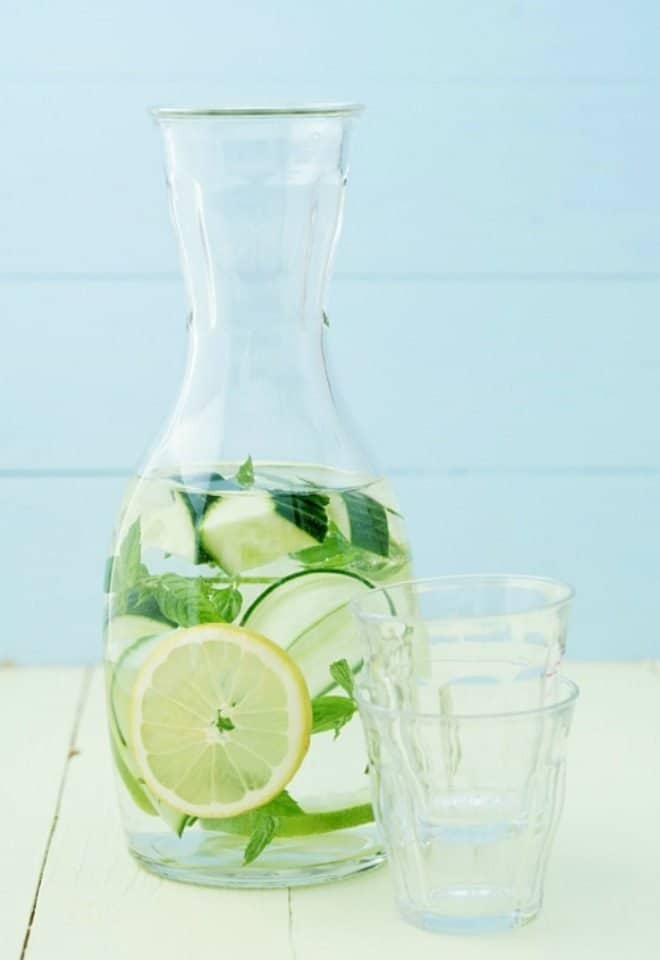 2. Food
The bride may be tempted to skip breakfast and lunch so that she'll look all slim and trim in her gown. Don't do it. You need to eat a balanced meal.
As the guests arrived aboard the yacht, they were served Hors d'oeuvres during the 15-minute ride out to the spot where the marriage ceremony took place.
Our caterer snuck some of those delicious appetizers down to the bridal suite so we could have a little tasting of our own.
3. Cool Place to Keep Flowers
An outdoor summer wedding in the south can be hot, hot hot. Once the florist delivers the flower bouquets, you need a cool place to keep them fresh and beautiful.
You pay way too much for those beauties to have them wilt in the hot weather. Good thing our wedding planner took care of all of those little things. Isn't my daughter's bouquet beautiful? (My wrist corsage is next to the bouquet.)
4. Sunglasses – 5 Things a Bride Needs On Her Outdoor Wedding Day
We didn't wear sunglasses during the ceremony, since the top deck of the yacht had a nice covering. But before the ceremony was underway, everyone had on their shades.
This is another thing I didn't have to be concerned about since AC Lens provided sunglasses for my daughter and me.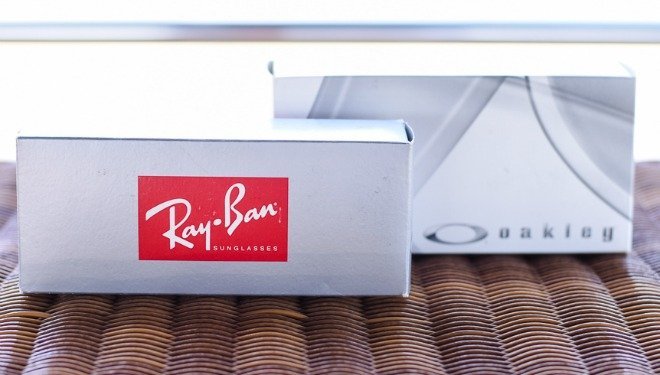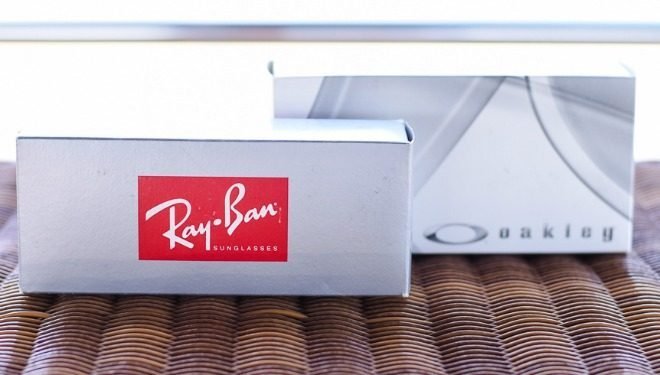 Helpful Hint: If you're having an outdoor wedding, sunglasses are the perfect gift for your bridal party.
5. Wedding Planner
Our wedding planner, Ashley, went above and beyond her call of duty. She kept in contact with all of our vendors – florist, caterer, cake baker, etc. – throughout the planning stages and confirmed everything a few weeks before the wedding.
On the day of the wedding, Ashley handled everything and everyone and did it with joy, grace, and lots of smiles. Before we disembarked at the end of a beautiful evening, I gave our wedding planner a big hug for handling everything with the finest of detail. Everyone fell in love with her. That's the sign of a great planner.
Remember, if you're planning an outdoor wedding, make sure you stay hydrated and keep those eyes protected from the sun.
What tips would you add to 5 Things a Bride Needs for her Wedding Day?