Avocado Lemon-Basil Corn on the Cob has been compensated by Collective Bias, Inc. and its advertiser. All opinions are mine alone. #WhatsYourRanch #CollectiveBias
It's my favorite time of the year – grilling season! As soon as it warms up, we take the cooking outside to the grill. When we can't stand the heat, we have to get out of the kitchen! Lately, every time I start to put a food item in my shopping cart, I ask myself if it can be grilled! In the summertime, it's all about quick and easy.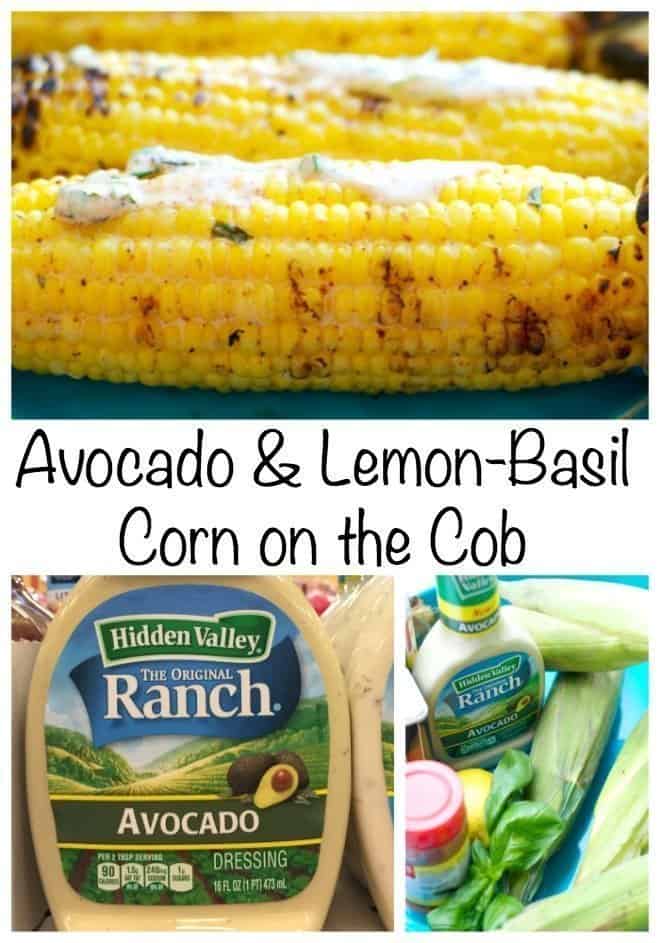 Avocado Ranch Dressing
I was in Kroger a few days ago and noticed the fresh corn-on-the-cob in the produce department. I grabbed 4 ears of corn on my way to the salad dressing aisle to check out the new Hidden Valley Ranch flavors. The avocado ranch dressing is perfect for making my grilled Avocado & Lemon-Basil Corn on the Cob.
Have you seen the new Hidden Valley Ranch flavors? Besides the Avocado, there's Cucumber, Roasted Garlic, and Sweet Chili. Here's a secret: Any of those flavors would work perfectly in my recipe, but I'm using Avocado. Before the summer's over, I'll try all the new flavors.
My recipe is quick and easy and it only takes 10-15 minutes to grill the corn! If you're preparing for a crowd you can double, triple, or even quadruple the recipe.
When I was growing up my family had a huge garden every summer so I know how to shuck corn. If you've never done it, it's really simple.
Peel off the outer husks until you have a thin layer around the ear of corn. Go ahead and peel back the remaining husks until the tip of the corn is exposed.
While holding the ear of corn firmly with one hand, grab the top of the husks and the tassel with your other hand and pull down in one firm tug. Pull all the way to the bottom.
Break off the husks and the silk. Use a clean, dry dishcloth and rub it lightly around the corn to get the rest of the silks off.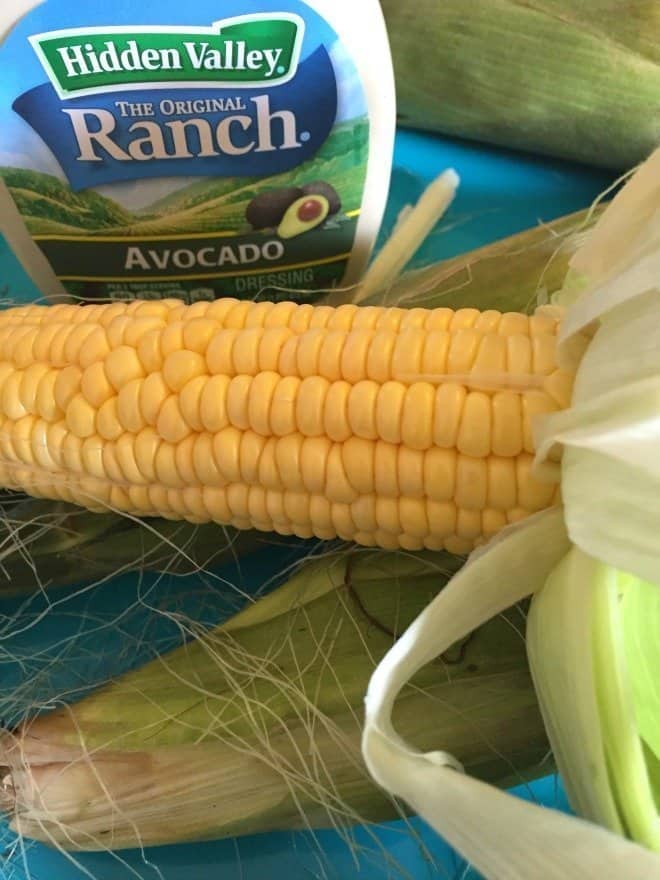 When I'm having company over OR taking photos of my corn, I keep the leaves attached. I think it's prettier that way.
Avocado & Lemon-Basil Corn On The Cob
In a small bowl, mix Hidden Valley Ranch Avocado dressing, minced garlic, fresh lemon juice, paprika, salt, and ground red pepper.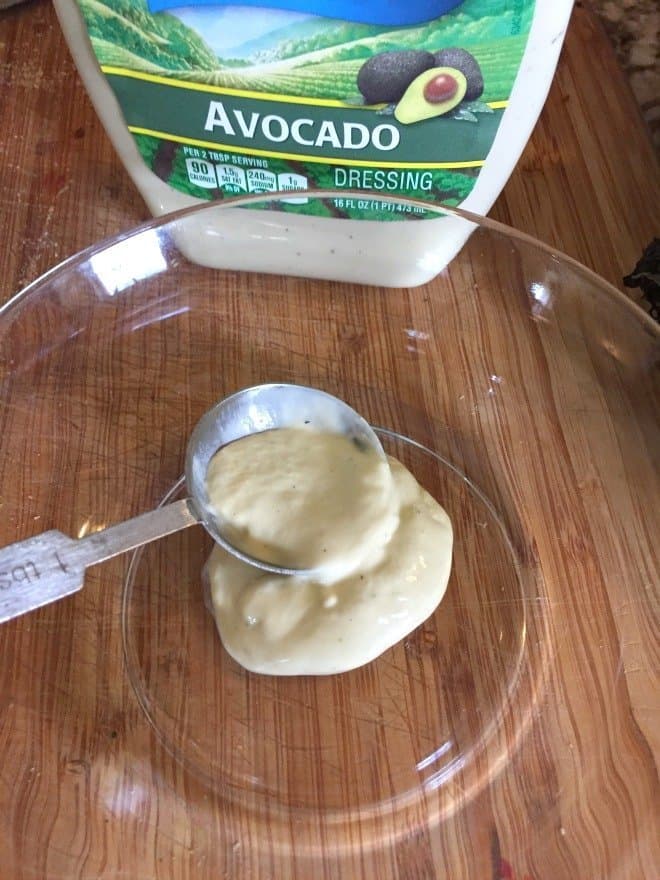 With clean hands (and a warm heart) slather the rub all over the ears of corn. Be generous.
Place corn on a preheated grill for 10-15 minutes, turning occasionally.
Avocado & Lemon-Basil Corn on the Cob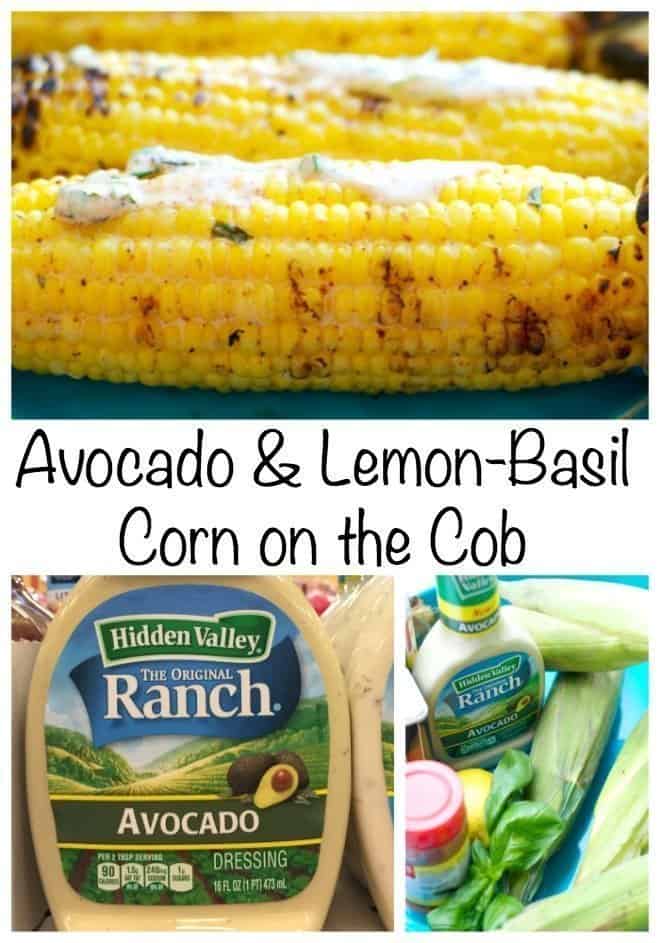 Ingredients
4 ears shucked corn
cooking spray
3 Tablespoons Hidden Valley Ranch Avocado Dressing
1 teaspoon minced garlic
1 teaspoon fresh lemon juice
1/2 teaspoon paprika
1/2 teaspoon salt
Dash (or 2) of ground red pepper (I like spicy, so I add 2 dashes)
2 Tablespoons chopped fresh basil
Instructions
Preheat grill to high heat.
Combine Hidden Valley Ranch Avocado dressing, minced garlic, fresh lemon juice, 1/2 teaspoon paprika, salt and red pepper in a small bowl and whisk until well blended.
Rub the mixture over the corn and sprinkle with the chopped basil.
Place corn on grill rack coated with cooking spray.
Grill for 10-15 minutes or until lightly charred, turning occasionally.
Enjoy!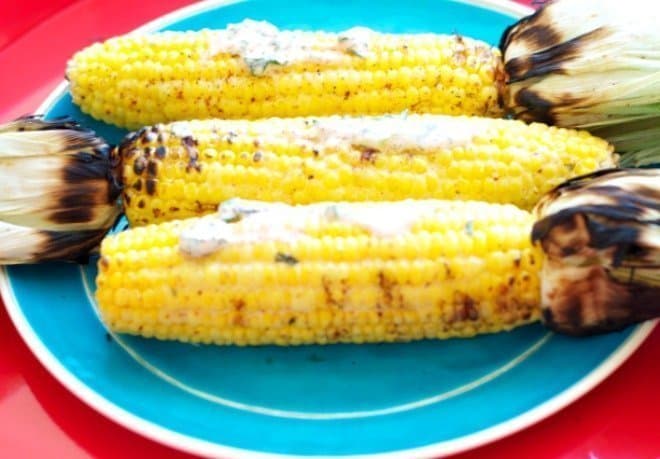 My quick and easy Avocado & Lemon-Basil Corn on the Cob is delicious! What's your favorite Hidden Valley recipe? You can follow Hidden Valley on Facebook, Pinterest, or Twitter!