Best Stocking Stuffers for Teen Boys contains affiliate links and I was given some products to review. If you click a link and make a purchase, I'll receive a small commision at no added expense to you. All opinions are my own. 
I still find it hard to believe that I have a teen grandson. Seems like it was only yesterday that my kids were teens. Since Christmas is right around the corner and I promised myself I wouldn't procrastinate and wait until mid-November to start Christmas shopping, I'm ahead of the game.
I'm THAT mom/nana who does gifts and stockings for everyone, even Max, the dog. What can I say? I love Christmas. When it comes to filling the stockings for teens, I sometimes draw a blank, so I asked my daughters for some ideas and they delivered. Now that we have all our ideas together, we've got a great list of stocking stuffers for teen boys.
When it comes to purchasing stocking stuffers for teen boys, I try to pick out some items they need (socks) and some fun stuff.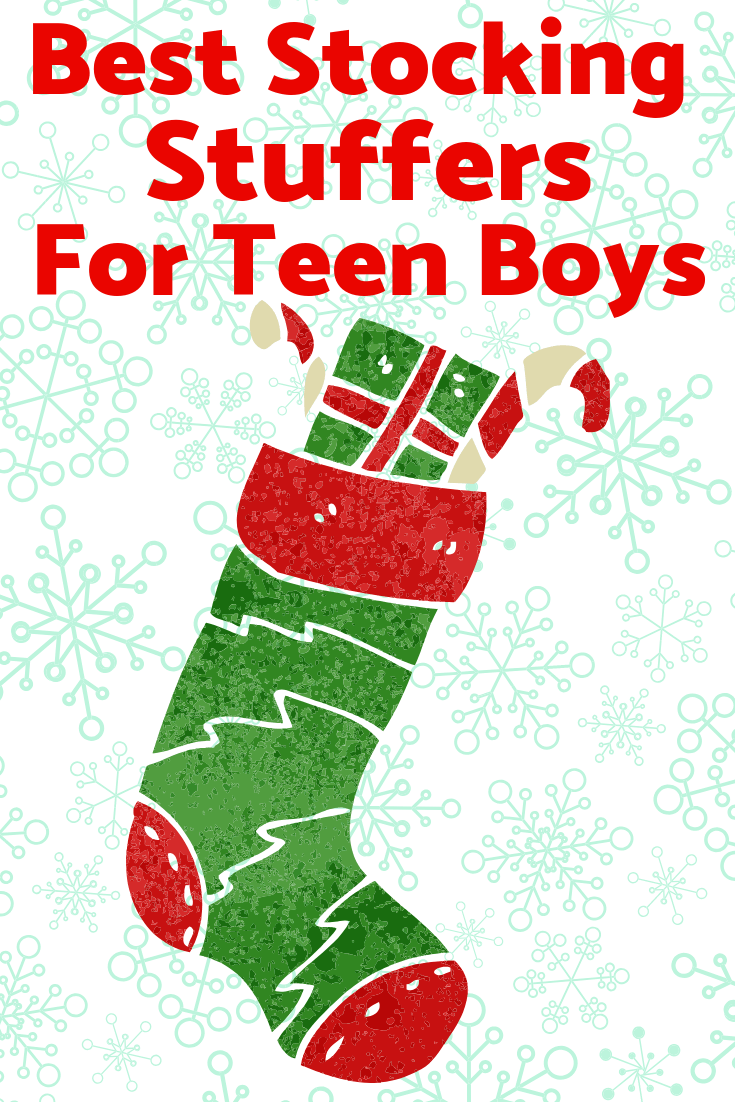 Best Stocking Stuffers for Teen Boys
Cards
Family Feud Strikeout Card Game is a good one. There's also Jeopardy and of course, Uno or plain playing cards.

Favorite Candy
I don't put a lot of candy in their stockings. During Christmas, we eat desserts that we don't normally eat, so I go easy on the candy.
Toothbrush & Toothpaste
This offsets the candy a little and my favorite toothbrush is the Colgate® 360® Advanced Whitening Battery Powered Toothbrush. It's affordable (retails for $12.99) and you can purchase it at your local Walmart or Amazon.
I like this toothbrush because it has a slim, lightweight handle and it's gentle on the gums. What makes it perfect for teens is that it has a two-minute timer and a replaceable brush head.
The one from Amazon (below) comes with two additional replaceable brush heads.

Body Spray, Cologne, Deodorant, Face Wash
Teen boys need all the help they can get in the smell-good department. This is a great time to teach teens that less is more when it comes to body spray and cologne. Travel sizes work great for stuffing stockings!

Lots of kids start dealing with acne once they hit those teen years. Last year, I added a gentle facewash for acne-prone skin to my oldest grandson's stocking.
Money Soap
Speaking of getting clean, this money soap has real money (from $1-$50) in every bar!

Lip Balm
My grandsons go through a lot of lip balm so I always include something for their chapped lips.

Rubik Cubes, Mind Benders, Puzzles
In case you don't know, Rubik Cubes are back and better than ever. OK, I never liked those things, but my second oldest grandson, Logan, loves them and collects them. Yes, they come in different sizes, etc. and are perfect stocking stuffers for teen boys. Girls, too, of course, but I have all grandsons. I have my fingers crossed for a girl to come along and show them who's boss.

Earbuds/Headphones
When it comes to earbuds, you can go cheap or go crazy expensive. I like the ones below from Amazon.

Cash/Gift Cards/iTunes Gift Cards
I always include a McDonald's or Wendy's gift card in the boys' stockings and a Starbucks gift card in the grownup stockings. My grandson plays sports and the bus always stops at a fast food joint to eat when they play an away game.
nbsp;
A Mini Book
Last year, I added this little book, The Manual to Manhood: How to Cook the Perfect Steak, Change a Tire, Impress a Girl & 97 Other Skills You Need to Survive to my grandson's stocking. He actually read it and at least he now knows how to cook a perfect steak. LOL

Socks/Gloves/Beanie
Teen boys can never have enough socks so I always include socks. Plus, they take up a lot of room in the stockings.
Wallet/Money Clip
Mini Flashlight
Does your family do stockings? If so, what are some of your favorite stocking stuffers?