Blue Cheese Bacon Dip was sponsored and is a recipe post created by me on behalf of Tyson Foods, Inc. All opinions are entirely my own.
Blue Cheese Bacon Dip is a flavorful dip that's perfect for game day or any time you need a delicious party dip. Serve this dip with veggies or chips.
Ingredients You'll Need To Make Blue Cheese Bacon Dip
sour cream
mayonnaise
Ranch Dressing Mix
crumbled blue cheese
chopped green onions (optional garnish)
I've been hosting Homegating parties for years and over time, I've perfected the football viewing party. You won't find me hidden away in the kitchen. I need to be where the action is, so I've got some great snack hacks that I always rely on.
A Homegating party wouldn't be complete without certain foods. For instance, my guests would turn around and walk right back out the door if I didn't have plenty of protein options.
Wings are the #1 requested food item when my friends and family gather for the big game.
Do I stay in the kitchen cooking wings all day? That would be a big NO! I have snack hacks that wow my friends and I barely lift a finger.
Let's take a look at a few of my hacks:
Wings with Blue Cheese Bacon Dip
I head straight to the Tyson® Any'tizers in the frozen foods section at my local Kroger. These flavorful, boneless chicken wings are delicious and made with 100% white meat chicken. My favorite is the Honey BBQ flavor and they pair perfectly with my Blue Cheese Bacon Dip.
Kroger has everything I need for my Homegate party, including Wright® Brand Bacon for my Blue Cheese Bacon Dip and Ball Park® Hot Dogs for my Crescent Dogs.
Helpful Homegate Hint: The Blue Cheese Bacon Dip can be made early in the day. Right before serving, stir in the bacon and garnish with green onions. Done!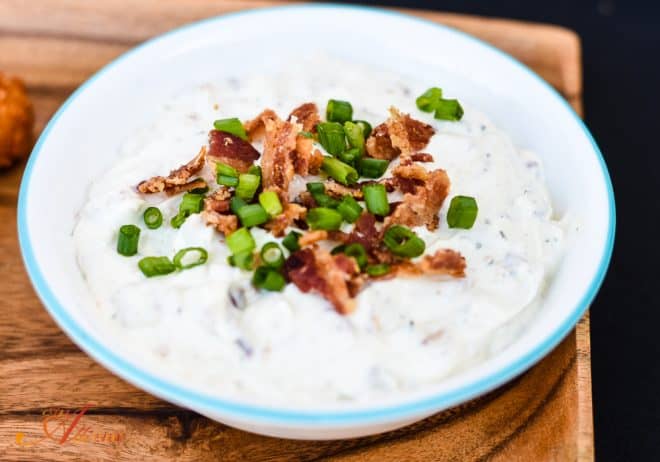 Blue Cheese Bacon Dip
Ingredients
1/2 package Wright® Brand Hickory Smoked Bacon, cooked and crumbled
1 cup sour cream
1 cup mayonnaise
1 package Ranch Dressing Mix
1/2 cup crumbled blue cheese
Garnish with chopped green onions
Instructions
Cook bacon according to package directions and set to the side to cool.
Combine the sour cream, mayo and ranch dressing mix. Stir in the blue cheese.
Crumble the bacon and add to the sour cream mixture.
Garnish with green onions.
Serve with Tyson® Any'tizers.
Snack Hack Alert: Another one of my party favorites is mini chicken and waffles. I serve Tyson Any'tizers Popcorn Chicken on mini waffles and add a side of syrup. I have instant chicken and waffles!
Crescent Dogs
A Homegating party is not a party without Ball Park Hot Dogs. A few minutes before my guests arrive, I wrap the Ball Park all-beef hot dogs in crescent rolls and place them in the oven at 375º for 12-15 minutes or until golden brown.
These are delicious when I serve them with ketchup and spicy mustard.
Finger foods are the name of the game when I'm hosting a football viewing party. Silverware is not welcome. You can't jump up and scream if you're having to juggle forks, knives, and spoons. So everything I serve has to be finger-food approved.
My guests are usually cheering for different teams. It makes the game much more exciting. That's why I like to keep my tabletop decor neutral and not side with a particular team – unless it's my team.
Since my team didn't make it anywhere near the playoffs this year, I go neutral.
Once the game is over, cleanup is a breeze. I don't have a sink full of dishes or a pile of leftovers and that's the way I like it. Most importantly, I'm not tired from cooking all day. Score one for the hostess with the mostess!
3 Signs of a Great Party
You're Well Fed
The #1 sign of a great party is there's no food left over. I've had guests grab a plate and those last two boneless wings and head out the door once the party is over.
You Feel Welcomed and Comfortable
My Homegating parties are always relaxed and comfortable. You can even wear your pajama pants. I won't tell. Favorite football jerseys are a must, especially well-worn jerseys.
You Actually Have Fun
Parties should not be stressful. If the hostess seems stressed out, the guests will feel that way. Relax, and enjoy your friends, family, food, and football. That's what it's all about.