This shop, 5 Meal Planning Tips, has been compensated by Collective Bias, Inc. and its advertiser. All opinions are mine alone. #LeanCuisine #CollectiveBias
One of my goals for the new year is to become efficient in meal planning. As a busy, on-the-go woman, meal planning is a must for me.
A few days ago, I worked a full day, set up a banquet room for a meeting, was the keynote speaker at the meeting and made it to my grandson's basketball game just in time to see him hit a 3-pointer. Whew.
Cooking is not on my agenda at all on super busy days! I don't have time. It's a good thing that I now have meal planning tips for days like this.
5 Meal Planning Tips
1. Set Aside Time Each Week to Plan a Menu and Shopping List
This first step is not the fun part, I know, but it's a must. Once you get used to it, it becomes a habit and won't take as long. I promise!
Helpful Hint: Plan your menu around seasonal foods and food items that are on sale. Don't forget to include lunch options.
2. Plan a Weekly Theme Night
We usually have pasta night once a week. It doesn't have to be the same type of pasta each week. When I throw the sauce ingredients into the slow cooker first thing in the morning and let it simmer all day, dinner is so much easier.
3. Try a New Recipe Each Week
It's tempting to have the same exact menu every week. Trust me, that gets boring very quickly. Make it your goal to try at least one new recipe every week. You and your family will find some new favorite dishes.
4. Have a Back-Up Plan
There's always going to be days when nothing goes as planned or you're so busy that you don't have time to fix lunch. Here's where meal planning really pays off. That leads me to my last point.
5. Keep the Freezer Stocked for Super Busy Days
When you keep your freezer stocked with ready to eat meals like my favorite LEAN CUISINE® Marketplace Spicy Penne Arrabbiata, skipping lunch will become a thing of the past.
My family knows I'm a pasta lover and Spicy Penne Arrabbiata delivers! It's made with organic pasta and tomatoes and contains no preservatives.
Whenever I'm rushed for time, I add a simple Spinach Salad with Toasted Pecans to my Lean Cuisine meal and lunch is ready. A serving of blueberries is the perfect finish to a satisfying lunch.
The Spinach Salad with Toasted Pecans is super easy to make. While the Lean Cuisine Marketplace Spicy Penne Arrabbiata is heating according to package directions, toast pecans in a heavy skillet for two to three minutes or until golden brown. Stir often to keep from burning.
Place baby spinach leaves in a salad bowl.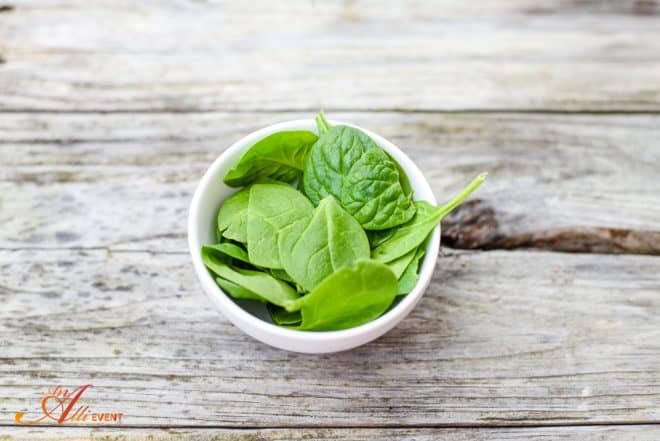 Add sliced red onions, sliced mushrooms, and tomatoes.
Sprinkle with toasted pecans.
Whisk together the oil, balsamic vinegar and lemon juice. Pour over the salad.
Spinach Salad with Toasted Pecans
Ingredients
Baby Spinach Leaves
Button Mushrooms, cleaned and thinly sliced
Grape Tomatoes, halved
Red Onion, sliced
2 Tablespoons toasted pecans
Vinaigrette
2 Tablespoons extra virgin olive oil
1 Tablespoon balsamic vinegar
1 teaspoon lemon juice
Salt and pepper to taste
Instructions
Arrange spinach leaves on a salad plate.
Add mushrooms, grape tomatoes and red onion.
Sprinkle with toasted pecans.
Top with vinaigrette.
Lean Cuisine Marketplace Meals are full of bold flavors and so many varieties so I never get bored. Plus, I love the fact that I'm eating lunches that are better for me.
To keep up with the latest, follow Lean Cuisine on Facebook, Instagram, and Twitter.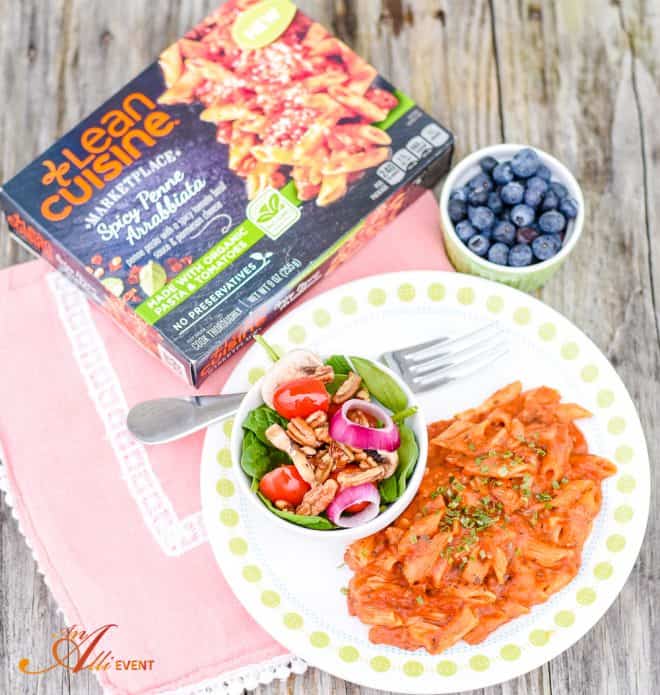 Do you meal plan? What's your number one tip?


You May Also Like