Chicken Pot Pies are classic comfort food! When I was a little girl, I actually liked the frozen kind. Mom rarely indulged us when it came to frozen pot pies from the grocery store. She was a firm believer in cooking from scratch. When I grew up, I realized it was easy to make Chicken Pot Pies and the homemade version tastes better too!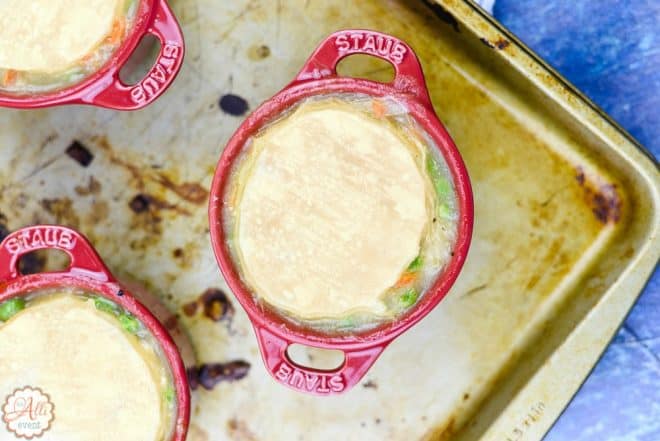 Most of my family likes dark meat chicken better than white meat so I use boneless, skinless chicken thighs to make Chicken Pot Pies. If you prefer white meat, go ahead and use the traditional chicken breasts. It's all good.
When it comes to Chicken Pot Pies, I like to make the mini version because they are just plain cute. Plus, my family loves it when they get their own pot pie. And, it gives me a chance to pull out my adorable little Staub Mini Cocotte Set. These are made in France and are so pretty. You can also use ramekins.
Helpful Hint: I like a bottom and top crust, so I use the boxed refrigerated pie crust for these pies. Two crusts are in each box, but we will only be using one of the crusts today.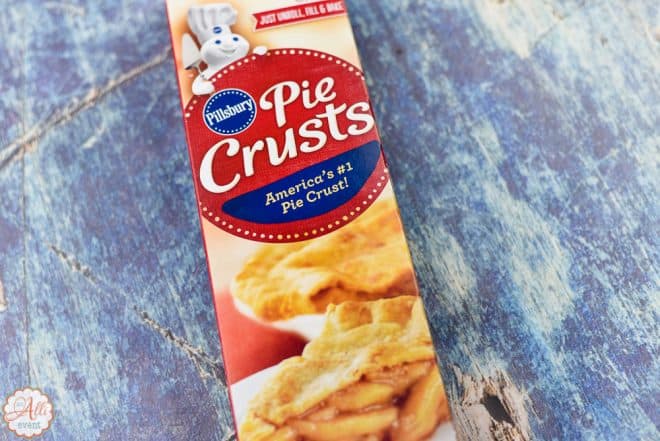 Mini Chicken Pot Pies
Saute onions and carrots in two tablespoons butter for five minutes.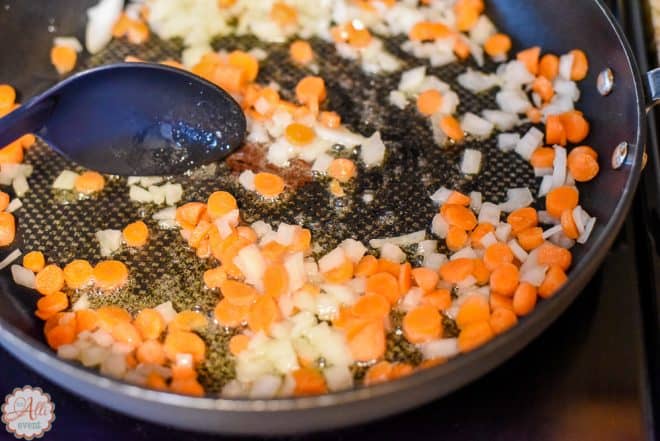 Stir in shredded chicken, frozen peas, and flour.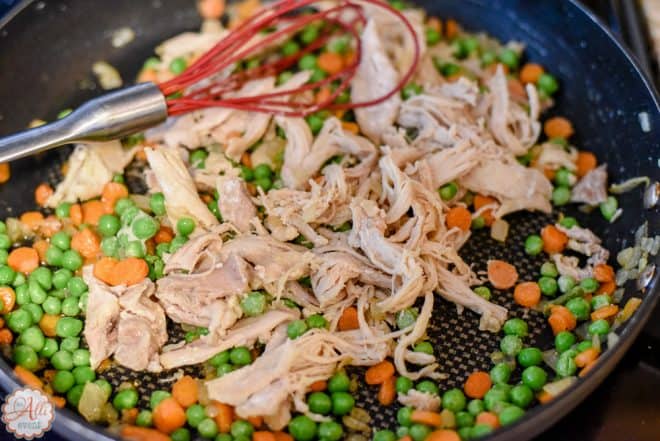 Add chicken broth and whisk 3-5 minutes or until thickened. Stir in pepper, salt, and dried thyme.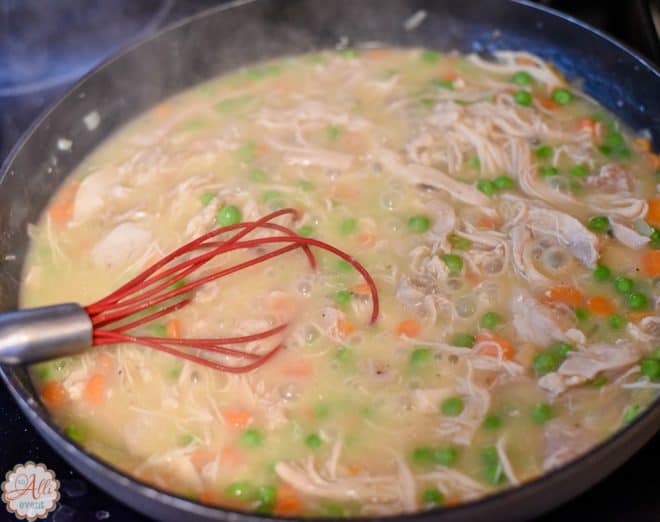 Note: Sometimes I stir in chopped, hard-boiled eggs once the chicken mixture is thickened.
Using a round biscuit cutter, cut 8 rounds from the refrigerated pie crust. Place a round of pie crust into each of 4 ramekins.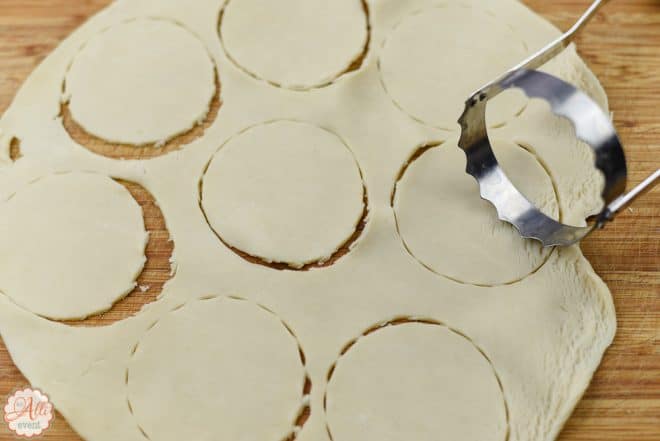 Spoon chicken mixture into the ramekins. Top with the remaining rounds of pie crust.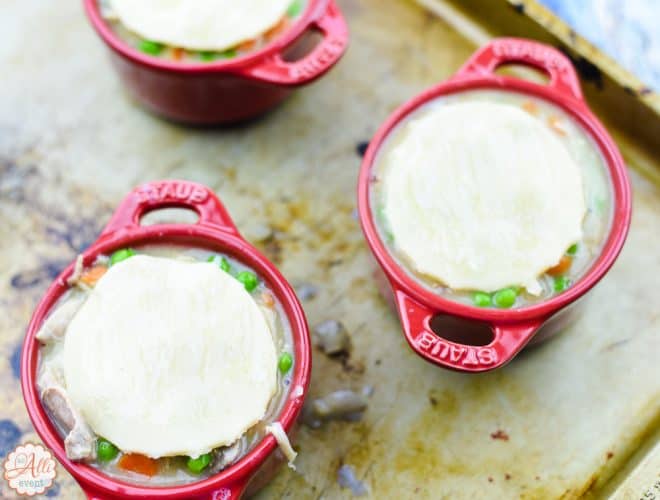 Brush the top crusts with remaining butter. Place on a cookie sheet and bake for 20 minutes or until golden brown.
Mini Chicken Pot Pies
Ingredients
1/2 onion, diced
2 carrots, thinly sliced
3 Tablespoons butter, melted and divided
2 cups cooked, shredded chicken
1 cup frozen peas
2 Tablespoons flour
2 cups chicken broth
1/2 teaspoon salt
1 teaspoon pepper
1/2 teaspoon dried thyme
1/2 package refrigerated pie crust
Instructions
Heat oven to 350º F.
In pan over medium heat, sauté onions and carrots in 2 Tablespoons butter for 5 minutes. Stir in next 3 ingredients. Add stock and whisk 2-3 minutes or until thickened. Stir in seasonings.
Cut 8 rounds of pie crust with a round biscuit or cookie cutter approximately the size of your ramekins. Place 4 rounds in the bottom of the ramekins. Divide the chicken mixture evenly among the 4 ramekins.
Top with remaining pie crust rounds.
Place ramekins on a baking sheet and bake for 20 minutes or until golden brown.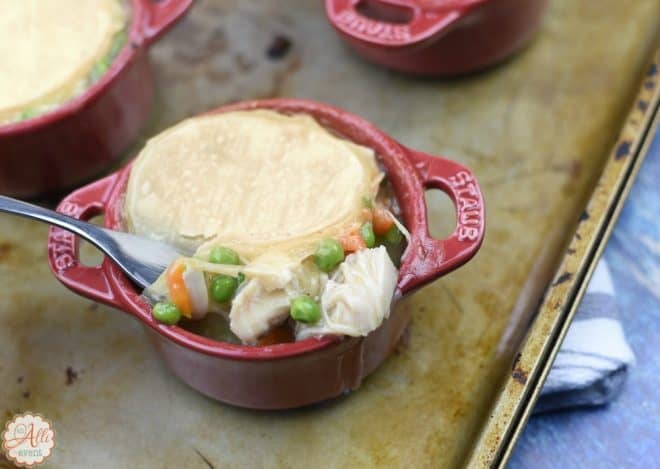 Have you ever made homemade Chicken Pot Pies?