Chocolate Chip Cookies filled with Chocolate Ganache is a must-have during the holiday season! These cookies are so pretty, easy to make and delicious.
Quick, what's your favorite Christmas movie? There are so many good ones, but my favorite is The Santa Clause.
I like the entire trilogy, but it's the first one that I make sure to watch every Christmas season. One of my favorite quotes from the movie is this one:
Neil: What about Santa's reindeer? Have you even seen a reindeer fly?
Charlie: Yes.
Neil: Well, I haven't.
Charlie: Have you ever seen a million dollars?
Neil: No.
Charlie: Just because you can't see something, doesn't mean it doesn't exist.
That's why I'm sharing my favorite Chocolate Chip Cookies Filled with Chocolate Ganache. It's my go-to cookie when watching my favorite Christmas movie.
Chocolate Chip Cookies filled with Chocolate Ganache are the ultimate cookies to leave for Santa and to munch on when watching the classic Christmas movie.
Why not invite some friends over to watch The Santa Clause and serve cookies and milk?
Chocolate Chip Cookies Filled with Chocolate Ganache
If I had to list my top three favorite cookies, the chocolate chip will always be number one. I decided to take my favorite cookies and amp them up a bit by adding chocolate ganache.
Chocolate Chip Cookies Filled with Chocolate Ganache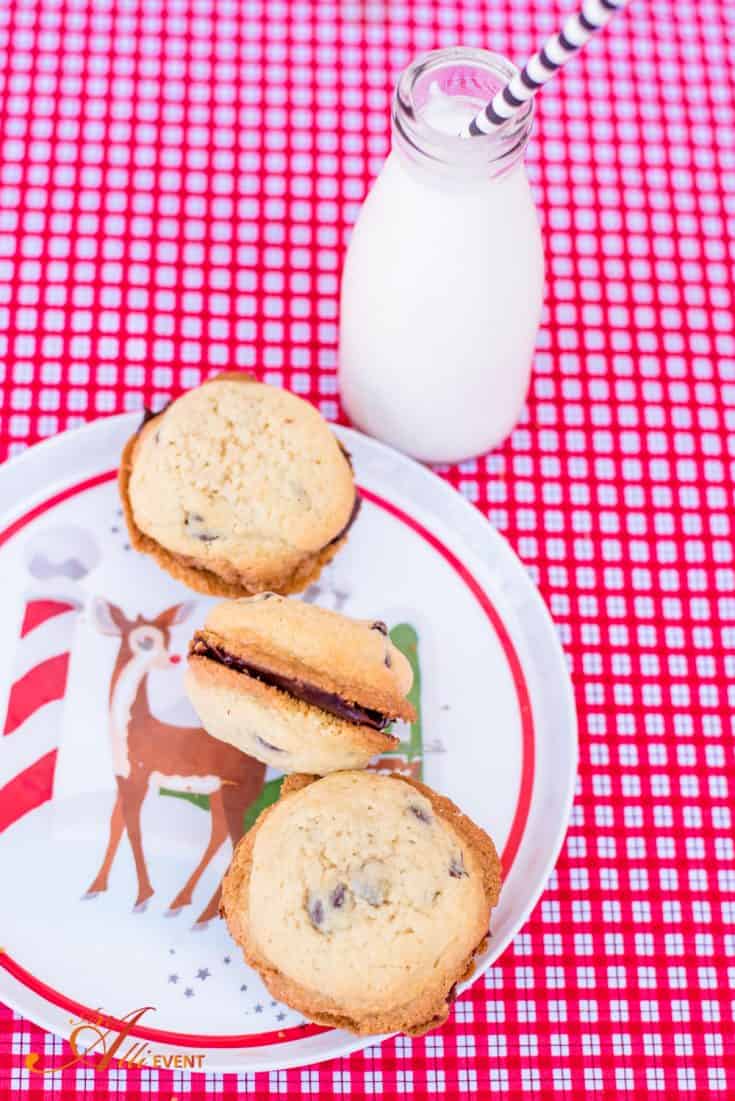 Chocolate Chip Shortbread cookies are filled with a delicious chocolate ganache.
Ingredients
2-1/4 cups all-purpose flour
1 tsp. baking soda
1 tsp. salt
1 cup butter, softened
3/4 cup sugar
3/4 cup brown sugar
1 tsp. vanilla extract
2 large eggs
2 cups semi-sweet chocolate chips
Ganache
12 oz. semi-sweet chocolate chips
1/2 cup heavy cream
3 Tablespoons butter, softened
1 tsp. vanilla extract
Instructions
Preheat oven to 375º.
Combine flour, baking soda and salt in a small bowl and set aside.
In a mixing bowl, beat butter, sugars and vanilla extract until creamy.
Add eggs, one at a time, beating well after each addition.
Gradually beat in flour mixture. Stir in semi-sweet chocolate chips.
Drop by rounded tablespoon onto ungreased baking sheets. Bake for 10-12 minutes or until golden brown. Cool for 2 minutes. Remove to baking racks and cool completely.
Ganache
Combine chocolate chips and heavy cream in a small microwavable bowl. Microwave on 50% power for 30-second intervals until chocolate begins to melt (up to 2 minutes).
Add butter and vanilla and stir well. Let cool. Place in the fridge until thick enough to spread.
Spread ganache onto the bottom of a cookie, top with another cookie until all cookies are filled with ganache.
How To Make Chocolate Ganache
Ganache sounds complicated, doesn't it? Actually, it's not hard to make at all. It's so easy to make in the microwave!
Combine semi-sweet chocolate chips and whipping cream.
Microwave at 50% power for 2 minutes, stirring every 30 seconds.
When it's almost melted, it's done. Whisk in the butter and vanilla.
The ganache needs to thicken up in the fridge before spreading.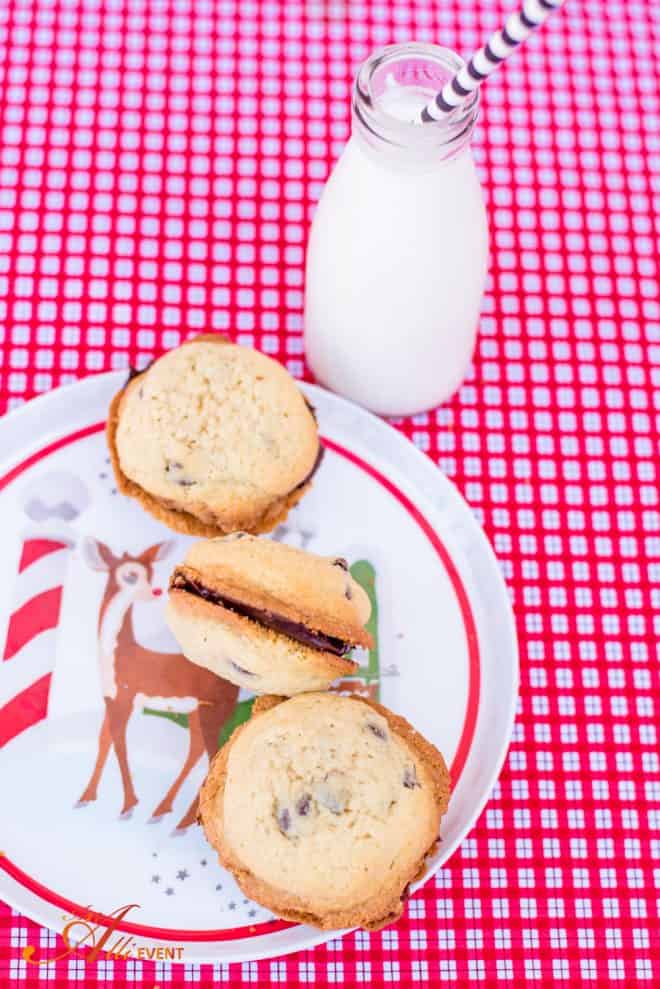 Be sure and stop by Intelligent Domestications and check out Shirley's Christmas with the Kranks party! It's guaranteed to be lots of fun!
We have 25 talented bloggers gathered together to share with you all the wonderful crafts and recipes you can make this Christmas season, based on some of the most beloved holiday classic films.
Each blogger will lead you to the next, so be sure to finish the hop all the way through to the end for all the Christmas movie goodies!
Let's Meet The Hosts!
Megan ~ C'mon Get Crafty | Alli ~ An Alli Event | Shirley ~ Intelligent Domestications
Marie ~ DIY Adulation | RaNesha ~ Queen Thrifty | Emily ~Small Stuff Counts
Stephanie ~ The Tip Toe Fairy | Molly ~ Just a Little Creativity | Michelle ~ Our Crafty Mom
Pam ~ P.S. I Love You Crafts | Sue ~ A Purdy Little House | Katie ~ A Mommy Scene
Vanessa ~ DIY 180 | Nicole ~ For the Love of Food | Victoria ~ Dazzle While Frazzled
Stephanie ~ A Little Moore | Sam ~ Raggedy Bits | Paula ~ Paula Tisch
Courtney ~ Running with Love and Coffee | Dana ~ Emerald and Oak
Kim ~ Made in a Day | Kallee ~ Creative Southern Home | Rachel ~ Smart Mom Smart Ideas
Emily ~ The Crafty Carlson | Evelin ~ Sweet Song Bird Evey's Creations
What's your favorite Christmas movie?