As you probably know by now, it rarely snows in my neck of the woods. So, a few years ago I decided to decorate my porch as if we have plenty of snow. It took a couple of years to finally get a sled for my Christmas porch decor.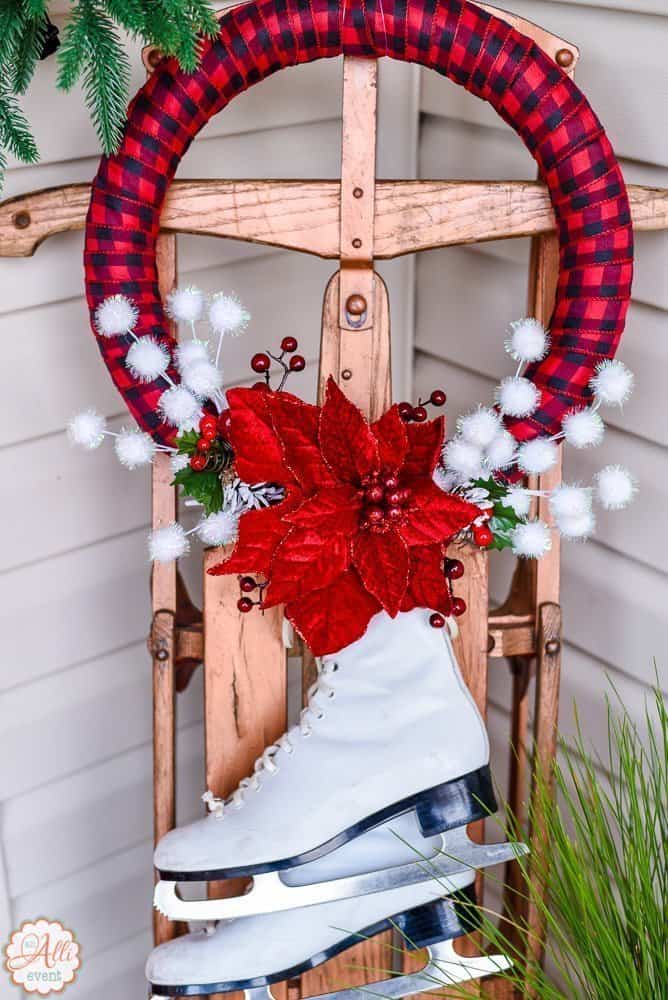 The search for a sled in my area proved to be futile. When I told my sister in Colorado that I couldn't find a sled anywhere, she told me to let her handle it and of course, she found one immediately. She was going to mail it to me, but when we found out how much it would cost (a lot!), that idea was nixed.
Last year, when my sister and her husband came to visit, guess what? She brought the sled with her. I have to make my sister proud so I hope she likes what I've done! And thanks, Melinda, for the sled! She also provided the ice skates – all for free! Yes, she's my favorite sister! She would be my fave even if she wasn't my only sister. 🙂
Welcome to the 11th day of The 12 Days of Christmas Blog Hop! We're so glad you're here!
They have all been busy as Elves creating, decorating, cooking and crafting tons of new ideas for you to try this holiday season!
Shirley~Intelligent Domestications I Alli~An Alli Event I Michelle~Our Crafty Mom I Marie~DIY Adulation 
Erlene~My Pinterventures I Beverly~Across The Blvd. I Debra~Shoppe No. 5 I Victoria~Dazzle While Frazzled
Megan~C'mon Get Crafty I Michelle~Michelle James Designs I Amanda~Domestically Creative
Deborah~Salvage Sister & Mister I Jeanie~Create & Babble I Sherry~Olives & Okra
Jenny~Cookies Coffee & Crafts I Emily~Domestic Deadline I Bonbon~Farmhouse 40
Leanna~Of Faeries & Fauna I Pam Larmore~P.S. I Love You Crafts I Kelly~North Country Nest I
Marie~The Inspiration Vault I Gail~Purple Hues and Me I Lynne~My Family Thyme I
Karen~Dragonfly and Lily Pads I Trisha~Blowing Away Out West Lorrin~Embrace The Perfect Mess I
Terri~Christmas Tree Lane I Sam~Raggedy Bits I Cyn~Creative Cynchronicity  Valeria~Val Event Gal 
Yami~The Latina Next Door  I Tania~Little Vintage Cottage
 Lauren~Wonderfully Made I Vanessa~DIY 180 I Kimberly~A Wonderful Thought I
Kim~Everyday Parties  I Dru~Polka Dot Poplars
Christmas Porch Decor
Remember the DIY wreath I made on day 9 of 12 Days of Christmas? I decided to add it to my sled when Tree Classics sent me some garland and a wreath for my front door. I think it all goes together perfectly.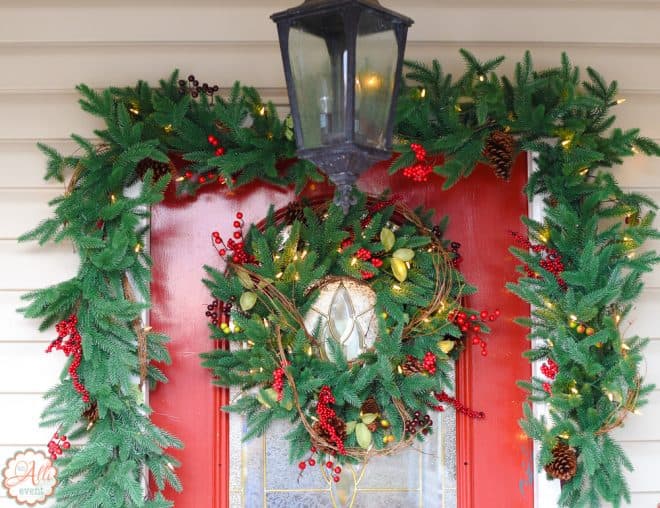 Back in the day, we added icicle lights to the house and went over-the-top on the Christmas decor. These days, I like a more simple, laid-back approach. It works for me and once the season is over, getting all the decor packed up is so much easier.
A little pine tree from the woods next to my house and a vintage red truck (Sam's Club) finishes off my front porch. I'm in love with the little red truck. It lights up, too!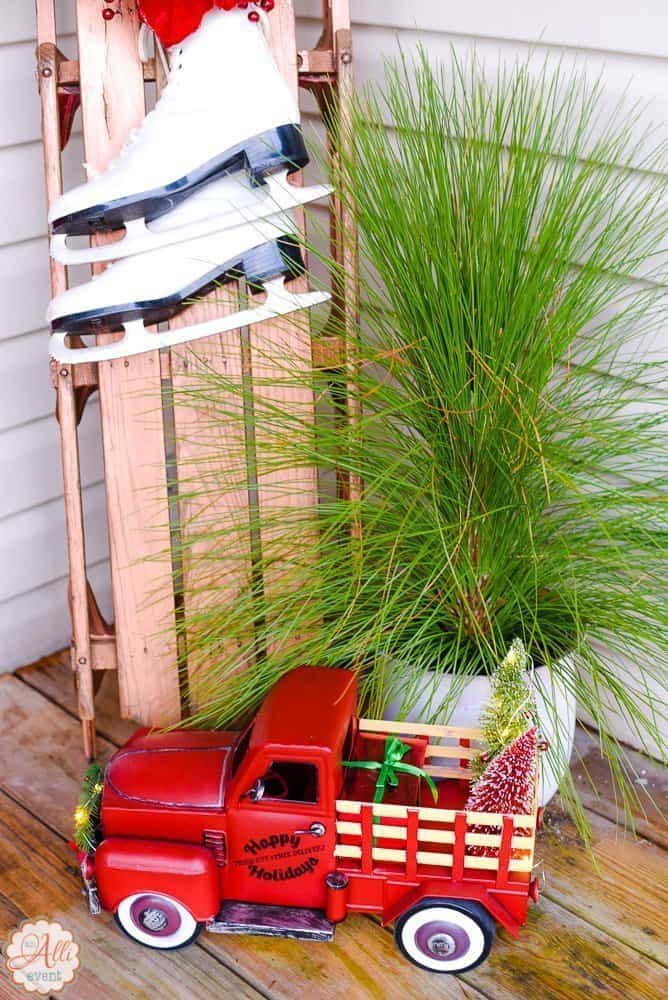 I have a chair on the other side of the front door to balance everything out. I dressed it up with a faux fur throw, a plaid throw, and a Christmas pillow. The throws and pillows go inside at night!
Remember to visit all the blogs for even more Christmas Porch Decor inspiration!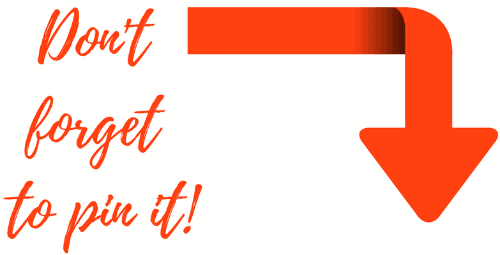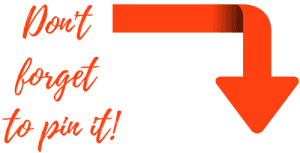 Be sure to visit our fellow 12 Days of Christmas Bloggers below for even more creative ideas this holiday season!