I don't know about you, but I like to decorate seasonally with things I have around the house. This Easy Wonderland Holiday Table is so easy to put together.
I do love browsing stores like Home Goods, but I always ask myself where I'm going to store all the goodies until the next month-long season rolls around.
So, with that in mind, I decided to create an easy Wonderland Holiday Table. It's an almost no-cost tablescape.
Welcome to the third annual 12 Days of Christmas Blog Hop!
Stop by every day from December first through the twelfth for new ideas you can use to make your season brighter!
Meet Your Hosts
They have all been busy as Elves creating, decorating, cooking, and crafting tons of new ideas for you to try this holiday season!
Shirley~Intelligent Domestications I Alli~An Alli Event I Michelle~Our Crafty Mom I Marie~DIY Adulation
Erlene~My Pinterventures I Beverly~Across The Blvd. I Debra~Shoppe No. 5 I Victoria~Dazzle While Frazzled
Megan~C'mon Get Crafty I Michelle~Michelle James Designs I Amanda~Domestically Creative
Deborah~Salvage Sister & Mister I Jeanie~Create & Babble I Sherry~Olives & Okra
Jenny~Cookies Coffee & Crafts I Emily~Domestic Deadline I Bonbon~Farmhouse 40
Leanna~Of Faeries & Fauna I Pam Larmore~P.S. I Love You Crafts I Kelly~North Country Nest I
Marie~The Inspiration Vault I Gail~Purple Hues and Me I Lynne~My Family Thyme I
Karen~Dragonfly and Lily Pads I Trisha~Blowing Away Out West Lorrin~Embrace The Perfect Mess I
Terri~Christmas Tree Lane I Sam~Raggedy Bits I Cyn~Creative Cynchronicity Valeria~Val Event Gal
Yami~The Latina Next Door I Tania~Little Vintage Cottage
Lauren~Wonderfully Made I Vanessa~DIY 180 I Kimberly~A Wonderful Thought I
Kim~Everyday Parties I Dru~Polka Dot Poplars
Easy Wonderland Holiday Table Centerpiece
It all starts with this plaid table runner I've had for several years.
I place a cake stand a little off-center of the chandelier and add a prelit wreath.
This wreath has been around a few years, so I fluff it a bit and it's back in shape. It's battery-operated, so I can turn it on during meals and turn it off afterward.
The antlers are the real deal and they have special meaning because I got them from my mom.
Favorite Instant "Snow"
The winter wonderland is easy to make. Add some Epsom Salt (instant snow) to a trifle dish (yep, it's a trifle dish) and add a pretty snow scene.
The pretty white house is from the $1.00 section at Target. There's a place to insert a tea light in the back. The bottle brush trees were in my Christmas stash as well. You can usually find them at the dollar store!
I'm a small-time collector of hobnail milk glass and the candle holders are from a thrift store. I found these in Georgia while visiting my dad.
Ignore the fact that I can't find my Christmas tapers. I'll find them before Christmas day. I promise!
I added a little greenery and pine cones from my yard and the woods behind my house and the Easy Wonderland Holiday Table is complete.
Helpful Hint: Instead of the trifle dish, you can use any type of glass container – a large fishbowl, glass vase, etc.
Easy Wonderland Holiday Table Place Setting
DIY Rosemary Wreath Napkin Rings
I like to make Christmas dinner a special occasion so I print out dinner menus and added Rosemary Wreath Napkin Rings.
I have a huge Rosemary bush and since it's a perennial and I live in the south, it thrives all year round.
You'll need sprigs of fresh Rosemary and cord for each place setting.
Shape the Rosemary sprig into a circle and tie the ends together with the cord, leaving a long end. I wanted to use a red cord but all I had was green, so green it is.
Wrap the long end around the back of the napkin and secure it with a knot on the other side of the wreath.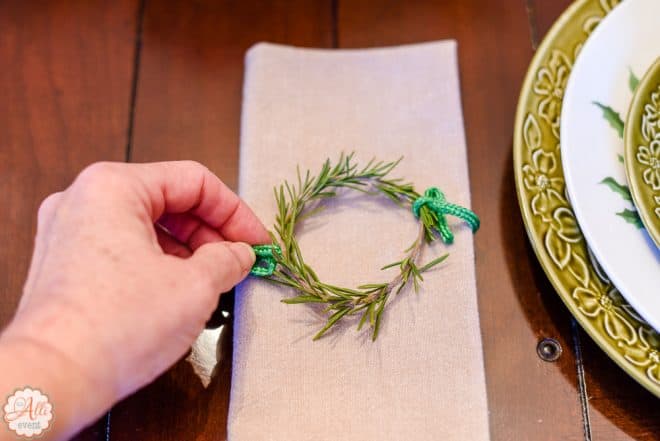 Isn't it cute? These are so easy to make and smell so good!
I like to mix and match dishes whenever I'm entertaining. I started with a red bowl but it was way too big. I just keep switching things around until I find what I like.
For photo purposes, I wanted more texture, so the placemats are Christmas gift bags. I love the faux fur so I removed the handle cords and they work just fine. I may just use them Christmas Day!
This has to be the easiest holiday table ever and I love how it all came together. Are you hosting the family on Christmas Day?
You May Also Like:
Rudolf The Red-Nosed Reindeer Kids' Table
Be sure to visit our fellow 12 Days of Christmas Bloggers below for even more creative ideas this holiday season!