This post has been sponsored by The Coca-Cola Company. All thoughts and opinions are my own.
The holidays are quickly approaching and for me, it's truly the most wonderful time of the year. I'm busy planning family get-togethers and thinking about all of our favorite holiday traditions. One of our family holiday traditions is enjoying a night out at the movies with the entire family. We get together to pick our favorite movie and choose the one night when we're all available. That's the hard part. My family has now grown to 15 members and now that baby Finley has arrived early, we're 16 strong.
 Our family is extremely close and the texts have already started arriving. "When are we going to the movie" and "What movie are we going to see" questions are beginning to pour in!
While I enjoy our movie night out, I also love our Holiday Movie Night at Home! I love having the family over and I like being able to pause the movie for a bathroom break.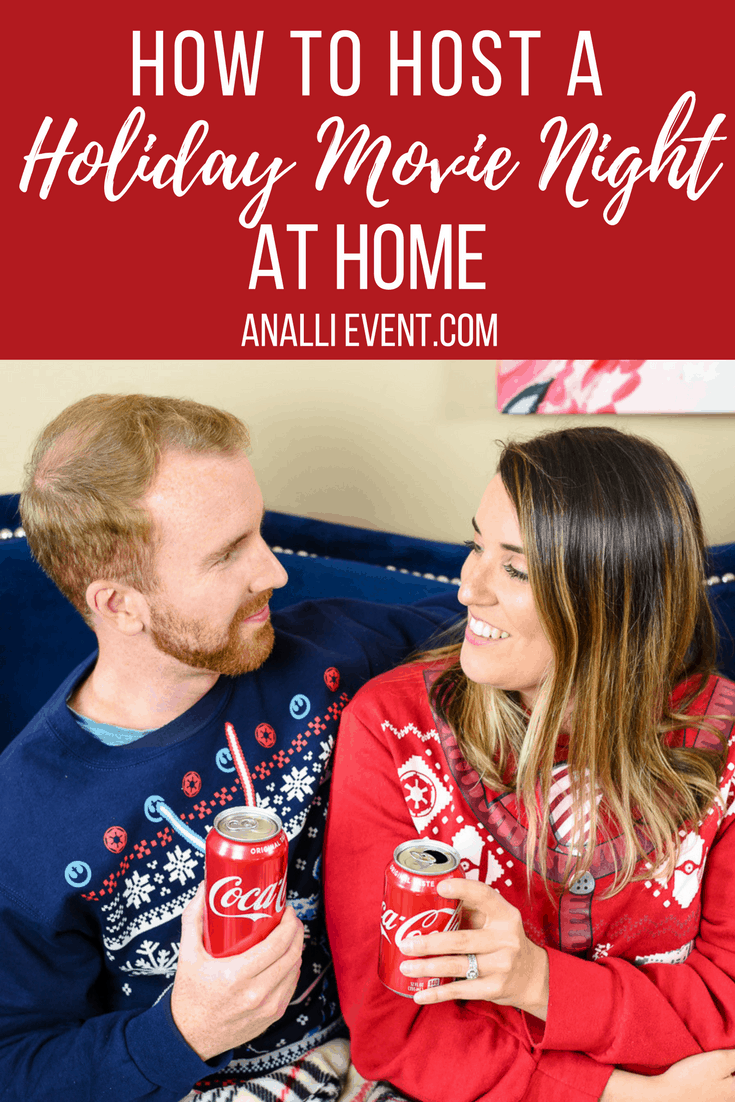 Holiday Movie Night at Home
When we're not going out to a movie during the holiday season, I host several holiday movie nights at home. Some of our favorite movies are those we watch every single year and the holidays wouldn't be the same without them. I admit that I have a good cry during some of the sentimental movies.
Invite the Family
I print out cute invites and hand them out during our weekly Sunday family dinner.
If you have kids at home, place the invites on their pillows just before they awaken for the day. It's a great surprise and I'm sure you will hear shouts of joy!
Download my free holiday movie printable, fill in the blanks and you're ready to go: Christmas Movie Night
You can see what the invite looks like below.

Have Everyone Wear Ugly Christmas Sweaters or Favorite Holiday PJ's
Invite the entire family to wear their ugly Christmas sweaters. Come on, we all have one or two! Give a small prize for the ugliest sweater. Or, have them wear crazy Christmas PJ's. The family really likes this part!
Stock up on Your Favorite Beverage and Snacks
Before the entire family comes over, I head to Sam's Club to stock up on snacks and Coca-Cola®!
It's a good thing Sam's Club has the Coke® 35 pack! Coca-Cola® pairs perfectly with pecans.
Provide Plenty of Blankets and Pillows
There's just something about watching holiday movies that require blankets and pillows. My husband thinks I have entirely too many throw pillows, but they sure do come in handy when the entire family comes over to watch holiday movies.
Enter the Sweepstakes
Next time you go to Sam's club, make sure to add some Sprite® and other Coke® products to your cart. While doing that, make sure you enter to win the grand sweepstakes. The Grand Prize is an all-expenses-paid trip to LA to attend a private screening of The Greatest Showman!
This holiday season, include Coca-Cola® as part of your tradition. Pick up Sprite® 4 pack 2 Liter, Diet Coke® 4 Pack 2 Liter, Coca-Cola® 35 pack cans, or Coca-Cola® 30 pack Mini Cans beverages from Sam's Club, then upload your receipt for a chance to WIN a trip for two to Los Angeles featuring:
 · An exclusive red-carpet screening of The Greatest Showman, plus pre-show
performance 

·  Round-trip air transportation for two (2) 

·  Two (2) 20th Century Fox goodie bags 

·  Three (3) nights' luxury accommodations in a Hollywood hotel 

·  VIP backstage tour of Fox Studios with lunch at the on-site restaurant 

·  Full on-site assistance from a personal winner manager throughout the trip
Don't miss this incredible opportunity! Visit www.samsclub.com/coca-cola/ to find out more.
I always look forward to Holiday Movie Night! Spending time with the family and making precious memories is priceless.
Helpful Hint: Be sure to take lots of family photos during Holiday Movie Night! You'll cherish them for years to come.
"Coca-Cola" is a registered trademark of The Coca-Cola® Company.
What are your favorite holiday traditions?