This post contains affiliate links. If you make a purchase after clicking the link, I'll make a little pocket change with no additional costs to you. 
I always enjoy looking at other people's Christmas trees, especially the Christmas Tree Topper. You see, I have a thing for Christmas Tree Toppers. Stars are amazing and bows are so festive. For me, my tree topper must be an angel.
Today is the last day of the 12 Days of Christmas Blog Hop and we're all sharing our Christmas trees with you. Hasn't this been fun?
Welcome to the third annual 12 Days of Christmas Blog Hop!
Stop by every day from December first through the twelfth for new ideas you can use to make your season brighter!
Meet Your Hosts
They have all been busy as Elves creating, decorating, cooking and crafting tons of new ideas for you to try this holiday season!
Shirley~Intelligent Domestications I Alli~An Alli Event I Michelle~Our Crafty Mom I Marie~DIY Adulation 
Erlene~My Pinterventures I Beverly~Across The Blvd. I Debra~Shoppe No. 5 I Victoria~Dazzle While Frazzled
Megan~C'mon Get Crafty I Michelle~Michelle James Designs I Amanda~Domestically Creative
Deborah~Salvage Sister & Mister I Jeanie~Create & Babble I Sherry~Olives & Okra
Jenny~Cookies Coffee & Crafts I Emily~Domestic Deadline I Bonbon~Farmhouse 40
Leanna~Of Faeries & Fauna I Pam Larmore~P.S. I Love You Crafts I Kelly~North Country Nest I
Marie~The Inspiration Vault I Gail~Purple Hues and Me I Lynne~My Family Thyme I
Karen~Dragonfly and Lily Pads I Trisha~Blowing Away Out West Lorrin~Embrace The Perfect Mess I
Terri~Christmas Tree Lane I Sam~Raggedy Bits  Valeria~Val Event Gal 
Yami~The Latina Next Door  I Tania~Little Vintage Cottage
 Lauren~Wonderfully Made I Vanessa~DIY 180 I Kimberly~A Wonderful Thought I
Kim~Everyday Parties  I Dru~Polka Dot Poplars
How to Find the Perfect Christmas Tree Topper
Measure the distance from the top of your tree to the ceiling. If you have really high ceilings, you can have any tree topper you want.
Match your personality style – What appeals to you? If you want a whimsical look, go with a top hat or a snowman. What about a Santa hat? You can find this cute snowman Christmas tree topper here!
My Favorite Christmas Tree Topper
Over 25 years ago, I found the perfect porcelain angel at my local Hallmark store. I fell instantly in love. At the time, my son, Jeremy, was only 2 years old. My husband held him way up high and helped him place the angel on top of our tree. After that, it became a tradition. Jeremy placed the angel on the tree every single year until he grew up and moved out.
That old porcelain angel retired a few years ago because the base has practically disintegrated. Still, she has a place of honor on my buffet. And when I take her out every year, the memories rush back to those Christmases long, long ago.
I now have another angel that graces the top of my Christmas tree. It's a gift from my oldest daughter and once upon a time, it was an angel that lit up. Eventually, the lights stopped working and I couldn't fix it. I removed the insides and it left a cone shape and it became my tree topper. Most people would never guess that its original purpose was not a Christmas tree topper.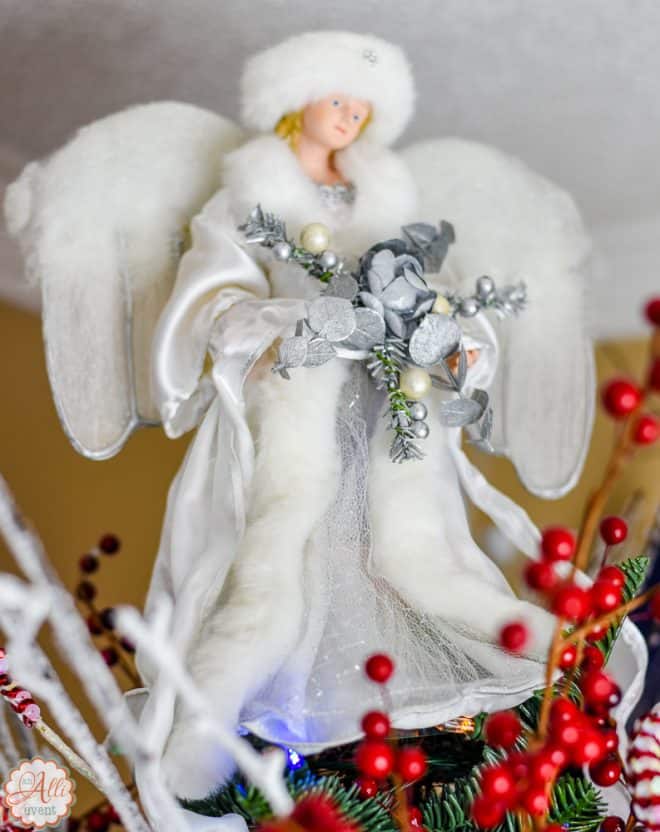 What tops your tree?
Be sure to visit our fellow 12 Days of Christmas Bloggers below for even more creative ideas this holiday season!