I never thought I would be blogging about biscuits.  My mom is the queen of biscuit making.  Me, not so much.  I've watched my mom bake biscuits since I was knee-high to a grasshopper, never using measurements or a recipe.  She's been baking them since she was eighty years old. Here's her recipe!
I just never got the hang of it.  I was scared of the dough.  I thought I would overwork it and the biscuits would be tough.  I was right.  The first time I actually made a biscuit, I could have thrown it against a brick wall and it would have broken the wall.  If I had made enough, I could have built a house that the big bad wolf could have huffed and puffed all he wanted to but it would have never came tumbling down! Overworking was not the word.  I pulverized that dough!
So, for years, I stuck with cornbread or rolls.  And every once in a while I would try to make mama's biscuits and all I would end up with was a hot mess!  What I had feared the most had come upon me!
But you can't keep a good woman down!  I decided, once and for all, to conquer the fear of the brick biscuit.  I mean, really, how hard can it be?
I rolled up my sleeves and decided if I couldn't make mom's biscuits, the one's with the three-finger prints on top, I would just make them my own way.  And I found out that as long as I didn't have to put my hands in that ooey, gooey dough, I was OK.  I used my trusty old pastry blender (let's face it, that pastry blender has never been near a pastry).  And I found out something.  I can make a biscuit.  I can!  I can!  As long as I don't have to touch it!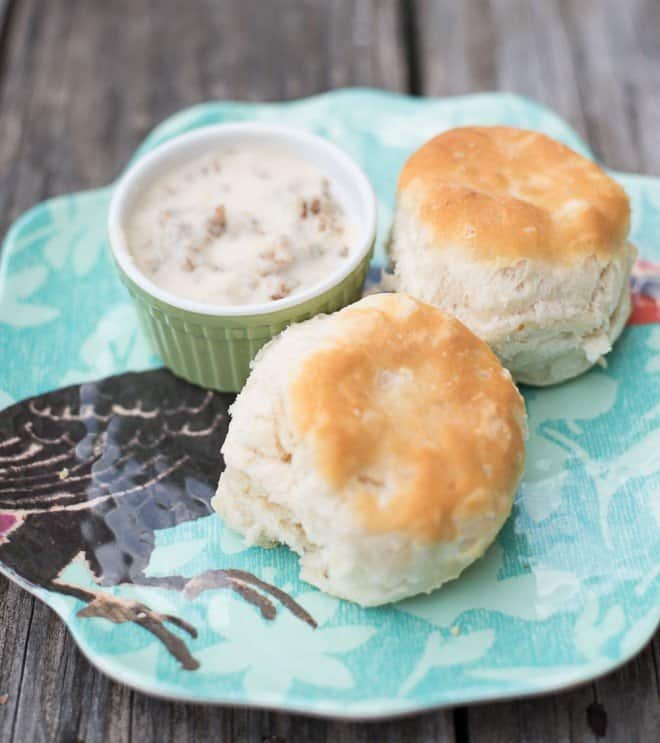 A few days ago I had the pleasure of hosting some VIPs for an overnight visit.  When I asked what they wanted for breakfast, they told me in no uncertain terms, "We want homemade biscuits and deer sausage gravy."   And I was able to say, "I've got you covered."
Helpful Hint: If you don't have venison on hand, use ground pork sausage such as Jimmy Dean.
Deer Sausage Gravy Disclaimer:  I do not eat deer meat.  I think I watched Bambi too many times growing up.  But the rest of the family loves it.  I may be kicked out of the south for this admission!

Homemade Biscuits
Ingredients
2 cups self-rising flour
⅔ - ¾ cup cold milk
¼ cup vegetable shortening (like Crisco)
Instructions
Preheat oven to 450. Measure flour into a mixing bowl. Cut the shortening in with a pastry blender until the particles of shortening are the size of peas.
Add milk and mix with a spoon until the mixture forms a loose ball.
If it's too wet, add a bit more flour. If it's too dry, add a little more milk.
Turn dough onto a smooth, floured surface.
Here is where I do use my hands (the dough is no longer gooey). Pat the dough out to about ½ inch thickness. Cut the dough with a floured cutter and transfer to a greased baking pan. Arrange the biscuits with sides touching. Bake for 10-14 minutes or until golden brown.
Deer Sausage Gravy
Ingredients
1 lb. bulk mild deer sausage or 1 lb. bulk pork sausage
2-3 T flour
1-2 C milk
Salt & pepper to taste
Instructions
In a skillet, on med/high heat, brown sausage.
Hopefully, if it was processed correctly, there will be a little fat in it. If not, add a Tablespoon or two of oil or butter. Add flour and stir until well mixed and flour is no longer white.
Add one cup milk. Stir and simmer. If it's too thick, gradually add more milk until the right consistency.
Salt and pepper to taste. Serve over split biscuits.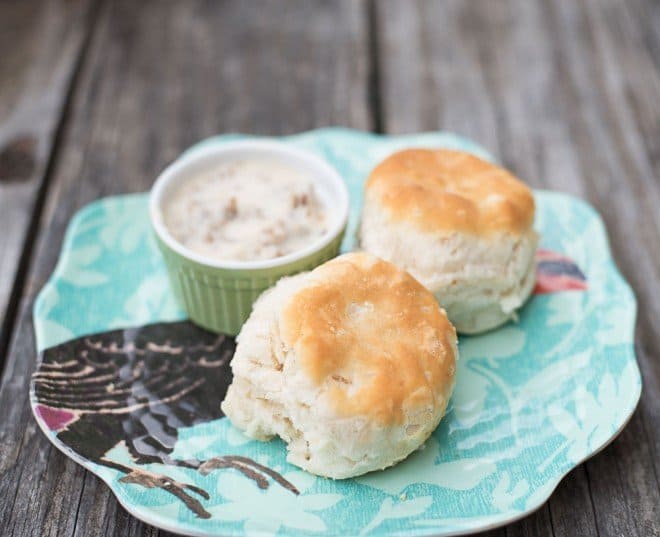 This is the grandkid's favorite breakfast. That's why the pics are taken in a plate with a Toucan in the background. 🙂
If you don't make homemade biscuits, use frozen instead. I won't tell a soul. I promise!

Print Friendly