DIY Dry Doggie Shampoo has been compensated by Collective Bias, Inc. and its advertiser. All opinions are mine alone. #MyPetMyStar #CollectiveBias 
Max, our MVP (most valuable pooch), will be three years old in November. Max became part of our family when he was just six weeks old. He is the sweetest, smartest German Shepherd I've ever met.
Max thinks it's his job to keep the kids corralled when they are outside playing. They all smell like wet dogs when it's time to come inside, so I put together a simple DIY dry doggie shampoo to pamper Max.
I remember when my grandson, Logan, begged for a puppy for Christmas. There was just one stipulation. He asked me to keep the dog at my house and he would just come over and visit. He's a smart kid – all the fun, with none of the responsibility.
I gave much thought to his request (about 2 minutes) and made it my mission to find the best pet for our family. These days, we can't imagine our life without Max. 
Max Loves Kids!
Since the grandkids live just five minutes away, they visit often. I do believe that Max can hear their SUV coming a mile away. Max gets beyond excited when he sees the boys. Of course, they like to help feed him, pet him, pamper him and play with him outside.
Once playtime is over, Max and the kids smell like wet dogs. That's why I always have a supply of DIY dry doggie shampoo for Max. Now, if I could only come up with dry shampoo for the kids.
DIY Dry Doggie Shampoo
DIY Dry Doggie Shampoo is so easy to make. You need 1 cup of baking soda, 1/2 cup of cornstarch, and a few drops of essential oils.  Mix them all together and you're done.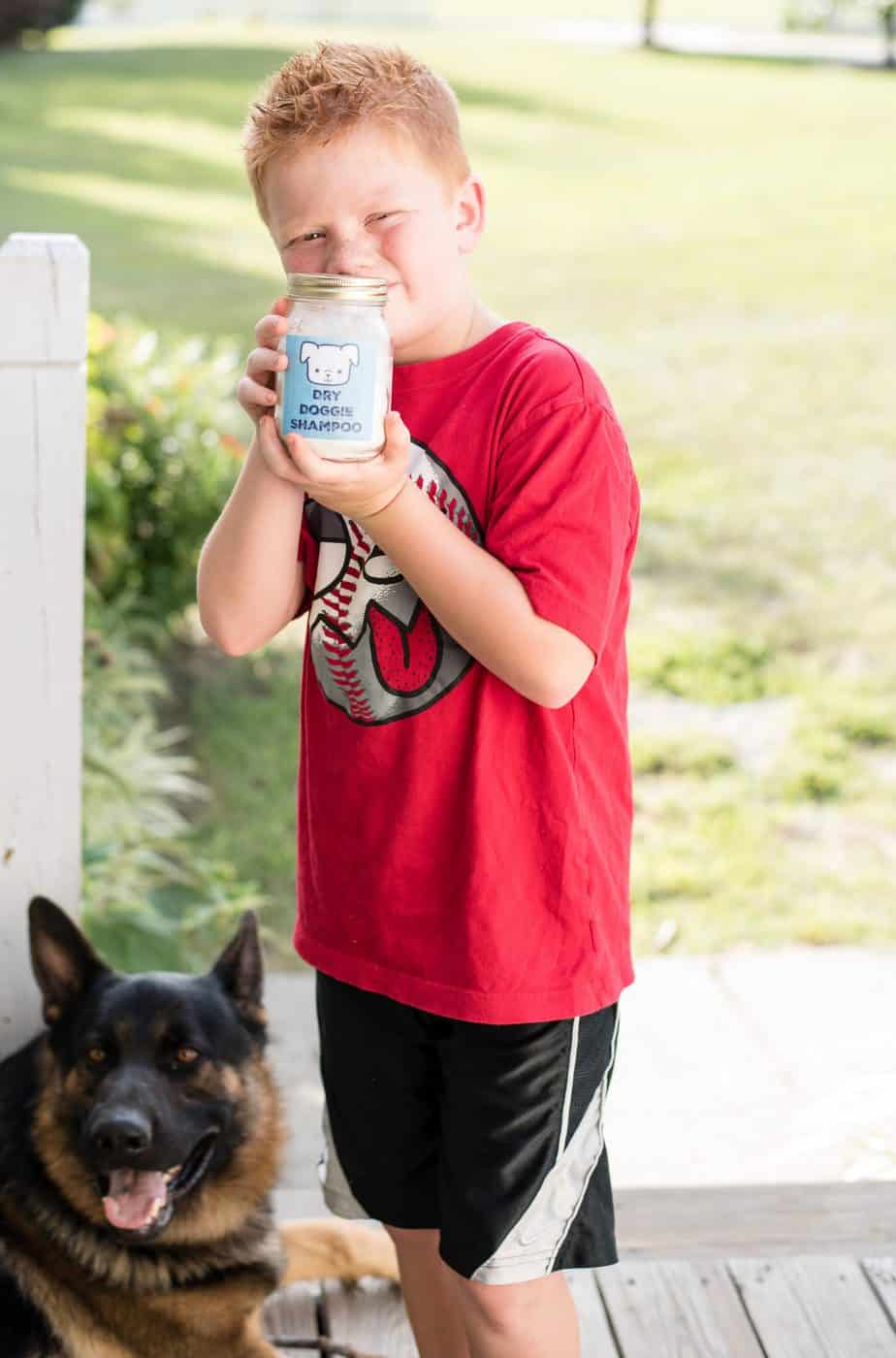 Helpful Hint:  You can also use oatmeal in place of baking soda.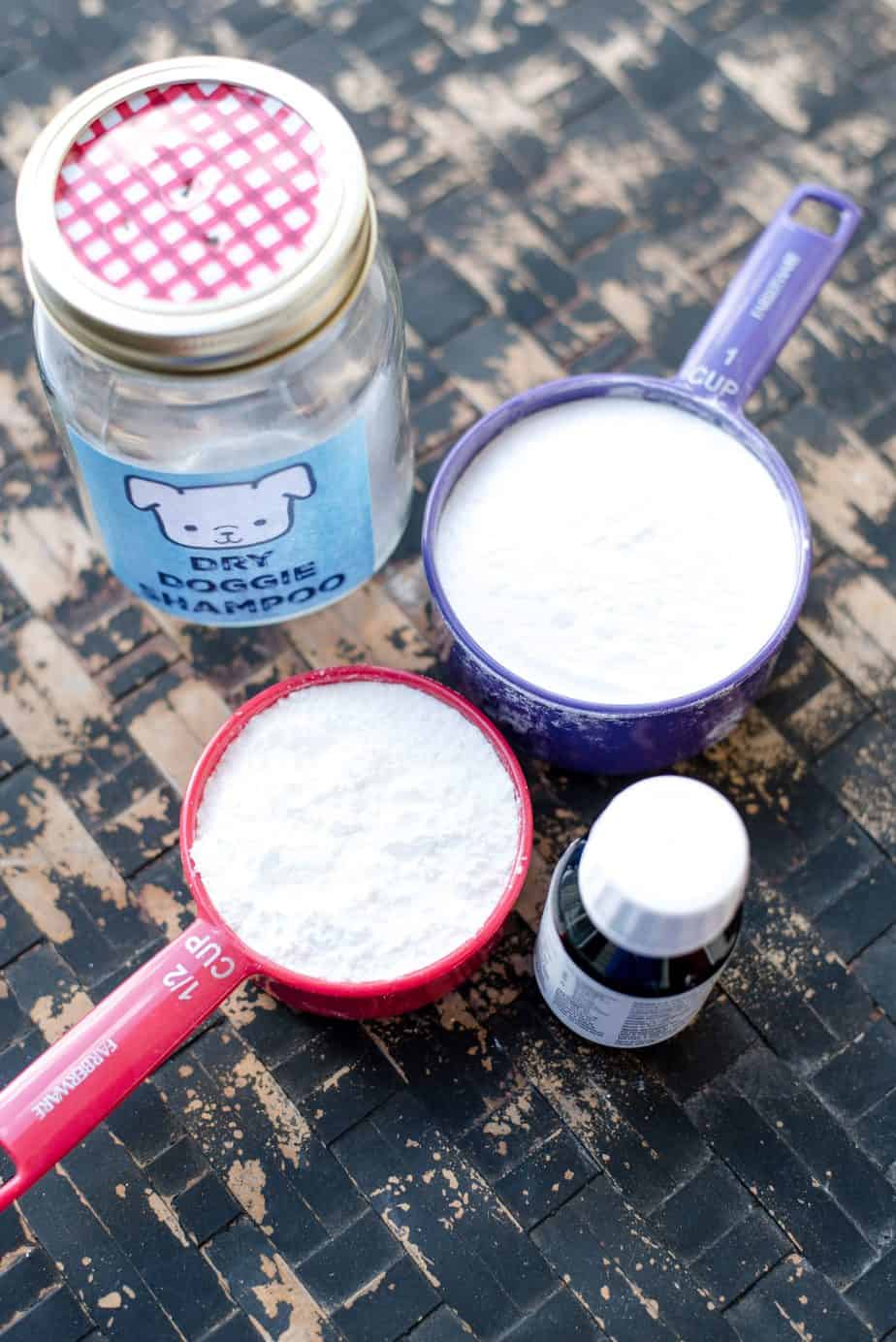 DIY Dry Doggie Shampoo
Ingredients
1 cup baking soda
1/2 cup cornstarch
3-5 drops lavender essential oils
Instructions
Mix all the ingredients together and store in a shaker type jar.
You can use a mason jar with a lid to store the doggie shampoo. Carefully punch three tiny holes in the lid.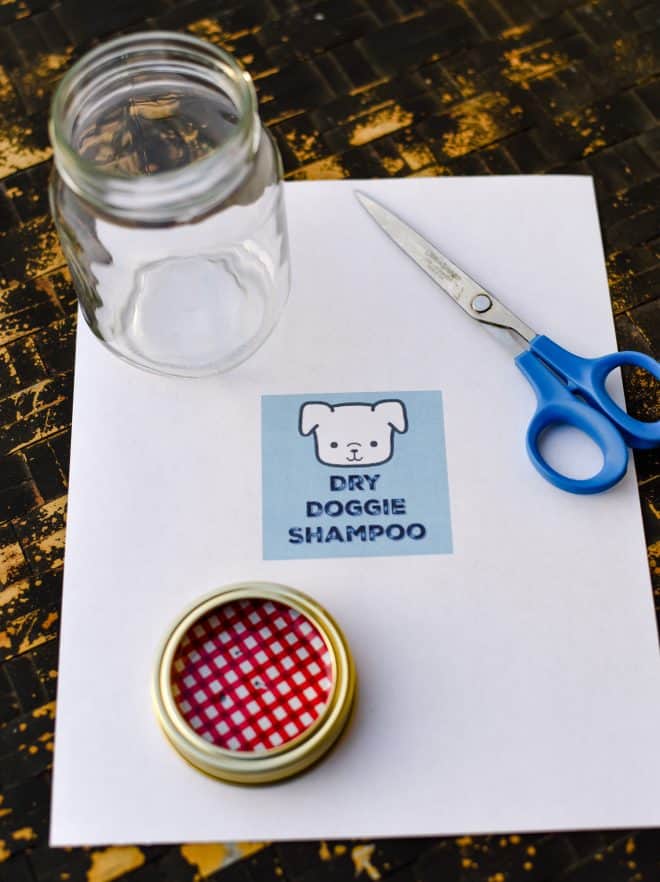 I designed a cute little label for my doggie shampoo. You can get my free label by clicking here: Dry-Doggie-Shampoo-Printable.
Using a decoupage medium, glue the label to the jar and let dry.
Sprinkle the dry shampoo onto the coat of your dog and rub it in. Be sure and stay away from his eyes.
Does Max pass the sniff test? Yes, he does!
Once Max is pampered and smelling fresh and clean, it's time for dinner.
What's for dinner?
When I'm shopping at Kroger, I always like to take my time in the pet aisle. It's a convenient and affordable place to stock up on Purina staples and find new toys for Max. He deserves to be spoiled.
On my latest trip to Kroger, I discovered new Purina® Dog Chow® Natural. It has no artificial colors, flavors or preservatives and is 100% complete and balanced. I really like the fact that it's a quality dog food at an affordable price. Max deserves star treatment every single day.
What does Max think about new Purina® Dog Chow® Natural? He loves it! Max thinks it's a great tasting Kibble and he really likes that it's made with real chicken.
Because Max brings so much joy to our family, we love to pamper him by making sure he lives a long and healthy life. He's well fed, well loved and smells great between bath times. How do you pamper your pooch?