This shop has been compensated by Collective Bias, Inc. and its advertiser. All opinions are mine alone. #ClassicInspiredMixes #CollectiveBias
I recently made the cutest little fall cupcake baskets and cupcake toppers to top delicious Girl Scout® Caramel & Coconut cupcakes. I'm going to surprise my daughter with the cupcakes to let her know how much I love and appreciate her.
My daughter, Rebekah, is the mom to my four grandsons. Yep, four! She taught school until her first child was born. Then she and her husband, Josh, made a decision that she would homeschool their boys.
I'm in awe of my daughter and can't imagine how she does it all. She runs a tight ship and the boys are learning to play musical instruments as well. I think they're the smartest kids on the block, but I may be a little biased.
When you become a grandmother, often times the kids are pushed aside because you've got grandkids and spoiling them is what you do. It doesn't mean we should stop letting them know how much we love and appreciate them.
Fall Cupcake Baskets and Cupcake Toppers
To make the simple fall cupcake baskets, you'll need cupcake wrappers, a hot glue gun, fall-colored cardstock, toothpicks, scissors and my free cupcake topper print.
Insert one end of the cupcake wrapper into the other end and glue it for added strength.
Add a bead of hot glue around the bottom of the cupcake wrapper and attach it to the cardstock. Let dry and cut around the outside of the cupcake wrapper. You now have a bottom for your basket.
Cut a strip of cardstock to form handles. Yes, I'm a leftie!
Attach colorful flowers with hot glue and you're done with the basket.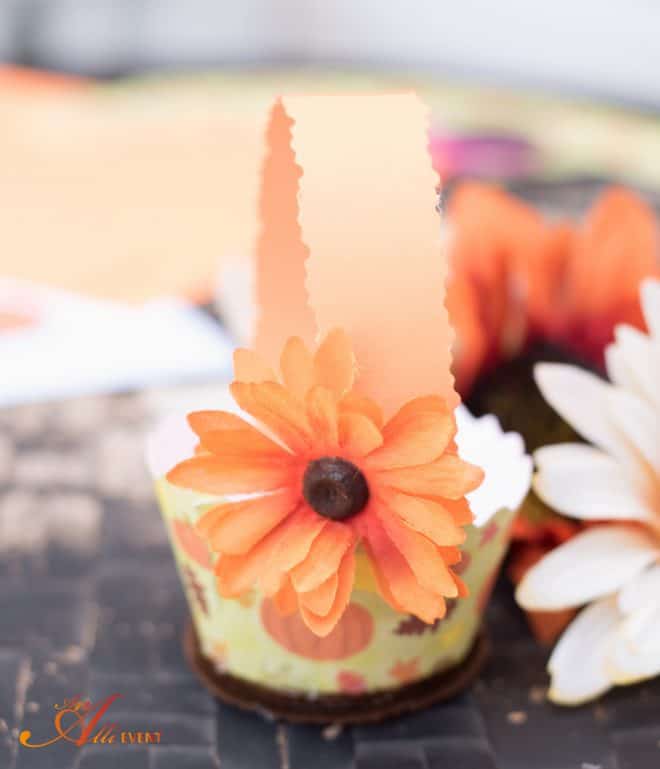 To make the cupcake toppers, print my free printable on cardstock: Pumpkin Cupcake Topper Printable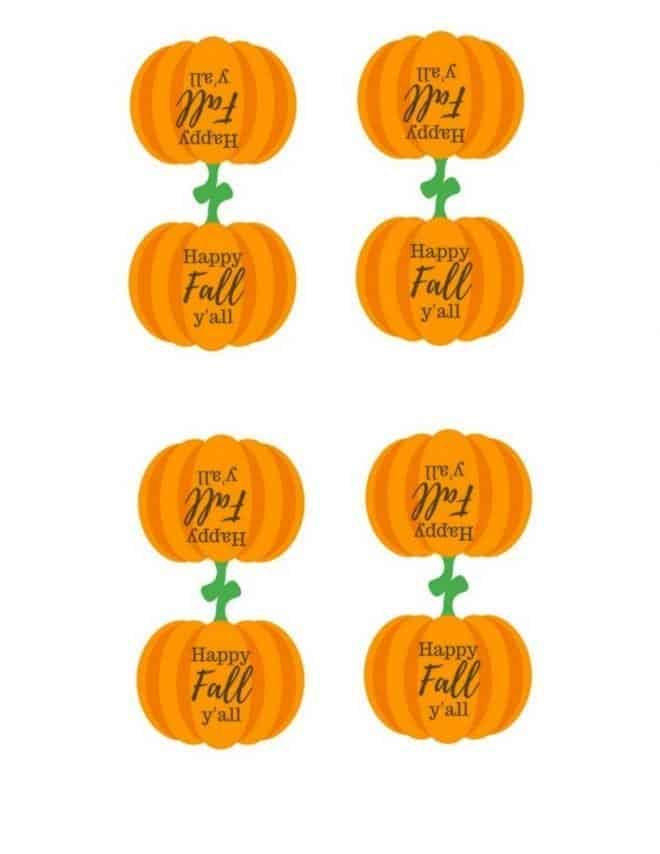 Cut out the printables. Be careful to keep both pumpkins attached at the stem.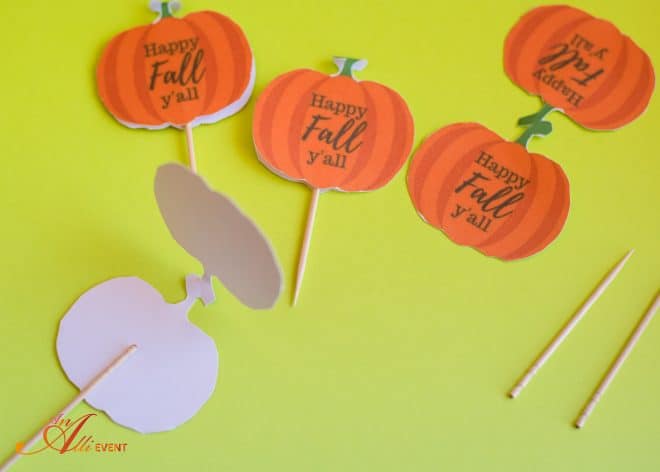 Hot glue the pumpkins to toothpicks.
Happy fall y'all!
The Cupcakes
While shopping at Kroger, I was searching the baking aisle to find the perfect baking mix to make cupcakes for my daughter. I spotted Pillsbury™ Girl Scout Cookie™ Inspired Baking Mixes. I will not confess to doing the happy dance in the middle of Kroger. My lips are sealed.
Deciding between the Girl Scout® Caramel & Coconut Cupcake Mix and the Girl Scout® Thin Mints® Cupcake Mix is difficult. No worries, I'll get them both.
The baking mixes come in kits and provides everything you need to create Pillsbury™ Girl Scout Cookie™ inspired treats.  
Another thing I love about these new baking mixes is that they make 12 cupcakes. However, my daughter is going to receive 11 because I don't know what in the world happened to that 12th cupcake. Shhh! 
And the chocolate ganache? It's amazing and so easy to whip up in the microwave.
I'm about to leave to surprise my daughter with Girl Scout® Caramel & Coconut Cupcakes. Want to come with?
The youngest grandson wanted to present a cupcake to his mom. Isn't he sweet?
Mission accomplished!
Have you tried the new Pillsbury™ Girl Scout Cookie™ Inspired Baking Mixes?