I try to eat right 80% of the time, but every once in a while I splurge on Homemade Double Chocolate Chip Brownies.
Brownies are my husband's very favorite dessert, snack, or whatever you want to call it. How about we call it breakfast? I'll be the first to admit that it's happened in my life before, usually on vacation.
I love to use pecans in this recipe. Check out my collection of Best Recipes Featuring Pecans.
Sometimes, I crave chocolate. When the mood strikes, nothing else will do. Since Sunday is my designated dessert day, it's the perfect time to serve Double Chocolate Chip Brownies. Chocolate on chocolate works for me.
The entire family comes over for Sunday lunch and there are usually no leftovers when it comes to dessert. If a miracle happens and there is a brownie or two left, I send them home with one of the kids. That way I'm not tempted to have a brownie for Monday breakfast. That's reserved strictly for vacations.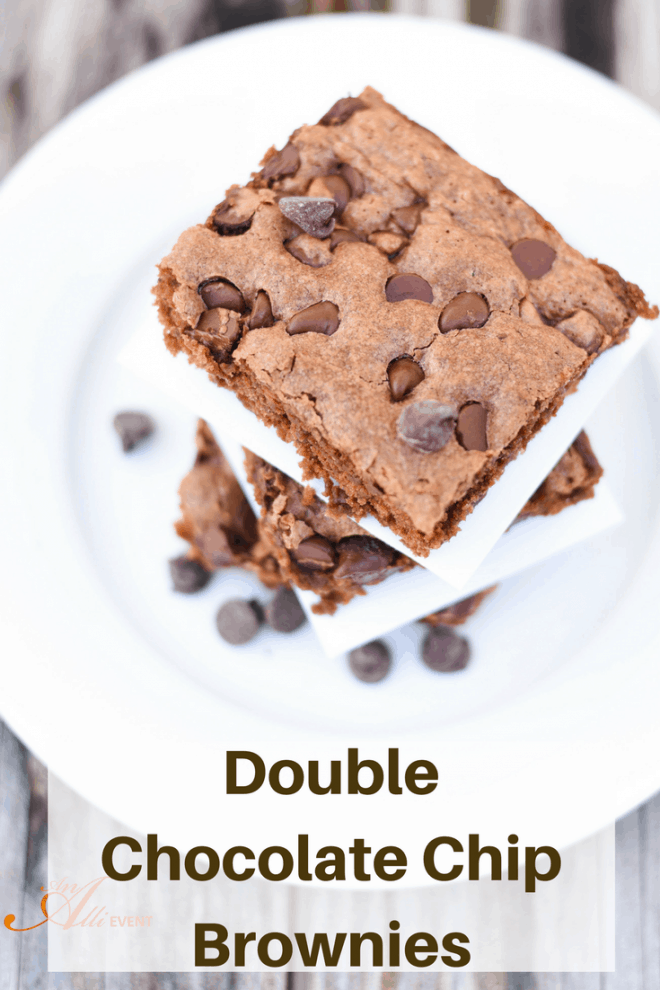 Another thing I like about making brownies is that there's not a lot of clean-up. Everything is basically dumped into one bowl, stirred together, and baked in a pan. There's actually an extra step with these brownies, but it's an easy one.
Double Chocolate Chip Brownies
In a heavy saucepan, melt 1/2 of the chocolate chips and butter on low heat until smooth, stirring occasionally.
Remove from heat and stir in the eggs, sugar, flour, salt, and baking soda. Add the remaining chocolate chips and pecans (if using). Sometimes I add the nuts and sometimes I leave them out because sometimes I feel like a nut. Sometimes I don't.
Bake in a 9×13 baking pan at 350º for 20 minutes or until a toothpick inserted near the center comes out sticky. Let cool and enjoy!
Homemade Double Chocolate Chip Brownies
Ingredients
1-1/4 cups all-purpose flour
1/4 teaspoon baking soda
1/4 teaspoon salt
1/2 cup butter
3 eggs
1 cup sugar
1 tsp. vanilla
2 cups semi-sweet chocolate chips
1/2 cup chopped pecans, optional
Instructions
Melt 1 cup chocolate chips and butter in a heavy saucepan over low heat, stirring until smooth. Remove from heat. Stir in eggs, flour, sugar, baking soda and salt.
Stir in remaining chocolate chips and pecans.
Pour into greased 13 x 9 baking pan.
Bake for 18-20 minutes or until a toothpick inserted near middle comes out slightly sticky.
Cool completely before cutting into squares.
What's your favorite dessert? Are you a chocolate person?
You may also like these Brownies: