It's a riot each year when I try to get all 13 family members together for our annual family photo!  And I always put my spin on what happened. Here goes another dreaded family Christmas photo!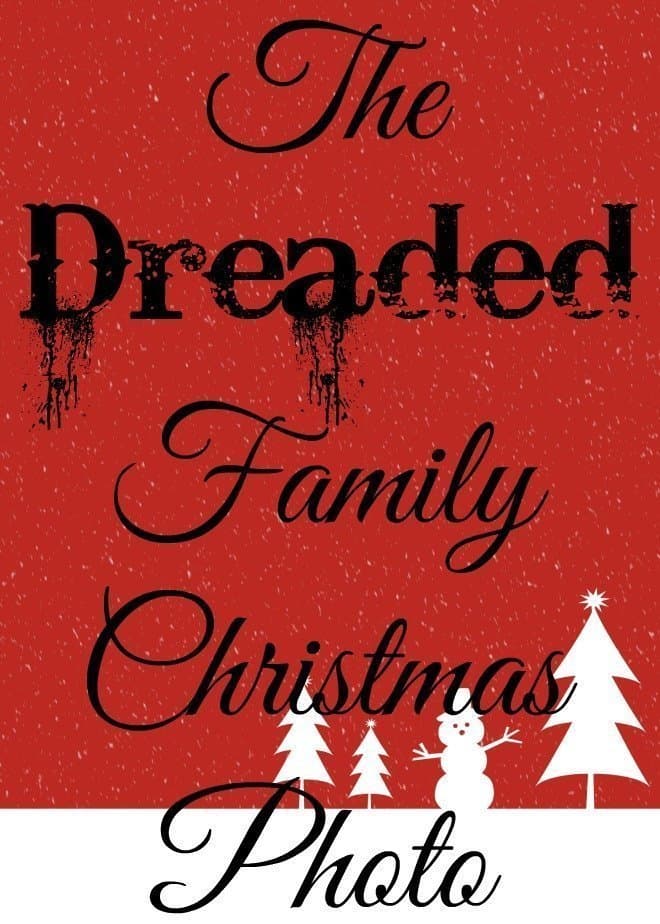 It's that time again – the dreaded family Christmas photo. I shouldn't complain. I'm the one who insists on the photo (insert really big eye roll and sigh).  You can read about the making of a family Christmas card 2012 here and 2013 here.  People have told me that they've laughed until they cried while reading those accounts. I mostly just cried.
If you recall, last year I never could get my grown kids together long enough to get a picture, so I grabbed the hubs and the grandkids and said, "Forget Y'all" to my kids (in a kind and caring way, but with a bit of attitude and a hand wave).
So this year when the subject was broached, I decided to keep my mouth shut.  If you know me, then you know how hard that decision is.  The convo goes something like this:
Daughter #1: " Let's do the Christmas pic on Thanksgiving Day.  We'll all be here.  It won't take long.  We'll do it right before we eat Thanksgiving dinner."
The hubs:  "We don't eat until six.  It'll be dark outside."
Daughter #1:  "We'll do it at 5:30."
Son #2:  "What are we wearing?"  (Really?)   He loves to have his picture taken!
Hubs:  "Still dark."
Me:  (You know I couldn't keep my big mouth shut) "How about 5:00 PM?"  (Remember the 5:00 part as you read on!)
Daughter #1 to Son #1:  "Don't wear a shirt with writing on it!  You do it every year!"
Daughter #3 (photographer): "Who's gonna shoot it?"  (We've alienated every photographer from Charlotte to Columbia)
Daughter #1:  "We are.  I'm bringing my Nikon, the remote and the tripod.  I've already got some poses in mind.  I'm setting it up and we're going to do it. Get it over with.  Bam."  (She's the one that never wants to find time to take pics)
Daughter #2:  "Wait one minute!  We will be coming from a family reunion (her husband's side) and I won't have time to re-bathe and redress the kids.  They'll be grungy."
Daughter #1:  "We're doing causal.  Black and white.  Doesn't matter what they look like."  (Who died and left her in charge?)
Son #2:  "What are we wearing?"
Me:  "I don't care what y'all wear."  I mentally tell son #2 to do something with that crazy hair as I'm going through my closet in my mind:  Michael Kors super skinny (almost leggings) black pants, my favorite Micheal Kors riding boots (will they even be seen?) and my new top I was planning to wear to an event I'm attending – the woman in all-slenderizing-black – done!
The Day Of
Me:  I've been in a cooking marathon for 2 straight days.  I have managed to shower before throwing on a Duke t-shirt and yoga pants.  At 4:00 PM I rush to the bathroom to put on some makeup, grab my skinny pants and boots and the black tee that goes under my new shirt.  I"m too hot to actually put on the shirt yet, plus I don't want to get it dirty.  Remember, I'm still cooking.  The only one cooking.  
Son #2:  "I didn't know you were dressing as Catwoman this year?"
Me:  "Meow!  It's my new look!"
Son #2:  Shakes his head in disbelief.
5:00 PM – Everyone's Arrived Except Daughter #1 and Son-In-Law #1 (aka her husband)
Me:  "Has anyone noticed how cloudy it's getting?"
Hubs:  "I'll call daughter #1 and see if they're almost here."
Daughter #1:  "We're just now leaving.  Mom said 5:30."  She lives 30 minutes away!
Me:  "Whoa there!  Mom said 5:00!  Mom did not say 5:30.  You said 5:30."  (Why am I speaking in 3rd person?)
Hubs:  "Now don't stress out.  You've been really calm today."
Me:  (thinking)  "What the heck does that mean?"
5:32 PM
Me:  I've opened the bottom oven and received a steam bath to my carefully made up and contoured-the-heck-out-of face to try and disguise the puffiness from that giant piece of pecan pie I ate last night. Daughter #1 is L A T E!
Breathe, just breathe!
5:35 PM
Me:  "It's pitch black outside (maybe a slight exaggeration) and I've got a turkey coming out of the deep fryer and rolls about to go in the oven.  Where is she?!?!?"  I begin the breathing exercises I was taught in that Lamaze class 28 years ago – a few weeks before I had the C-Section.  
Daughter #2:  "I know.  We'll turn on all the cars' headlights and shine them at us."  Aren't you the funny one.
They Finally Arrive & Everyone Heads Out the Door
Except me!
Me:  "Call me when you get it all set up and I'll throw on my shirt and pop out the door at the last minute."
She did.  I did.  We did.  It was a complete disaster!  I do believe my 3-year-old grandson could have done a better job.
I looked like I had just run a marathon.  My face was glistening and my hair was curling/frizzing from the steam bath.  I was a hot mess.
The next day, I called my lawyer paralegal cousin to discuss the dilemma and promptly announced that I was not sending out cards this year. It would be the first time in my married life that there would be no cards.  Then Linda had a brilliant idea.  "Do a collage" she said.  They'll love it, she said.
Eureka!  On the spot I decided we would add pics of the grandkids and the rest of us would do selfies.  That's right. Selfies.  It worked.  Kinda.  Sorta.  Here are the results.  (Reminder:  I was working at my desk and just held out my iPhone and clicked.  Done.  Not my best work by far, but done.)
And thank you, Minted, for the discount coupon code from that sponsored post I did a good while back, the premium paper, the free, cool self-addressed envelopes, and the off-the-chain delivery.  You rock!  Big time!
I'm on a quest to find a photographer left in NC/SC that will take our family pic next year.  🙂  Any volunteers?