I know that fall burlap wreaths have been all the rage for several years and yet I'm just now jumping on the bandwagon.  I never really wanted one until I saw Denyse's at Glitter, Glue and Paint.  You can find it here, including a list of supplies that you will need.  I really like it, so I used it as my inspiration.
After seeing Denyse's fall burlap wreath, I needed to make a trip to Hobby Lobby, except it was not on my way to the restaurant supply warehouse in Charlotte – it was on the other side of town – so I decided to drop by Michael's, except they had closed the location I would be driving near, so I stopped at a JoAnn's Fabric and they didn't have what I needed.  So the next day I headed to Hobby Lobby in Florence.  Gosh.  All that to get supplies for a wreath.
So, on a Friday night, while the hubs and I watched something on TV that he had recorded a few days ago, I worked on my wreath.  You know I can't do one thing at a time.  I did look at several tutorials, but just couldn't get the hang of any of them, so I just did my own thing.  That's how I roll!  🙂
Also, in the last picture, the one of the wreath hanging on my front door, it looks like the burlap is darker at the top of the wreath than at the bottom (or am I the only one noticing this?).  It's the way the sun is shining on the door and I didn't want to wait to take another pic.  It's all good!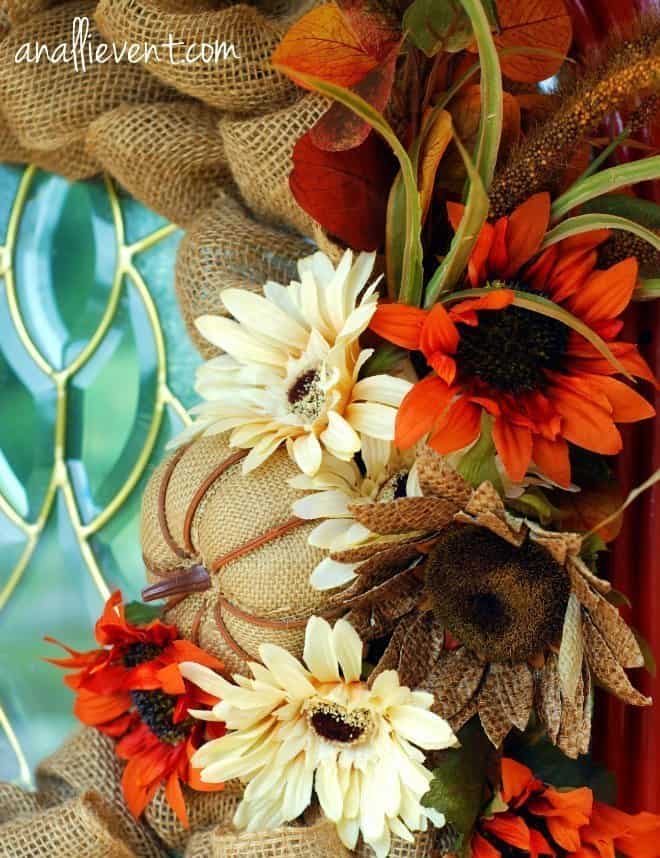 First off, I don't like to have to tie things on and that sort of thing, so I made my wreath without using hot glue, florist wire or anything.  And I've tested it on my door for over a week before writing this post and nothing has dislodged.  It still looks the same as the day I made it.  And, believe me, the grands have been in and out over the last few days so the  front door has been slammed numerous times.
I started from the back of the wire wreath and just took turns pushing the roll of burlap  up between the three wires, fluffing it and going in between the next wire, making sure I went between each of the three wires each time.  I kept pushing the loops close together so the frame of the wreath wouldn't show.  I kept checking the wreath to make sure I was making the same size loops.  I noticed I had a tendency to get bigger and bigger with the loops, so I did have to adjust a few of them.
At the end, I left an area covered with burlap, but with smaller loops, because that is where I wanted to stick my flowers, pumpkin and grasses.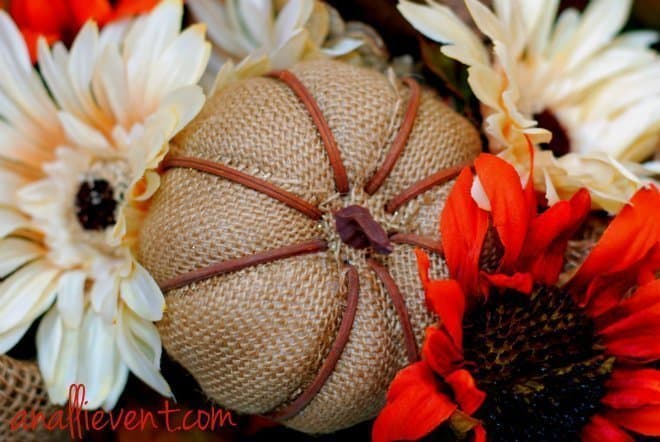 And, that's it.  I have a clear  command hook that I leave at the top of the glass on my front door to hang wreaths.  I bet it didn't take over 20 minutes from start to finish.  I should have timed it.
I did make a fall ribbon, but I thought it looked weird with all the fluff of the burlap going on.  So I didn't attach it.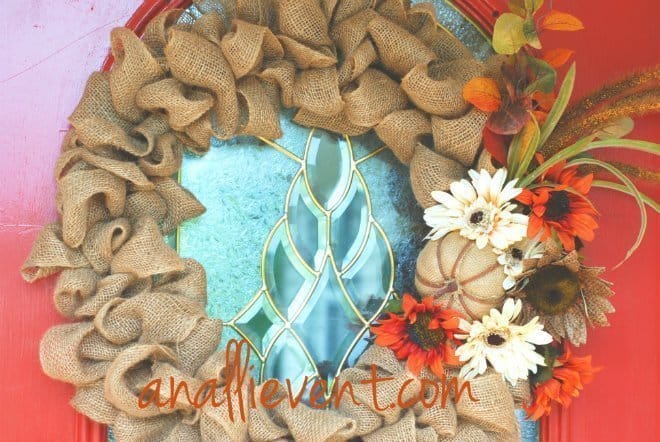 Print Friendly