I recently attended a family reunion at my mom and dad's rustic cabin at the end of a country dirt road in south Georgia. It's always a good day when I get to spend a day at the cabin in my hometown.
My parents live in town but have a cabin and pond out on the land adjoining the land we used to live on. You can read about that here.
Spending A Week With My Sister And Parents
My sister, Melinda, ( from Colorado), and I spent the week following the reunion with mom and dad. It was just the four of us and we had the best time.
Melinda and I shared our old bedroom and always stayed up way too late reminiscing, laughing and even crying a few tears of happiness. One night my mom said that she got up to go to the bathroom and heard us talking and giggling around 2 am. It took her back to our teen years, as well.
Mom Catered To Us Just Like Old Times
Mom cooked our favorite meals, even while we protested mildly because we are gracious southern belles and you know we always use good manners. All the while, we were hoping and praying that mom wasn't listening to a word we said! And she didn't.
Visiting My Hometown And The Cabin
It's always a nostalgic walk down memory lane every time I enter the city limits of my hometown. The years fade away and for a little while, I become that young girl I used to be.
The air even smells sweeter there and good memories, like the smell of honeysuckle, assault my senses and take me way back . . .
Setting Up For The Annual Elrod Reunion
As I was helping my parents set up the tables and chairs at the cabin the day before the reunion (trust me, they had it well under control and at age 80 can outwork all 30 year old) I decided to wander around the property taking pictures.
Yes, I was watching for rattlesnakes, mom!
I enjoyed my nature walk and hope you do, as well. I even captured a pic of pokeberries. My sister and I used to paint our nails with them when we were little girls. Who says you can't go home again?
I'm singing Midnight Train to Georgia while I upload the pictures. I think you should join in on the singing as you take this walk with me! So, here's the link!
This is the backside of the cabin. It faces the pond and it's always so peaceful at the family cabin.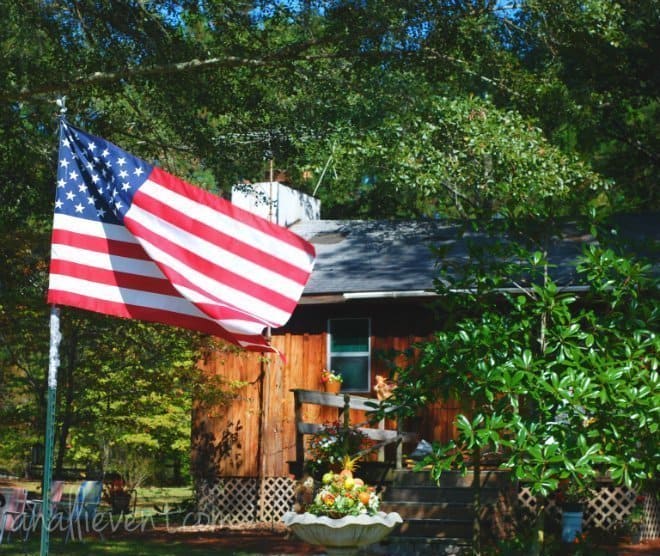 This old rusty mailbox is just for looks.
We picked pears from one of mom's pear trees.
I love this old silo and the boat. Mom uses this old boat as a flowerbed.
The fishpond is always beautiful. One day, during that visit, we caught a mess of fish. Mom and dad cleaned them and cooked them right there at the farm. My sister, Melinda, and I agreed that it was the best fish we've ever tasted.
Look at the peppers in the photo below. My mom is a master gardener.
Below is a close-up of the back of the old cabin. Look at all the lovely fall foliage.
More flowers on the back deck!
I have to say that this is visit was one of my favorite hometown visits. When I returned home, I knew I wanted to share A day at the cabin in my hometown with you.
This all took place in October of 2013. We had no way of knowing that mom would suddenly pass to heaven in May of 2016. Thank God for these precious memories.
You May Also Like