This shop has been compensated by Collective Bias, Inc. and its advertiser. All opinions are mine alone.
#WhereFunBegins #CollectiveBias
School's (almost) out for summer and that old song is playing in my head.  To celebrate the beginning of summer and the end of another school year, I hosted a Fun in the Sun party this past weekend.  I do believe it was the easiest and most fun party I've ever hosted and clean-up was a breeze.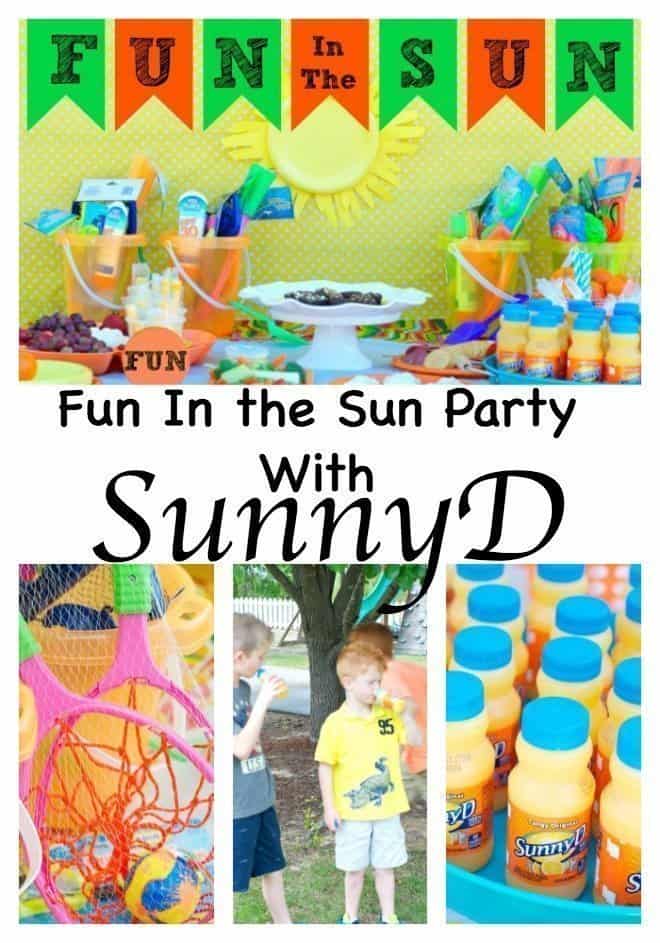 Head to Sam's Club for SunnyD!
A cool summer party calls for some fun, hot colors and you can't get any hotter than orange and yellow! With those colors on my mind, I headed to Sam's Club to grab a 24-pack of SunnyD! I walked up and down the beverage aisle twice before it dawned on me that SunnyD is in the refrigerated juice section. Duh! The best part?  They were on Rollback at $5.38 instead of $5.98!  I love a good deal!
I grabbed the 24-count pack. (Parties are so much easier when you don't have to buy ice and cups!)  Then I took a trip down memory lane as I remembered how much my son loved SunnyD when he was growing up. I bought it by the gallons!  Now, I'm buying it for my grandkids. The kids grew up, but I stayed young! 🙂
Fun In The Sun Party
Want to know my #1 secret for hosting a great party?  Keep it semi-homemade!  I always make a few of my party foods and purchase the rest.  You won't be overworked and you'll enjoy the party.  Trust me!  After you grab the SunnyD at Sam's Club, head on over to the bakery and buy the brownies.  You won't regret it!
DIY Sun Craft
I made the cutest sun by tracing my hand (this would be a great craft for the kids, but there were none here when I was preparing the party) several times onto yellow cardstock. I cut them out and taped them to the back of a yellow paper plate. They don't have to be perfect but make sure the pen marks are facing away from the back of the plate.  You can draw faces or leave them blank.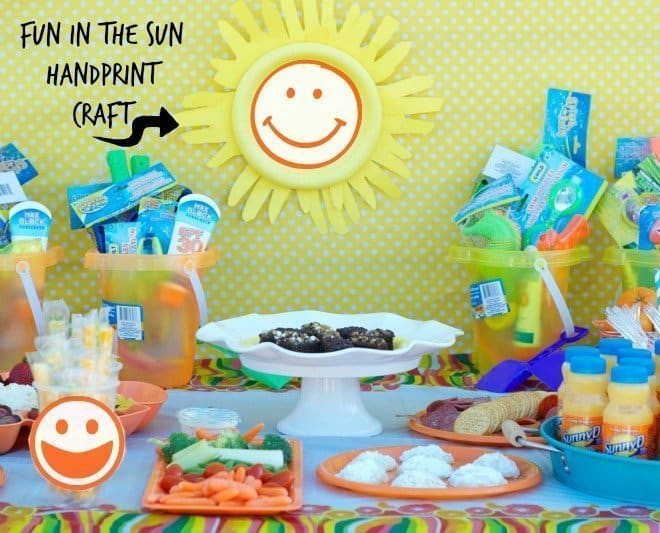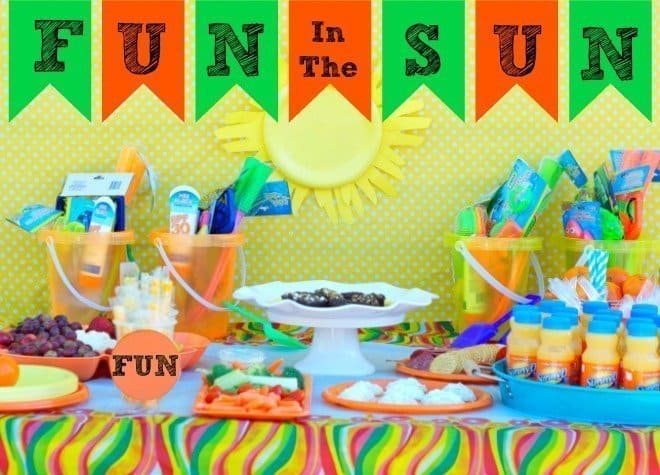 The Menu
Chilled SunnyD
Fruit Tray with Cheesecake Filling Dip
String Cheese Sticks
Orange Cooler Cookies
Veggie Tray
Clementines
Meat & Cracker Tray
Brownies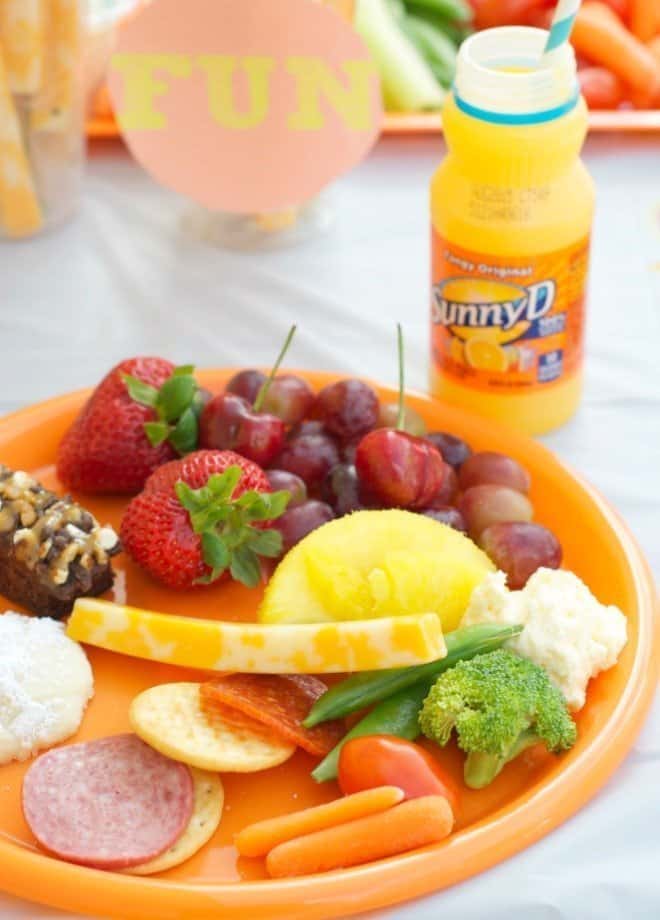 Orange Coolers Recipe
Lemon Coolers were my favorite cookies when I was a little girl.  I changed the recipe and added SunnyD to make Orange Cooler Cookies.  They're just as good as the lemon!

Orange Coolers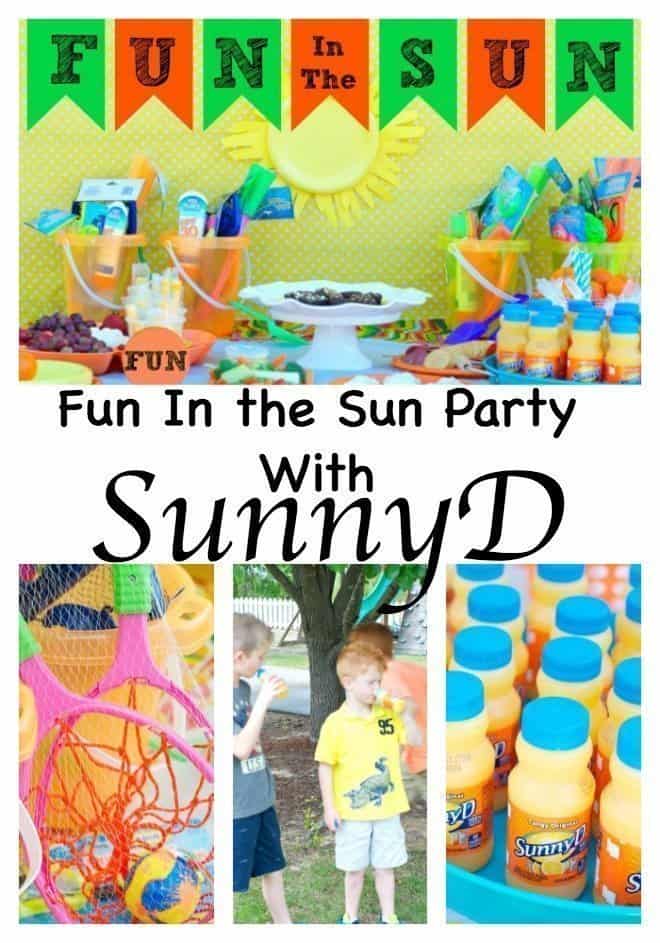 Ingredients
2/3 cup butter, at room temperature
1 cup powdered sugar
2/3 cup sugar
2 eggs
1 teaspoon vanilla extract
3 cups cake flour
1 tablespoon baking powder
1/4 teaspoon salt
2 Tablespoons SunnyD
2 teaspoons finely grated orange zest
To coat cookies:
1 cup powdered sugar
2 teaspoons finely grated orange zest
Instructions
Preheat to 325°F.
Line cookie sheets with parchment paper.
In a large bowl, beat together butter, powdered sugar, and sugar until light and fluffy.
Add eggs & vanilla and beat until smooth.
In a medium bowl, stir together cake flour, baking powder, and salt. Stir dry ingredients into butter mixture, add SunnyD, and mix until everything is combined (do not overmix).
Use a cookie scoop (or a tablespoon) to scoop the dough into approximately 1-inch balls. Space balls at least 1 inch apart on prepared cookie sheets. Bake for 15 minutes or until centers are puffy and cookies are light golden brown on the bottom. Remove cookie sheet to a wire rack and allow to cool for 5 minutes.
Roll cooled cookies in the powdered sugar/orange zest mixture.
The grandkids love fruit, especially frozen grapes (me, too!), so a sun-shaped bright orange tray was just the thing for holding the fruit and cheesecake dip.
Helpful Hint:  When planning an outdoor party, check the local Dollar store.  You can find some pretty partyware and table covers without breaking the bank!
It's not a party without some fun and games, so I included a few outdoor games tucked into sand buckets as party favors.  I also added dive sticks, goggles, water guns and sunscreen.
After several games and a few rounds of playing water-gun chase (no pool required!), the party ended with another round of SunnyD and some happy, tired little boys.
Check out more fun recipe and craft ideas at sunnyd.com.  How do you have fun with SunnyD?