Game Time Tablescape was compensated by Collective Bias, Inc. and its advertiser. All opinions are mine alone.
We're a sports-loving family. We get together often to watch the big game. Gameday festivities at my house include football, food, fun, and family.
I always enjoy planning my game day tablescape because it's a casual, laid-back party and I can let my imagination soar. There's always one rule: No stuffiness allowed (except for the cheese-stuffed pizza crust and we'll get to that later.)
We always wear our favorite jerseys, even if our team isn't playing. And you'll find half the family cheering for one team and half cheering for the other. There's nothing wrong with a little friendly competition.
I can't predict the outcome of the game, but I can predict that you'll want to duplicate my party at your house. So, let's get this party started!
Game Time Tablescape, Menu & Recipes
Gameday always brings a crowd to my house so I use my dining room table for the buffet. It's the perfect place to create a mini football field.
I purchased an indoor/outdoor rug that looks like grass for only $19.99 at my local home improvement center. It's not heavy at all and I tucked a table cover underneath so it won't scratch the table. I snapped a photo as I was getting the table ready.
I enlisted the help of my sweet husband to trim the edges of the "football field" so there would be no overhang. Then I put him to work on making a goal post with PVC pipe and using duck tape to create the markings on the field.
I think it turned out spectacular.
Borrow A Football Helmet From Friends or Family
Helpful Hint: The football helmet I'm using as part of the centerpiece was borrowed from the son of a friend.
You all know what my motto is: "Never buy party decorations if you can get them for free by shopping at your home, your mom's, or your friend's."
I made the pom poms by cutting a large square from a paper tablecloth I had tucked away in my linen closet. Then, I cut the square into strips being careful not to cut through the ends.
I rolled it up, and secured the non-cut end with rubber bands. Instant poms!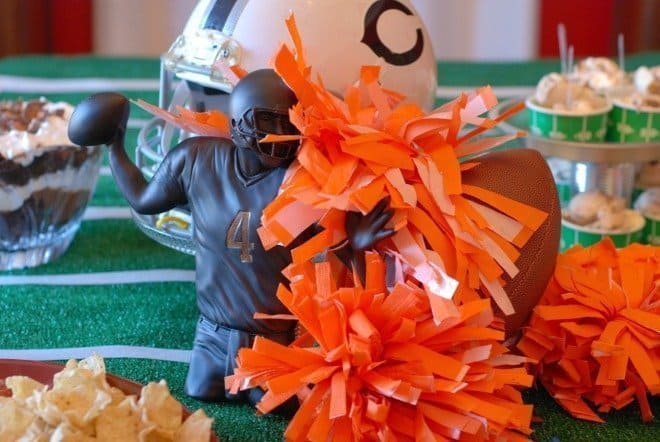 I always keep the recipes simple and cooking down to a minimum because I like to enjoy the game, too. The first thing I do is head to my local Walmart to load up on our game-day favorites.
The "meat" of the party includes wings from a local restaurant and freshly baked DiGiorno Cheese Stuffed Crust Pepperoni Pizza straight from my oven.
DiGiorno pizza is always a big hit at my game day party and the cheese-stuffed crust takes this pizza to a whole new level of deliciousness.
I like the fact that each pizza is made with real mozzarella cheese and vine-ripened tomatoes from California.
Helpful Hint: There is nothing wrong with having a semi-homemade gameday spread. It saves so much time.
Menu for Game Time
I add my pineapple cheese ball and crackers, my taffy apple dip, chips, and salsa and I serve several varieties of drinks,
My favorite drink is always my famous mocha punch featuring Nesquik. You can find my family's favorite punch here!
The grand finale is all about dessert and I think two desserts are always better than one! I serve my Butterfinger Peanut Butter Cup trifle and limited edition Edy's Grand Ice Cream Touchdown Sundae.
Have you tried the Butterfinger Peanut Butter Cups Minis? Two of my favorite flavors got hitched. You need to run (or drive) to Walmart, grab these babies, and make my trifle.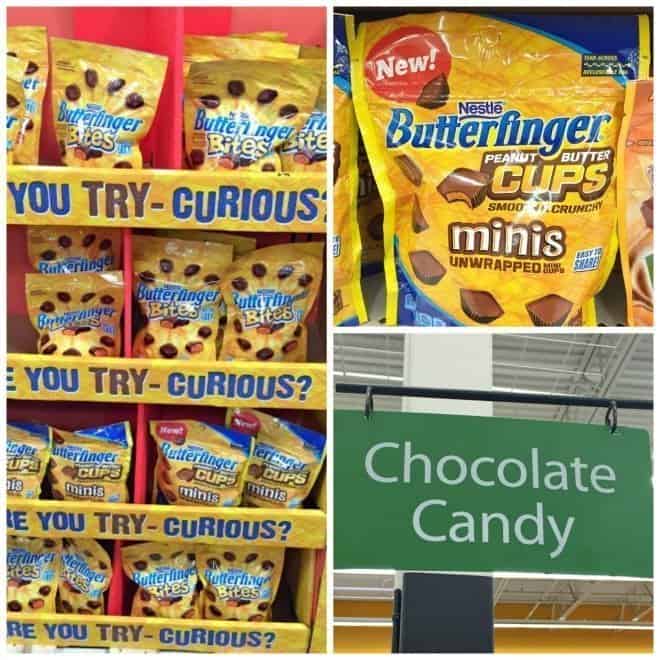 Butterfinger Peanut Butter Cup Recipe
You can find my Butterfinger Peanut Butter Cup Trifle by clicking here!
Helpful Hint: The trifle can be made a day in advance and kept in the fridge. After you bake the cake and mix up the pudding, it's all about the layering. This is the perfect dessert for any occasion.
A few hours before your guests arrive, scoop out the Edy's Grand Ice Cream Touchdown Sundae into cups and place them in the freezer.
When it's time for dessert, you won't miss any of the game or the party. You'll love the flavor and especially the little chocolate footballs swirled into the creamy ice cream.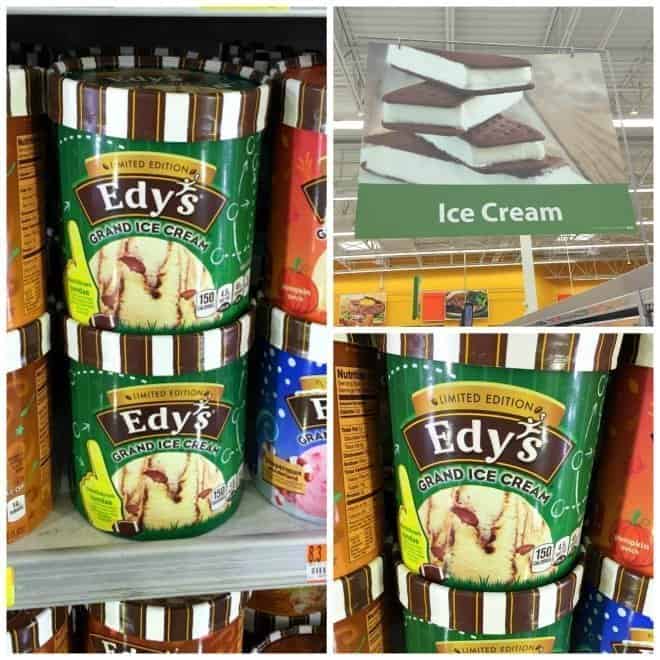 Aren't these little ice cream cups adorable? I bought them at my local party store. The little spoons are included. Who says paper products can't be convenient and pretty?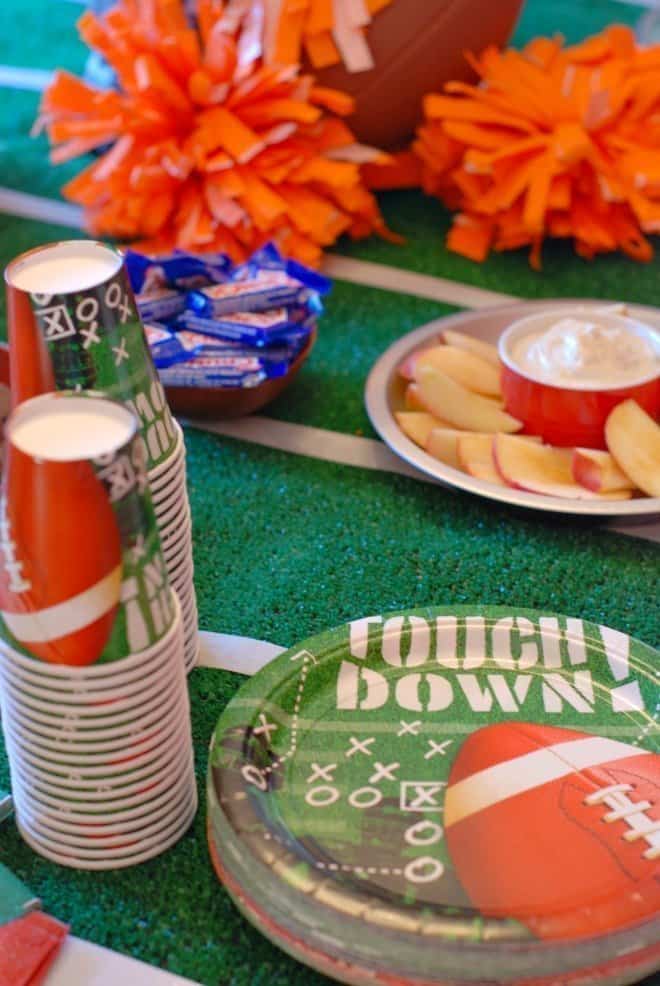 If anyone has a snack attack during the game, I have football-shaped bowls filled with fun-size Nestle crunch bars and Butterfinger Peanut Butter Cups Minis. The bowls were 2 for $1.00 at my local dollar store. Score!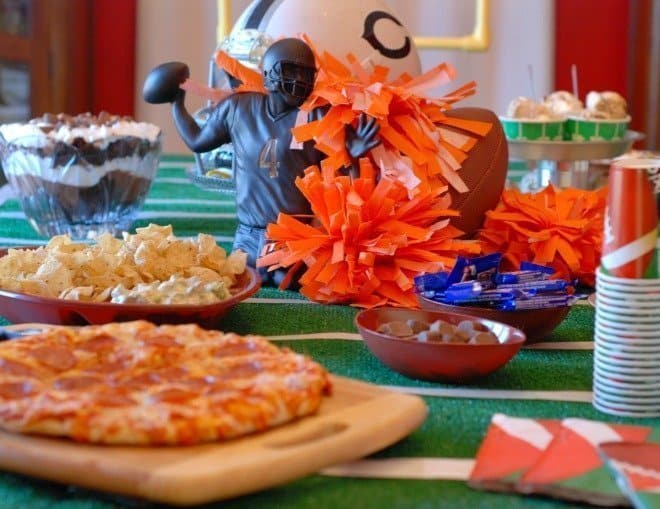 I hope you enjoy my game day tablescape, menu, and recipes. What's your game plan? I'd love to hear all about it.