Herbed Cheese Tomato Appetizers were sponsored by Collective Bias, Inc. All opinions are mine alone.
It's almost time for the big game and I've created the easiest, tastiest game day recipes with Ritz Crackers & Coke. For more game day recipes, be sure to check out 29 of my best game day recipes!
I prepared and presented these recipes to my 20-something-year-old tasting panel (aka my kids) and they went crazy wild over my game day appetizers and your guests will, too!
You'll spend hardly any time in the kitchen, yet you'll score a major touchdown with this party.
Game Day Recipes with Ritz Crackers & Coke
Let's start at the beginning with a party planning checklist. You have to make sure you've got the basics worked out. Relax, my game day party is always low-maintenance so that you can enjoy the game.
Invites
A casual party calls for casual invites; even a phone call will do. You know your friends and family are waiting for that call.
Tablescape
I've got you covered. You're going to love my easy, inexpensive DIY tablescape and it's a way to get the man in your life involved, too. (My husband helped me out on this one.)
Menu
Keep it simple and scrumptious! I like to serve a variety of bite-sized appetizers that deliver a bold burst of flavor.
You don't want to spend game time in the kitchen. This is one party where I stock up on tasty food that requires a minimum amount of prep work.
Food & Beverages
Some of your guests will be munching on and off during the entire game so don't skimp on the food and beverages. More is always better.
To plan for my game day party I always head to Walmart and check out the rollback prices such as DiGiorno Pepperoni Stuffed Crust Pizza (a family favorite).
Then I grab a few six-packs of Coca-Cola and the family-sized package of Ritz crackers. Everything tastes better when it sits on a Ritz and you're going to love my Herbed Cheese Tomato Appetizers.
Entertainment
The big game is the main event! We always pick our favorite commercials and at the end of the game we tally up the votes to find the winner.
The kids play a football game using soft, tiny footballs from the party store and the goalpost made from leftover PVC pipe.
The tablescape is anchored with a fake grass rug from a local home improvement store. My husband cut it to the size of my tabletop.
I used a table cover underneath the rug to protect the table from scratches. We added some tape to resemble a football field and we were good to go.
Easy Game Day Centerpiece
A game day party centerpiece calls for something outside the box. Flowers or candles just won't cut it.
I visited Hobby Lobby and found the perfect centerpiece items for half off. Yay!!
I'm in love with the silhouette of the football player. He'll find a good home in the sports-themed bedroom of my grandson once the party is over.
Or you could play a game and the winner gets to take home the centerpiece until next year's party!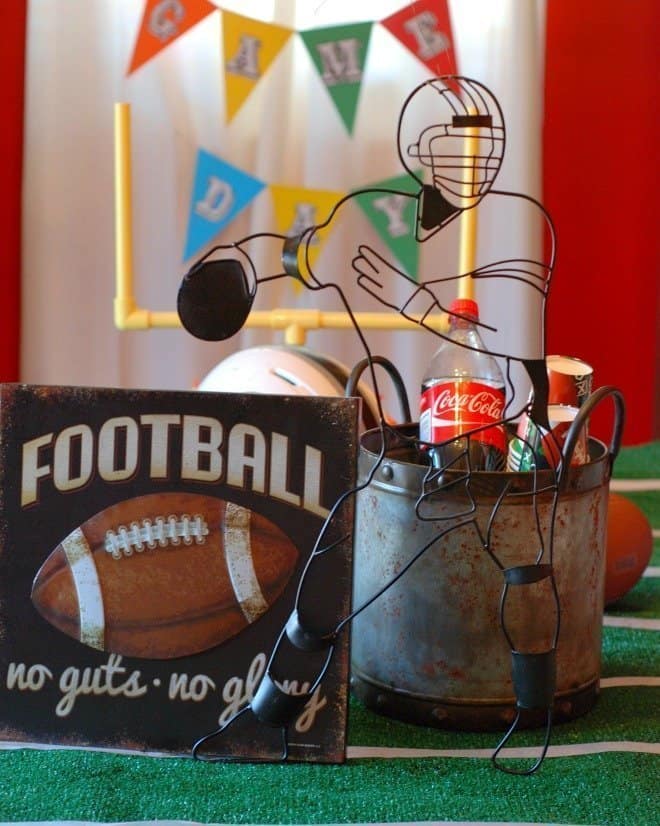 DIY Game Day Pennant
This DIY "Game Day" Pennant garland is perfect to anchor the far end of the table.
I bought card stock pennants, grabbed some twine, and added press-on letters from the craft store. Done!
Favorite Game Day Recipes
No party is complete at my house without a pile of wings. I don't like to get too spicy with the sauce because my grandsons will be digging in.
I took my mom's simple barbecue sauce and made it better with the addition of coke. Click this link to find my Cocoa Cola Barbecue Sauce!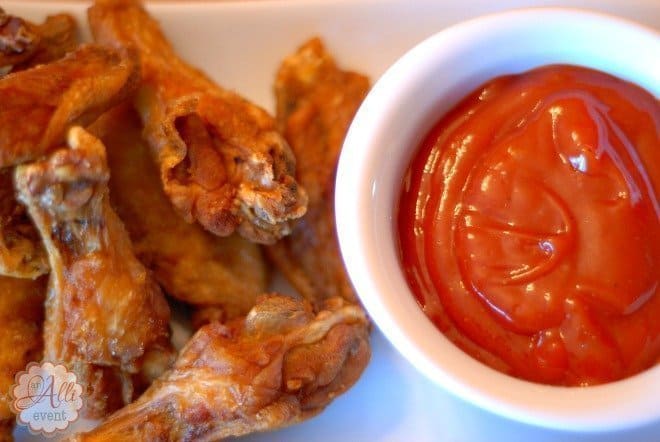 More Recipes
Ritz crackers have always been my fave. I love the buttery flavor so much that I'm serving them in 3 different ways.
Both of the appetizers have completely different tastes. My herbed cheese, basil, and tomato appetizers will be a big hit with the girls (and guys).
Herbed Cheese, Basil and Tomato Appetizers
Ingredients
Ritz crackers
1 Container Herbed Cheese Spread
Fresh basil
Cherry tomatoes
Instructions
Spread each Ritz cracker with the herbed cheese spread.
Add a small basil leaf.
Top with 1/2 of a cherry tomato.
Place on a serving tray and watch them disappear!
Who can resist my coke-infused ham and pepper jack bites?
I also feature Ritz crackers as the star in my Puttin' on the Ritz cookies. I've had this simple recipe for years and it remains my family's favorite cookie.
Puttin' On The Ritz Cookies
You'll need a white chocolate candy coating. I use CandyQuik.
Spread peanut butter between two Ritz crackers. Continue until you use a sleeve and a half of crackers. Dip in melted Vanilla CandyQuik. Let dry on waxed or parchment paper. Store at room temp in an airtight container. These are so good!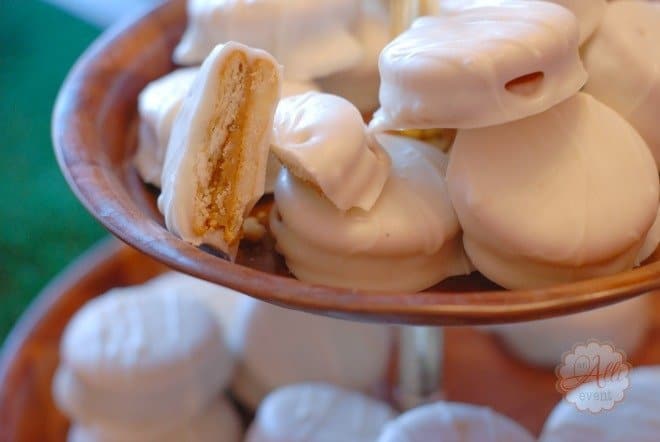 What are your plans for the big game? Are you hosting the party?
Check Out Even More Game Day Recipes and Party Tips!