German Chocolate Sheet Cake is easy to make and oh, so delicious! If you love pecans as much as I do, check out all my Best Recipes Featuring Pecans.
I admit it. Sometimes I'm a lazy baker. There are moments when the thought of stacking cakes, layering them with frosting and stacking some more just doesn't appeal to me. Sometimes, I like easy, especially when I don't have much time. That's when German Chocolate Sheet Cake comes into play.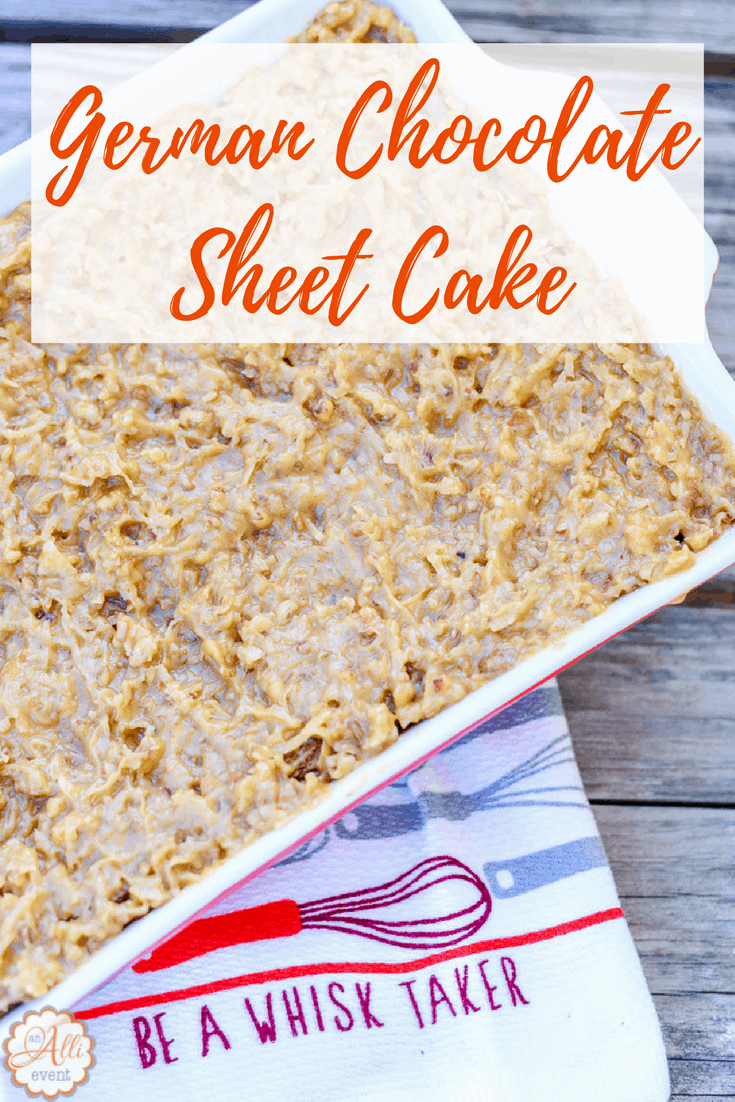 German Chocolate Sheet Cake happens to place in the top three when it comes to listing my favorite cakes. Red Velvet Cake and Caramel Cake also share in my top cakes. I think it's the frosting that always wins me over.
German Chocolate Cake is a Favorite
When I was growing up, mama would make German Chocolate Cake on special occasions and the combination of pecans, coconut in the ooey-gooey topping would make my mouth sing! I have no idea where she found the recipe, but it's a keeper.
What makes this cake really special is the pecans I use. They come from my mom and dad's pecan trees and I have to tell you, Georgia pecans are the best ever.
German Chocolate Sheet Cake
Helpful Hint: Before you start making the cake, toast the pecans in a 350º oven for 8-10 minutes. I always shake the pan halfway through the cooking time. Set aside to cool.
While the cake is baking, I make the frosting. Be sure and stir the entire time. Once it coats the back of a metal spoon, it's thick enough.
German Chocolate Sheet Cake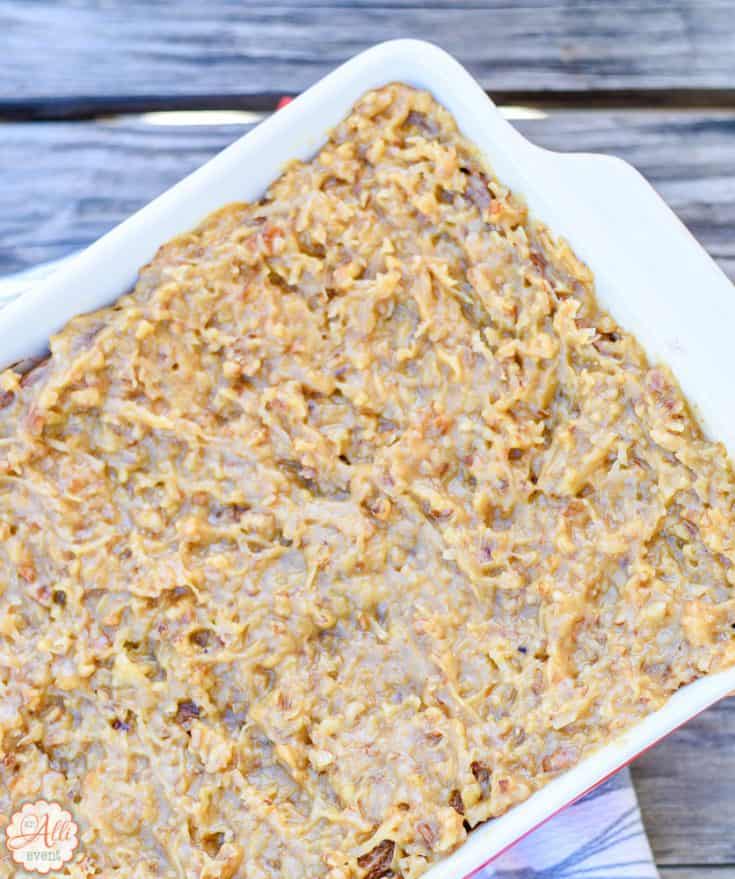 German Chocolate Sheet Cake is moist with a delicious topping!
Ingredients
2 packages sweet German Chocolate baking bars (4 oz. each)
1/2 cup water
4 large eggs, separated
1 cup butter
2 cups sugar
1 teaspoon vanilla extract
2 cups flour
1 teaspoon baking soda
1/4 teaspoon salt
1 cup buttermilk
Pecan-Coconut Frosting
1 cup evaporated milk
1 cup packed brown sugar
3 egg yolks
1 tsp. vanilla
1/2 cup butter
1 cup chopped, toasted pecans
1-1/3 cup sweetened, flaked coconut
Instructions
Grease a 13x9 pan and set aside.
In the microwave, melt chocolate and water for 1 - 1-1/2 minutes, or until melted and smooth. (Stir halfway through)
In a large mixing bowl, cream butter and sugar until light and fluffy. Add egg yolks, one at a time, beating well after each addition. Stir in chocolate mixture and vanilla.
Combine flour, baking soda and salt. Add to creamed mixture alternately with buttermilk, beginning and ending with flour.
In a small bowl, beat egg whites until stiff peaks form. Fold slowly into batter.
Spread batter evenly into prepared baking pan.
Bake for 45-55 minutes or until a toothpick inserted into center of the cake comes out clean.
Cool completely on wire rack.
Pecan-Coconut Frosting
In a heavy saucepan, combine the milk, brown sugar, egg yolks, butter and vanilla. Cook over medium heat, stirring constantly until thick, about 7-9 minutes OR until the mixture coats the back of a spoon.
Remove from the heat and stir in pecans and coconut.
Frost cooled cake. Cut into squares to serve.
Nutrition Information
Yield
18
Serving Size
1
Amount Per Serving
Calories

468
Total Fat

27g
Saturated Fat

15g
Trans Fat

1g
Unsaturated Fat

10g
Cholesterol

117mg
Sodium

323mg
Carbohydrates

53g
Fiber

2g
Sugar

40g
Protein

6g
Special Note:
When I use a 13×9 baking pan, this sheet cake takes about 45 minutes to cook in my oven. I always start checking around 40 minutes. When a toothpick inserted in the center comes out clean, the cake is done. (It may take up to 55 minutes.) Overlook the toothpick holes. I got carried away.
Helpful Hint: I usually serve this cake in the pan and cut it into squares. If you want to frost the sides, be sure and grease the pan, line the bottom with parchment paper and grease the paper before adding the batter.
Once you let it cool for 15 minutes on a rack, remove the cake and let cool completely on the rack. Also, you'll want to double the pecan-coconut frosting if frosting the sides.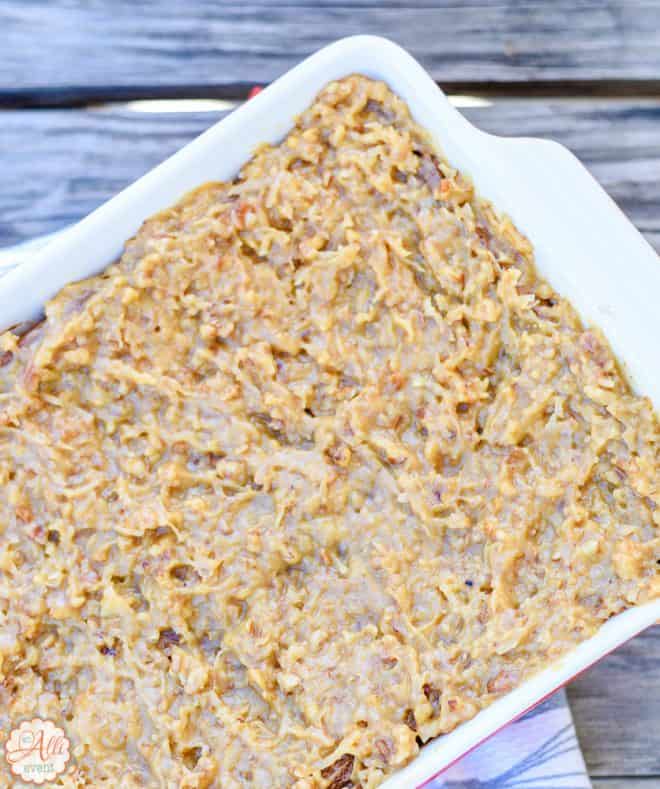 Optional Layer Cake: Of course, you can make this German Chocolate Sheet Cake as a traditional 3-layer cake. Be sure and grease the pans, line the bottoms of the pans with parchment paper and grease that too. Bake 25-30 minutes or until a toothpick inserted in the middle of the cake comes out clean. Cool in pans for 15 minutes on a wire rack. Remove from the pans and cool completely on wire racks.
You May Also Like:
Chocolate Cake with Vanilla Frosting and Candy Canes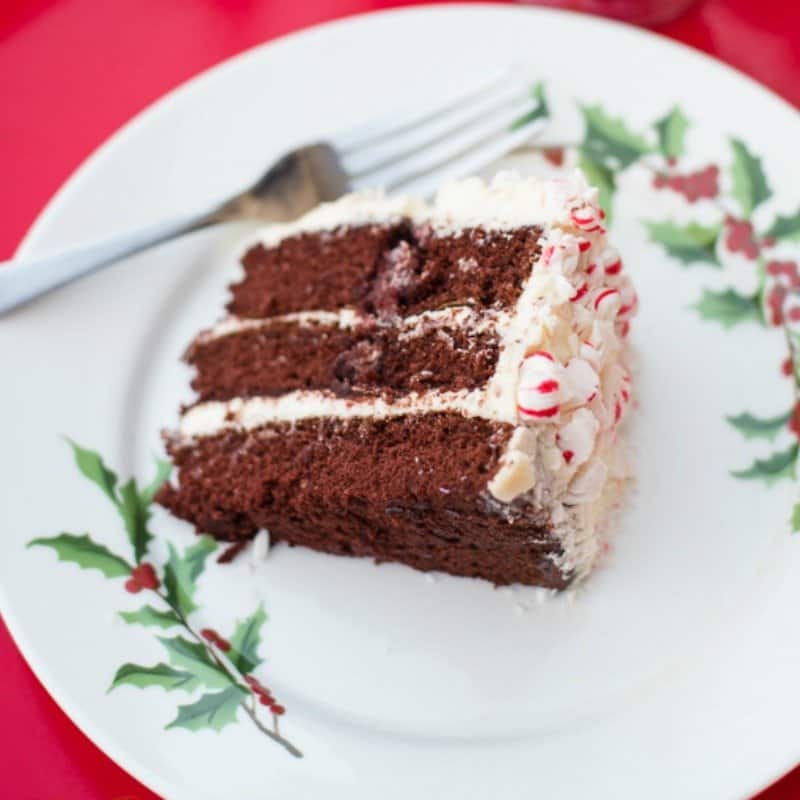 Cranberry Apple Coffee Cake (another huge favorite at my house)
Chocolate Cupcakes with Peanut Butter Frosting