Gingerbread Boy Decorating Party is a sponsored conversation for At Home Stores. I'm honored to participate in the Christmas Traditions Blog Hop. All opinions are my own. #MyReason
I always like to do something fun with the grandkids during the Christmas season. A Gingerbread Boy Decorating Party is the perfect way to spend an afternoon with the kids. We talk, we laugh and most importantly, we make memories that will last a lifetime.
The Christmas season is the busiest season of all at my home. One of my goals for this season is to prioritize what's important to me and of course, the grandkids rate number one in that department. 🙂 When I told them we were having a Gingerbread Decorating Party, they were all in.
Gingerbread Boy Decorating Party
The first thing I do when planning a Christmas party is to head to At Home, the home decor superstore. They always have everything I need for party planning, Christmas décor and gift ideas. They also have Gingerbread Boy Kits. The kits include everything you need to decorate, even the icing. Score!
To set the scene for our afternoon of fun, I add a little extra Christmas décor just for them. Y'all know I have a thing for throw pillows. At Home has so many great Christmas pillows to choose from. I'm in love with my new pillows.
A Gingerbread Boy Decorating Party needs a great centerpiece. My mini Rosemary Christmas tree creates a perfect backdrop for a couple of gingerbread boys and a gingerbread train. Rosemary is a perennial and once spring arrives, I'll plant it outside. Because I live in such a mild climate, I have fresh rosemary all year long.
Who can resist this plaid reindeer? I can't, so I had to grab him, too.
Let the Gingerbread Boy Decorating Party Begin
While the boys decorated their gingerbread boys, I grabbed the camera to document our afternoon of fun. Someday, when they are all grown up, we'll look back at these photos and remember this day.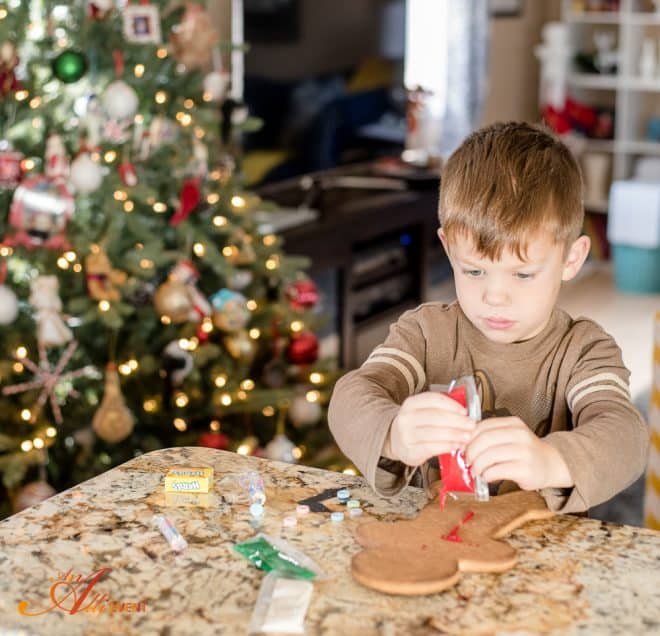 The boys were munching on their gingerbread boys before the icing had a chance to harden. That's OK with me. They were meant to be eaten. Add a glass a milk and snack time is covered.
Making memories with my grandkids is one of the many things I love about Christmas.
Every year, during the holiday season, we do something fun together. Whether it's riding The Polar Express, watching a Christmas movie or decorating gingerbread boys, we're creating Christmas memories that will last a lifetime. It's a family tradition!
For me, it's important to remember the true meaning of Christmas and to take time away from the hustle and bustle of the season to truly enjoy my family and friends, especially the grandkids. 🙂
I do hope you're enjoying this most wonderful time of the year. What's your favorite Christmas tradition?
Be sure and enter the giveaway and visit the other blogs to check out their Christmas traditions.