This shop, Mom's Classic Southern Divinity Candy, has been compensated by Collective Bias, Inc. and The Coca-Cola Company. All opinions are mine alone. #SmartWayToShareJoy #CollectiveBias
When I was growing up, my mom always made sure Christmas was the most wonderful time of the year. The Chrismas tree was carefully selected from grandpa's woods. We always looked forward to decorating the tree. Waiting for Santa to arrive was never an easy feat. Back then, the countdown between Thanksgiving and Christmas seemed to take forever.
Even after I was grown with kids of my own, we always looked forward to spending Christmas Eve with mom and dad. The entire family gathers for grilled steaks and all the trimmings. Mom always made every holiday special and she was the best cook in the world. Period.
Our home was always festive and mom and dad's outdoor decor was sure to draw oohs and aahs from everyone who passed by. I remember mom baking all our holiday favorites. Every time I start preparing for the Christmas holidays, I think of mom.
This will be my first Christmas without my mom. To help keep all the memories of her favorite holiday  alive, I'm making mom's Classic Southern Divinity Candy. It's my son's favorite holiday candy.
Family Dollar is my go-to store for the ingredients to make my mom's Divinity. I love that Family Dollar is close by. It has all my favorite products at a great value.
I always make sure to grab a few Coca-Cola products in limited edition holiday packaging. It reminds me of my childhood Christmas celebrations.
Let's make Mom's Classic Southern Divinity Candy
If you take a glance at the recipe, you may get a little intimidated by the candy thermometer. Don't be. I taught my son to make Divinity when he was only eight years old.
Helpful Hint: Avoid making Divinity on a humid day. The candy will not harden. I'm for real!
Bring sugar, corn syrup and water to a boil.
Continue cooking until a candy thermometer reaches 248º F. Set aside.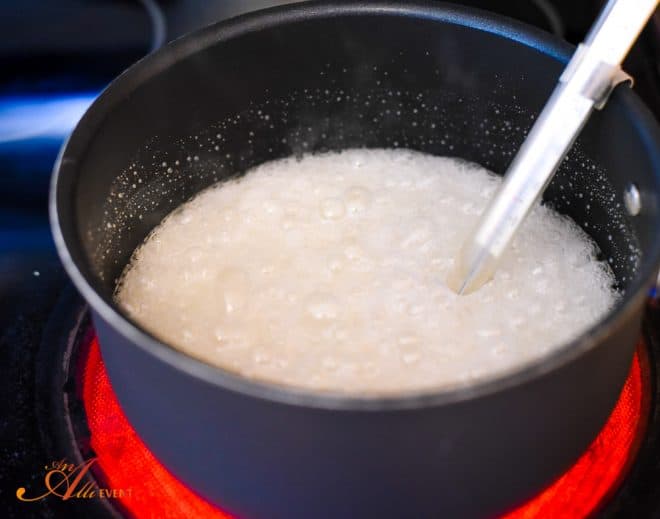 Beat egg whites on high until stiff peaks form.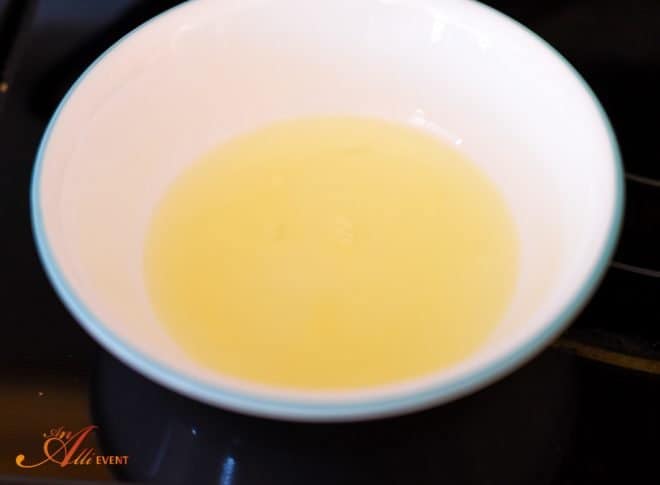 Beating at medium speed,  slowly pour 1/2 of sugar mixture into egg whites.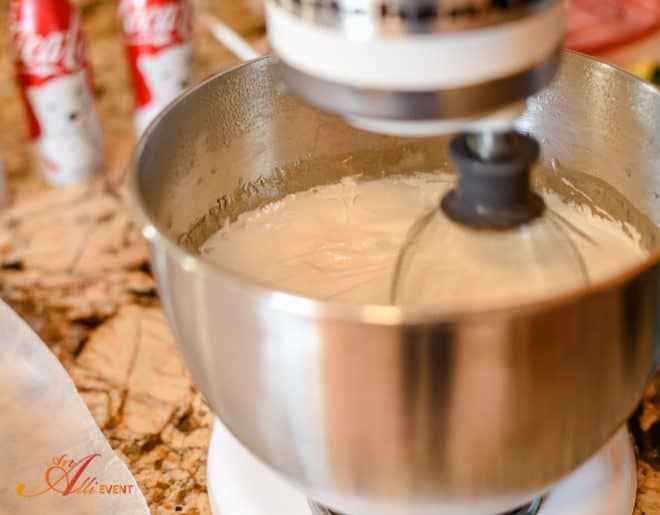 Heat remaining syrup to 272º F and pour slowly into egg whites. Add vanilla and keep beating until mixture holds stiff, glossy peaks.
I do a couple of test runs when the divinity is almost ready by dropping a tablespoonful onto the waxed paper. If it's ready, it will hold its shape and not flatten out. I took a photo to show you how the first two tablespoons I dropped were not ready. A couple of minutes later and it was perfect.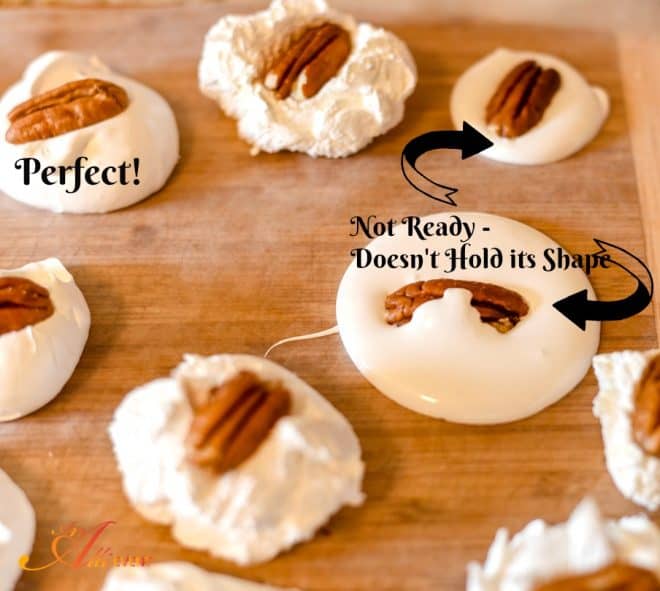 Keep beating and test again. When the divinity holds its shape, it's ready. Work fast before it hardens completely.
Helpful Hint: Don't scrape the sides of the saucepan as you pour the syrup into the egg whites. The mixture on the sides may be sugary.
Mom's Classic Southern Divinity Candy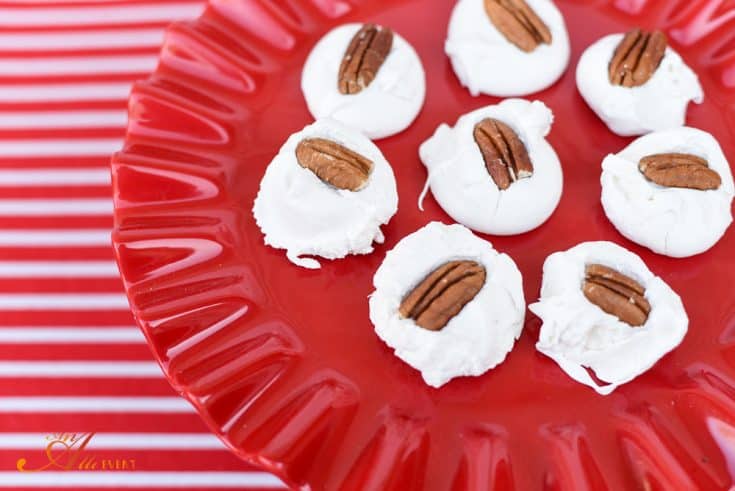 Ingredients
2-1/2 cups sugar
1/2 cup water
1/2 cup light corn syrup
2 egg whites, at room temperature
1 tsp. vanilla extract
Toasted pecan halves
Instructions
Combine first 3 ingredients in a heavy 2-quart saucepan and heat to boiling on medium-high heat. Stir until sugar is dissolved.
Set candy thermometer in place and continue cooking without stirring until temperature reads 248º F. Remove from heat.
Beat egg whites on high until stiff peaks form. Continue beating on medium and slowly pour 1/2 of sugar mixture into egg whites in a thin stream.
Continue beating while heating remaining 1/2 of syrup to 272º F.
Slowly pour hot syrup into mixture. Add vanilla.
Beat for about 5 minutes or until mixture holds it's shape.
Working quickly, drop by heaping teaspoonfuls onto lightly greased wax paper. Top with a toasted pecan half.
Cool completely before storing.
My home is all decked out for the holidays. The trees on my lights are twinkling. A batch of Divinity is cooling on the kitchen counter. I'm looking forward to spending time with family and friends and making memories that will last a lifetime.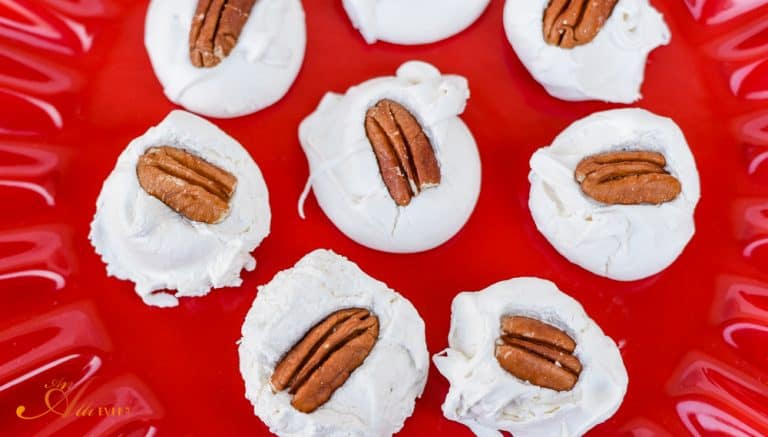 Be sure and stop by your local Family Dollar for all your holiday needs, including Coca-Cola in the limited edition holiday packaging.  What's your favorite holiday recipe?


You May Also Like