We Are the Champions Basketball Party has been compensated by Collective Bias, Inc. and its advertiser. All opinions are mine alone. #snacktalk #CollectiveBias
Come on in! The party's about to begin and I've included my recipe for Cream Cheese Swirled Brownie Cupcakes with Peanut Butter Frosting. You can find my top 17 cupcake recipes when you click Best Cupcake Recipes.
My family is crazy about basketball! We're recording and watching as many of the college playoff games as possible and I'm getting ready to host a We Are the Champions Basketball Party featuring REESE'S Miniatures! Yes, We are the Champions song is running through my mind.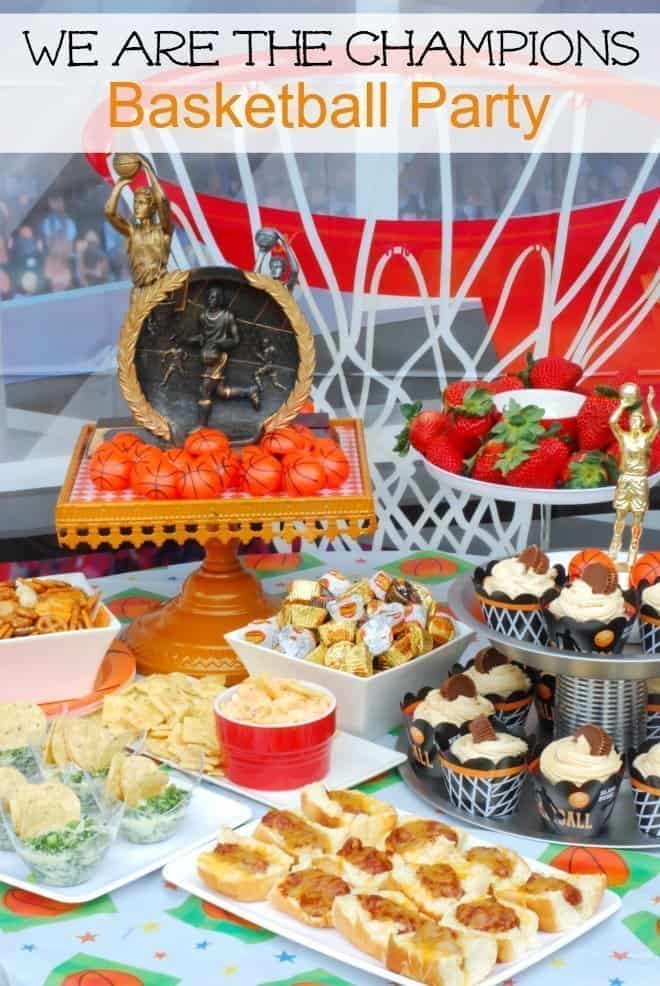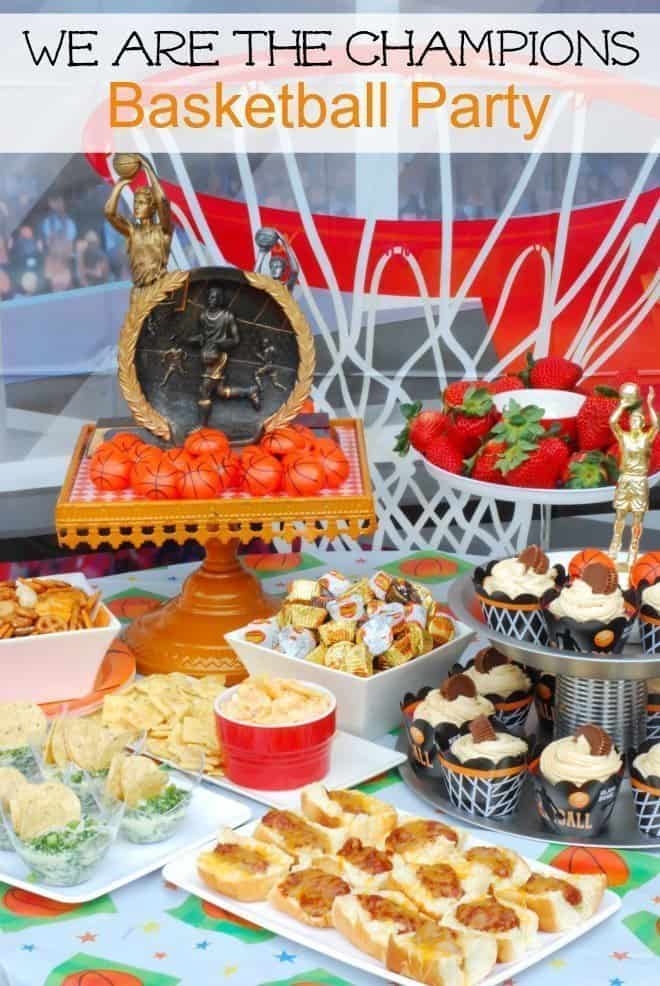 We Are The Champions Basketball Theme
I picked a champion theme because we're a house divided. When my next-to-the-oldest daughter got married, she went over to the dark side and became a fan of her husband's team. The problem? Her husband's team is our team's biggest rival. No worries, my party will unite us all.
Basketball parties are the best because everything is casual and laid back; no dressing up required. I just pull on my favorite team jersey and jeans and I'm ready to party. The food always takes the center court!
The FREE centerpiece
You know all those basketball trophies your kids received in high school? The ones you have no clue what to do with? Dust those babies off. They are about to be showcased as your centerpiece. If you no longer have them (I won't tell) borrow a few from your neighbor.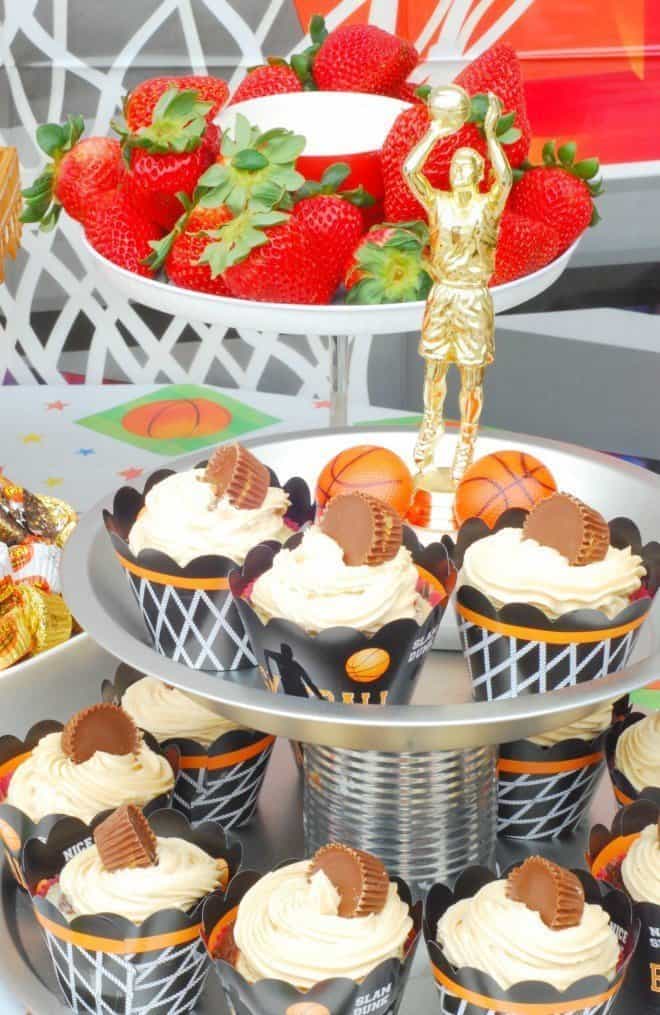 It only takes a few seconds to hang the basketball goal backdrop. I found it at my local party supply store for only $5.00
Starting Lineup
All the action will be centered around the big screen, so I make sure the food is portable and easy to eat. Here's my top 5 starting lineup:
Mini Chili Cheese Dogs
Spicy Pimento Cheese & Crackers
Fresh Strawberries with White Chocolate Dip
REESE'S Cream Cheese Swirled Brownie Cupcakes with Peanut Butter Frosting
And the MVP award goes to . . .
Cream Cheese Swirled Brownie Cupcakes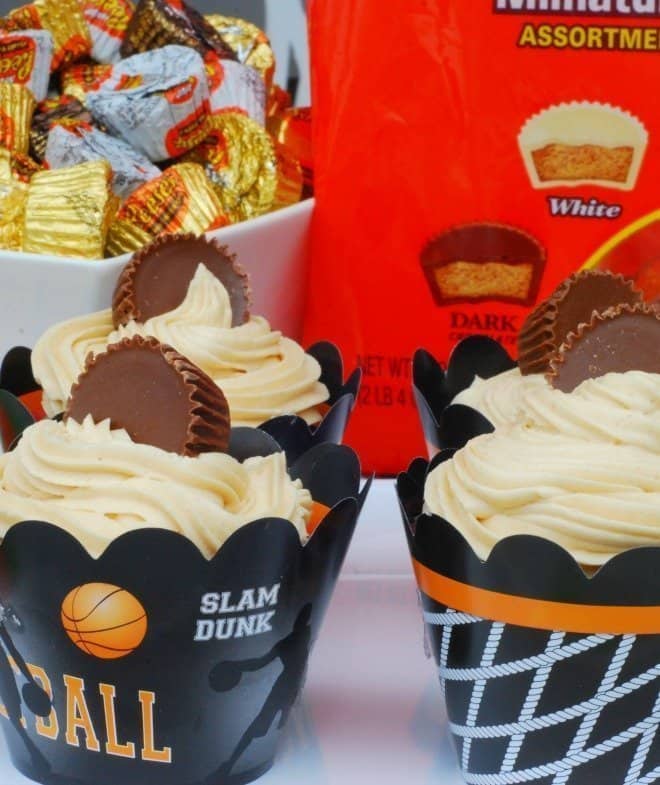 The Most Valuable Player award goes to REESE'S Cream Cheese Swirled Brownie Cupcakes with Peanut Butter Frosting. That's a mouthful! REESE'S just happen to be a huge family favorite and I use REESE'S Miniatures 2 different ways in this recipe – in the middle of the brownie cupcake and to top off the peanut butter frosting.
Where to Shop
As I was shopping for my party, I headed straight down the candy aisle at Walmart. When I grabbed the REESE'S Miniatures, I couldn't help but notice a huge party bag of assorted REESE'S miniatures (dark, white & milk chocolate) so into the cart they go. I'll place them around the room in small bowls to snack on throughout the evening.
Here's how to make the cupcakes: (complete recipe below)
I always gather all the ingredients together before I ever start baking.
Then I melt the chocolate and butter together on medium/low, stirring frequently so it won't burn.
After adding the eggs, sugar, and flour, I scoop the brownie batter into a baking-cup lined muffin tin, making sure to fill each cup 3/4 full.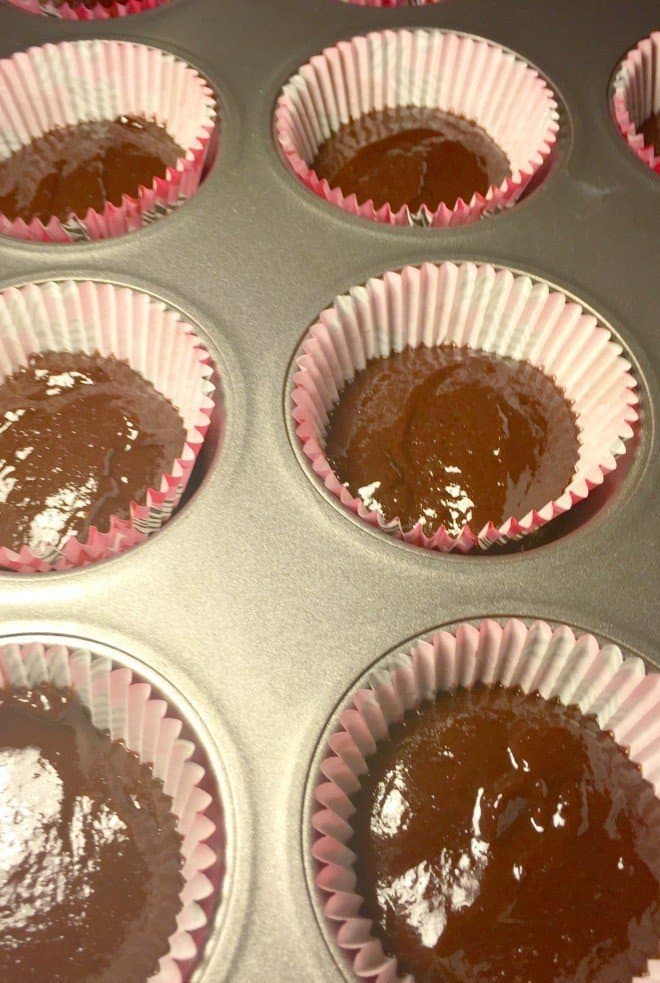 After dropping spoonfuls of cream cheese mixture into the brownie batter, use a knife to run through the batter so that it looks all swirly.
Don't forget the add the REESE'S Miniatures before baking! Place a miniature into the middle of each cupcake and push down until it's even with the batter.
Here's what the brownies look like after baking. Allow to cool completely before frosting.
Finished Product
Here's the finished product! Caution: Hide them all until time for your party! Trust me on this one! My entire family, including the grandkids, voted my REESE'S Cream Cheese Swirled Brownie Cupcakes "by far" the best cupcake they had ever eaten. I just hope my favorite basketball team performs as well!
Yield: 12 cupcakes
Cream Cheese Swirled Brownie Cupcakes with Peanut Butter Frosting
Cream Cheese Swirled Brownie Cupcakes with Peanut Butter Frosting is the cupcake for chocolate lovers! These cupcakes are a hit whenever I serve them.
Additional Time
20 minutes
Ingredients
Brownies
4 squares (1 oz. each) unsweetened chocolate bar
¾ cup butter
2 cups sugar
1 cup flour
3 eggs
1 tsp. vanilla
12 REESE'S miniatures
Cream Cheese Mixture:
1 tsp. vanilla
8 oz. cream cheese
1/3 cup sugar
1 egg
2 Tablespoons flour
Peanut Butter Frosting:
¾ cup unsalted butter, room temp.
½ cup peanut butter
1 teaspoon vanilla extract
¼ cup heavy whipping cream
3 cups powdered sugar
12 REESE'S miniatures
Instructions
For Brownies:
In a medium saucepan over low heat, melt chocolate and butter until melted and smooth. Remove from heat and stir in sugar until well combined.
Add flour, eggs and vanilla and stir until combined.
Place cupcake liners in a 12-cup muffin pan and fill each liner ¾ full. Set aside.
Cream Cheese Mixture:
Place cream cheese in a mixing bowl. Mix with electric mixer (medium speed) until smooth.
Add sugar, egg and flour and mix until smooth.
Drop spoonfuls of cream cheese mixture onto tops of brownie batter.
Swirl cream cheese mixture into chocolate mixture by gently running a knife back and forth over the top.
Unwrap 12 REESE'S miniatures and press in the center of each cupcake batter until even with batter.
Bake at 350º for 20 minutes or until a toothpick inserted near center comes out clean.
Cool for 10 minutes on baking rack. Remove cupcakes and cool completely before frosting.
Peanut Butter Frosting:
In mixing bowl combine butter, peanut butter and vanilla. Mix until smooth. Add in powdered sugar, one cup at a time, mixing after each addition. Add whipping cream and beat on med-high until fluffy.
Pipe frosting onto each cupcake and top each with a REESE'S miniature.