Does God ever say no? I'm sharing what the Bible says about this!
I've really enjoyed blogging about prayer these last few weeks and reading all of your comments. And as I've stated before, I'm certainly not an expert on prayer, but I do continue to study prayer. So we will finish up with a couple of tough questions.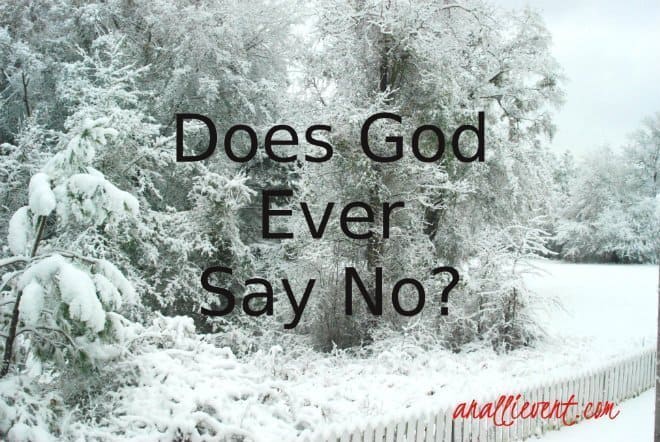 Does God answer ALL prayers?
Well, let's look at His word!
John 15:7 (Amp.) – If you live in Me [abide vitally united to Me] and My words remain in you and continue to live in your hearts, ask whatever you will, and it shall be done for you.
Jeremiah 33:3 (Amp.) – Call to Me and I will answer you and show you great and mighty things, fenced in and hidden, which you do not know (do not distinguish and recognize, have knowledge of and understand).
It looks to me as if there are two requirements to answered prayer.
1. Abide in Him
Romans 12:1-2 – I appeal to you, therefore, brethren, and beg of you in view of [all] the mercies of God, to make a decisive dedication of your bodies [presenting all your members and faculties] as a living sacrifice, holy (devoted, consecrated) and well-pleasing to God, which is your reasonable (rational, intelligent) service and spiritual worship.
2 Do not be conformed to this world (this age), [fashioned after and adapted to its external, superficial customs], but be transformed (changed) by the [entire] renewal of your mind [by its new ideals and its new attitude], so that you may prove [for yourselves] what is the good and acceptable and perfect will of God, even the thing which is good and acceptable and perfect [in His sight for you].
2. His words must abide in me
Col. 3:16-17 – Let the word [spoken by] Christ (the Messiah) have its home [in your hearts and minds]and dwell in you in [all its] richness, as you teach and admonish and train one another in all insight and intelligence and wisdom [in spiritual things, and as you sing] psalms and hymns and spiritual songs, making melody to God with [His] grace in your hearts.
17 And whatever you do [no matter what it is] in word or deed, do everything in the name of the Lord Jesus and in [dependence upon] His Person, giving praise to God the Father through Him.
Does God ever say no?
James 4:3 (Living Bible) – And even when you do ask you don't get it because your whole aim is wrong—you want only what will give you pleasure.
God cannot answer a prayer that is prayed with selfish motives.
1 John 5: 14-15 Amplified – And this is the confidence (the assurance, the privilege of boldness) which we have in Him: [we are sure] that if we ask anything (make any request) according to His will (in agreement with His own plan), He listens to and hears us.
15 And if (since) we [positively] know that He listens to us in whatever we ask, we also know [with settled and absolute knowledge] that we have [granted us as our present possessions] the requests made of Him.
Always Use Scripture To Back Up Your Prayers
I always make sure I have scriptures to back up my prayer! God is not a God of chance, nor is He a magician.
So, does God answer all prayer? No! God will never do anything contrary to His word. And the scripture clearly tells us that when we ask amiss – not in line with His word, that we will not receive what we asked for.
Does God ever so no? Yes! Once again, when we are not abiding in Him and His word is not abiding in us, answered prayer is not guaranteed.
A Man Praying For A Wife
I once read a true, howbeit crazy, story about a man praying for a wife. He finally laid eyes on the woman of his dreams.
He went to his pastor and wanted him to agree with him in prayer according to Matthew 18:19 (Again I tell you, if two of you on earth agree (harmonize together, make a symphony together) about whatever [anything and everything] they may ask, it will come to pass and be done for them by My Father in heaven.) The pastor refused because the woman was already married!
That, of course, is asking amiss carried to the extreme, and God will not answer such a stupid request! We must always be careful of our motives and always make sure our prayer is in line with God's word.
When we are fully connected to the vine (John 15:5 – I am the vine, ye are the branches: He that abideth in me, and I in him, the same bringeth forth much fruit: for without me ye can do nothing.) we begin to pray for His will to become our will and for His will to be done in our lives.