When I saw the recipe for lemon coolers on Pinterest, I took a stroll down memory lane!  Lemon Coolers were my very favorite cookies when I was a teen in the 70's, so I instantly knew I had to try the homemade version.
That reminds me of a story!  A few days ago I was talking to my next to the youngest grandson and telling him about something that happened when I was a little girl.  His reply:  "You were never a little girl, Nana!"  I promise he didn't mean it the way it sounds.
Back to the coolers:  The store bought kind was discontinued, but I recently heard through the grapevine that they were back.  You can find them at Cracker Barrel.  I try to stay far away from those little crisp, lemony bites of awesomeness.
The homemade version of lemon coolers were so easy to make.  The recipe does require cake flower, but the author of the recipe gives you instructions on how to make your own in case you don't have any on hand.  Cool!  Also, I happened to be out of parchment paper, so I lightly greased the cookie sheets and mine turned out wonderful.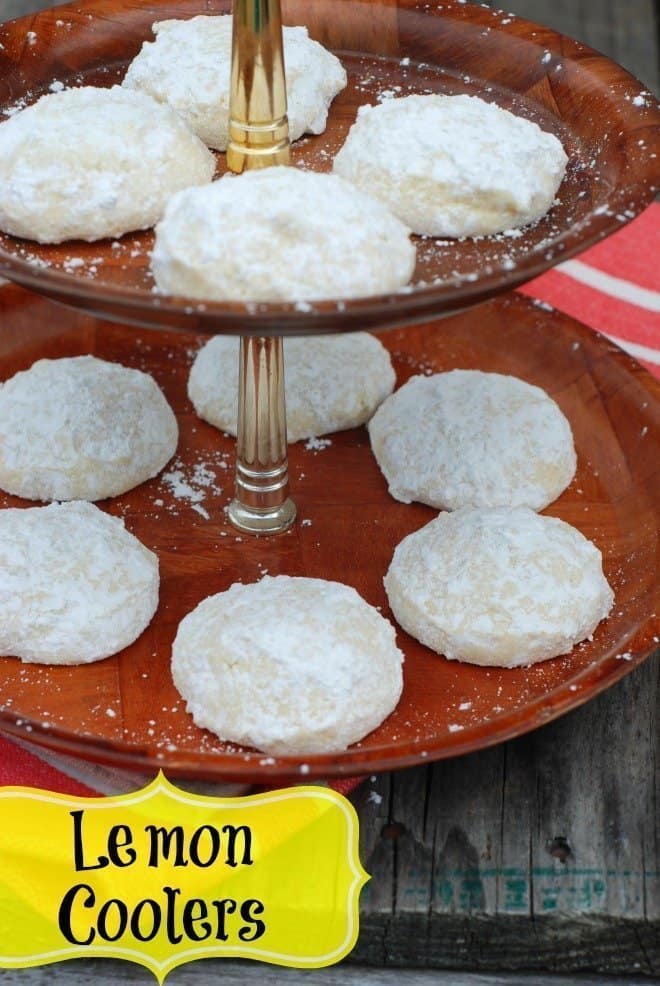 Since this is a cookie from my past, I decided to pose them in a tiered tray that belonged to my mom when I was a little girl and now belongs to me.  Are you old enough to remember these trays?  And since I had tiny specks of powdered sugar everywhere, I went ahead and sprinkled some more.  It was easier than swiping with a cloth.
Hit or Miss?  Here's the results:
My oldest grandson that does not like lemon flavored anything:  "Nana, this is more than a hit.  It's a home run!"  (Is it a good thing that my 10 year old grandson knows everything about my blog?)
Max, the German Shepherd:  OK, Max didn't get one, but he was with me during the photo shoot and I had to keep nudging him back with my hip (that's exercise, right?)  because he wanted to gobble all of them!
Daughter #2 – "You have got to stop making these hit or misses when I'm here.  These are delish, but your next project had better be a miss!"
Grandson #2 – "When I get older I'm going to come get your recipe because I'm going to make these for my kids!"  Let's say it together:  "Awww!"
The two youngest grands:  The grands were only allowed 2 cookies because their mom was here.  Party pooper!  But we did catch the next to the youngest trying to swipe another one and the youngest was caught trying to lick the powdered sugar from the tray.
Son-In-Law #1 (the first son-in-law):  These are the best cookies I've ever eaten!
The hubs – "A big hit!"
Me:  They are delicious!  Do they taste just like the ones I ate growing up?  Not quite, but they are very, very good and more like a shortbread cookie.
Here's the recipe from Uncommon Designs.  And I'm so thankful I found it!
What was your favorite cookie growing up?