With the holidays fast approaching – S L O W   D O W N, please – it's time to do some deep cleaning.  I'm talking about the type cleaning you do when you're expecting company.  Yeah, that kind.  There's just something about guests coming over for a holiday dinner that gets me in the mood to clean.
As I was taking a quick survey of what needed to be done, I noticed my windows were a little (Ok, a lot) grimy.  Maybe it's because I don't do windows.  At least, I don't do windows very often.  It's the one area I tend to forget about until company is coming or the grime is really bad.
When it comes time to clean windows, the first thing I do is pump up the 70's music.  Hey, don't judge me.  I'm a child of the 70's and I know every word to every song written back then.  Cleaning windows requires good, loud music.  Music can actually make cleaning fun!
Here's How To Clean Windows in 5 Easy Steps
1.  Clean the window frame with a multi-purpose cleaner.
Don't forget those window frames (trim)!  They can be grimy and yucky, too.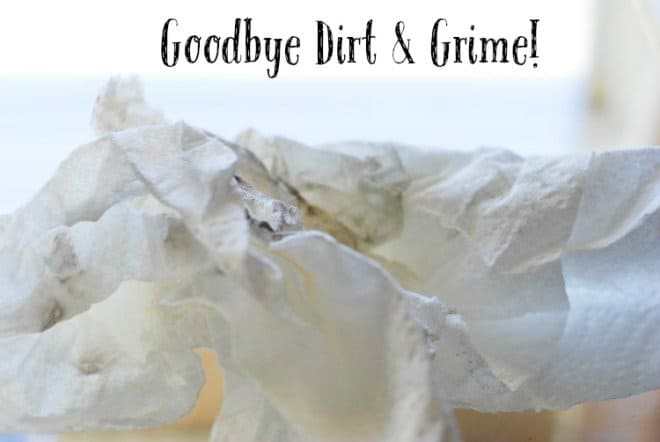 2.  When cleaning windows, always start at the top and work your way down.
Fortunately, my windows flip in so that I clean the outside, too.  I always clean the outside first and then the inside.
3.  Spray window with your favorite window cleaner.
You can make your own with 2 cups water, 1/4 cup white vinegar and 1/2 teaspoon dishwashing liquid. Mix well and pour into a spray bottle and you're good to go.
4.  Use Brawny® Paper Towels to dry the windows completely, using a Z-shaped motion.
Brawny® Paper Towels have the strength to take on tough messes like my grimy windows.  And more sheets for cleaning bigger messes, like my dirty windows.
5.  If dirt remains, spray and dry again.
Trust me, once you get on a "roll," you'll have those grimy windows done in no time and your home will sparkle and shine for the holidays.
Now, if only The Brawny Man® would jump down from that roll of paper towels and help me clean the rest of the house, I'd be one happy girl. #StayGiant
One of my favorite pages to follow on Facebook is Brawny® Paper Towels. You can also follow The Brawny Man® on Twitter and Instagram.
This is a sponsored conversation written by me on behalf of Georgia Pacific.