Apple Pie Caramel Macchiato has been compensated by Collective Bias, Inc. and its advertiser. All opinions are mine alone. #FoundMyDelight #CollectiveBias
Hold on tight!  I'm about to take your taste buds on a wild ride.  Just embrace that thought while I rewind things and start at the beginning.
First of all, I LOVE iced coffee, yet I rarely make it at home.  It's just too time-consuming.  And the closest coffeehouse is miles away from my house, so that's pretty much a no-go unless I happen to be traveling in that direction.
So imagine my delight when I was in Walmart a few days ago and was headed towards the International Delight French Vanilla Creamer.  I happened to glance at the juices as I walked by the refrigerated section and my eyes came to rest on the half-gallon, ready-to-drink cartons of International Delight Iced Coffee.  Yes, it's now available in the refrigerated tea/juice section.
Cherubs sang, lights flashed, and bells & whistles went off . . . in my mind.  I concocted a new recipe right then and there in the refrigerated section of Walmart.  I can't be the only one who does this, right?
My Apple Pie Caramel Macchiato Shake can be enjoyed any time of the year, but I especially love it during the holiday season.  It can be served as a snack, dessert, brunch or whenever you need a special punch for a holiday party.  Actually, I'd have this for breakfast, too.  And it's a great way to enjoy leftover apple pie.
Apple Pie Caramel Macchiato Shake
These are so easy to make.  I combine iced coffee, ice cream and milk in the blender.  Then I slice a piece of apple pie and put that in, too.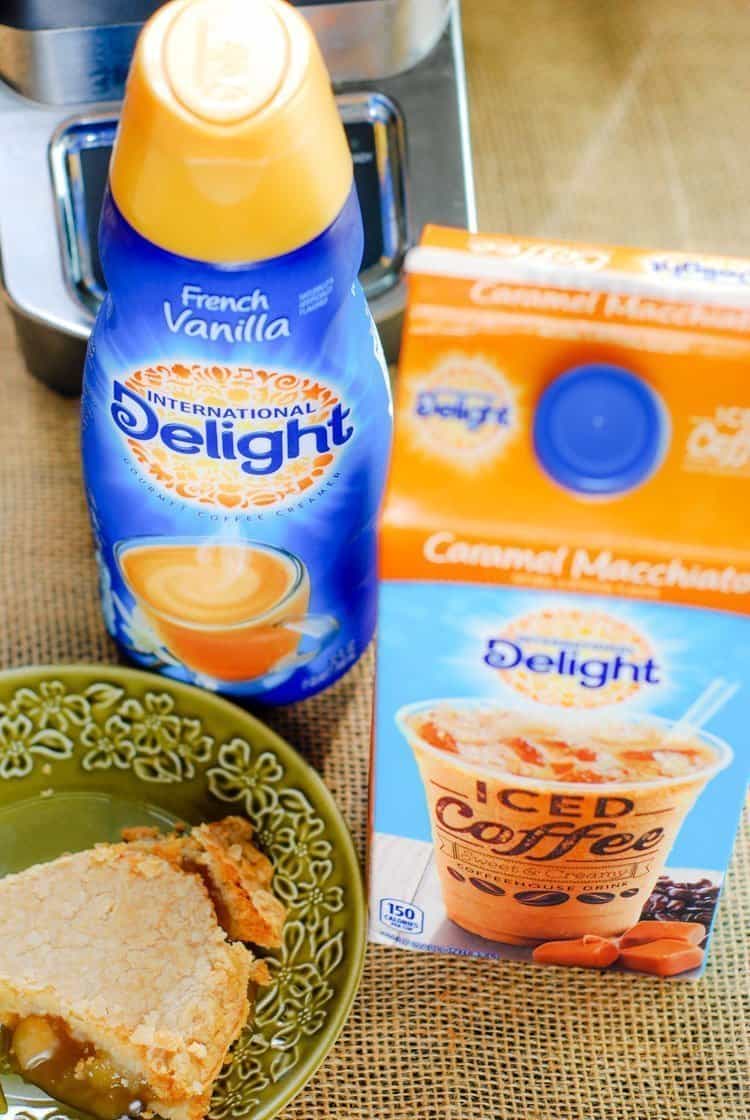 Top it off with a dash of creamer. Combine all the ingredients and blend until well combined.
Apple Pie Caramel Macchiato Shake
Ingredients
For each milkshake:
1/2 cup International Delight Caramel Macchiato Iced Cofee
1 cup vanilla ice cream
1/2 cup milk
1 slice apple pie (baked)
1 Tablespoon International Delight French Vanilla creamer
Cinnamon stick and whipped topping for garnish (optional)
Instructions
Place the iced coffee, ice cream, milk, apple pie and creamer in the blender. Blend until smooth.
Pour into glasses and garnish with a cinnamon stick and whipped topping.
For thicker shakes, add more ice cream.
Enjoy!
Trust me on this one, once you taste my Apple Pie Caramel Macchiato Shake, you'll want to make it again and again.  It's convenient, it's delicious – all year long!
Remember to look for the International Delight Caramel Macchiato in the refrigerated section near the juice and teas at your local Walmart.  Be sure and let me know how much you love it!
You Will Also Love: