This post, how to clean your bathroom in 20 minutes, has been compensated by Collective Bias, Inc. and its advertiser. All opinions are mine alone. #WindexMovieNight #CollectiveBias #PutSomeWindexOnIt
I only know one person who actually LOVES to clean the bathroom. Personally, I'd rather spend more time with my family. That's why I'm sharing How to Clean Your Bathroom in 20 Minutes. 
Speaking of family, I have a daughter getting married in May and a son getting married in November, so I'm in wedding planning overdrive right now. Between stuffing wedding invites, finalizing details with the caterer and finally finding my dress (whew!), it's a little crazy around here. I don't have a whole lot of time left to clean.
To add a little laughter to all the craziness of wedding planning, I've got my calendar marked for March 25th. That's when My Big Fat Greek Wedding 2 hits theaters. It's rated PG-13 and I can't wait to have family movie night. We may not be Greek, but we have a huge family and can relate to this movie on so many levels.
My favorite trick to keep my weekly bathroom cleaning session down to 20 minutes is to do a quick wipe down every day. I keep Windex® Original Glass Wipes in a top drawer of the bathroom vanity. They're a fast and easy way to get a streak-free shine on my mirror, windows and more.
I also keep my bathroom cleaning supplies together. I've found that it's best to have a cleaner that does multiple jobs. I use Windex® to clean windows, mirrors, sealed granite countertops, chrome bathroom fixtures, tile and more.  
How to Clean Your Bathroom In 20 Minutes
Remove the rug and empty the trash can.  Place them outside the room.
I start with hanging a trash bag on the doorknob of the bathroom. Empty the trash can and dispose of any other trash.
Start at the top and work down so that you never have to clean the same area twice.
Spray the tub and sink and let the cleanser do most of the work. Spray the outside of the toilet with all-purpose cleaner and use toilet bowl cleaner inside the toilet. Wipe down the outside and wait a few minutes before cleaning the inside of the toilet with a toilet brush.
Spray the mirror, sealed stone countertops and bathroom fixtures with Windex® Original Glass Cleaner.
Helpful Hint: After spraying the mirror, sealed countertops and fixtures with Windex®, I wipe them down with coffee filters. They're inexpensive and leave no fuzz or lint behind.
4. Wipe down the tub and clean the inside of the toilet.
5. Sweep and mop.
After sweeping, I mop as I back out of the bathroom. Then I wait until the floors have dried and replace the rug and trash can. That's it!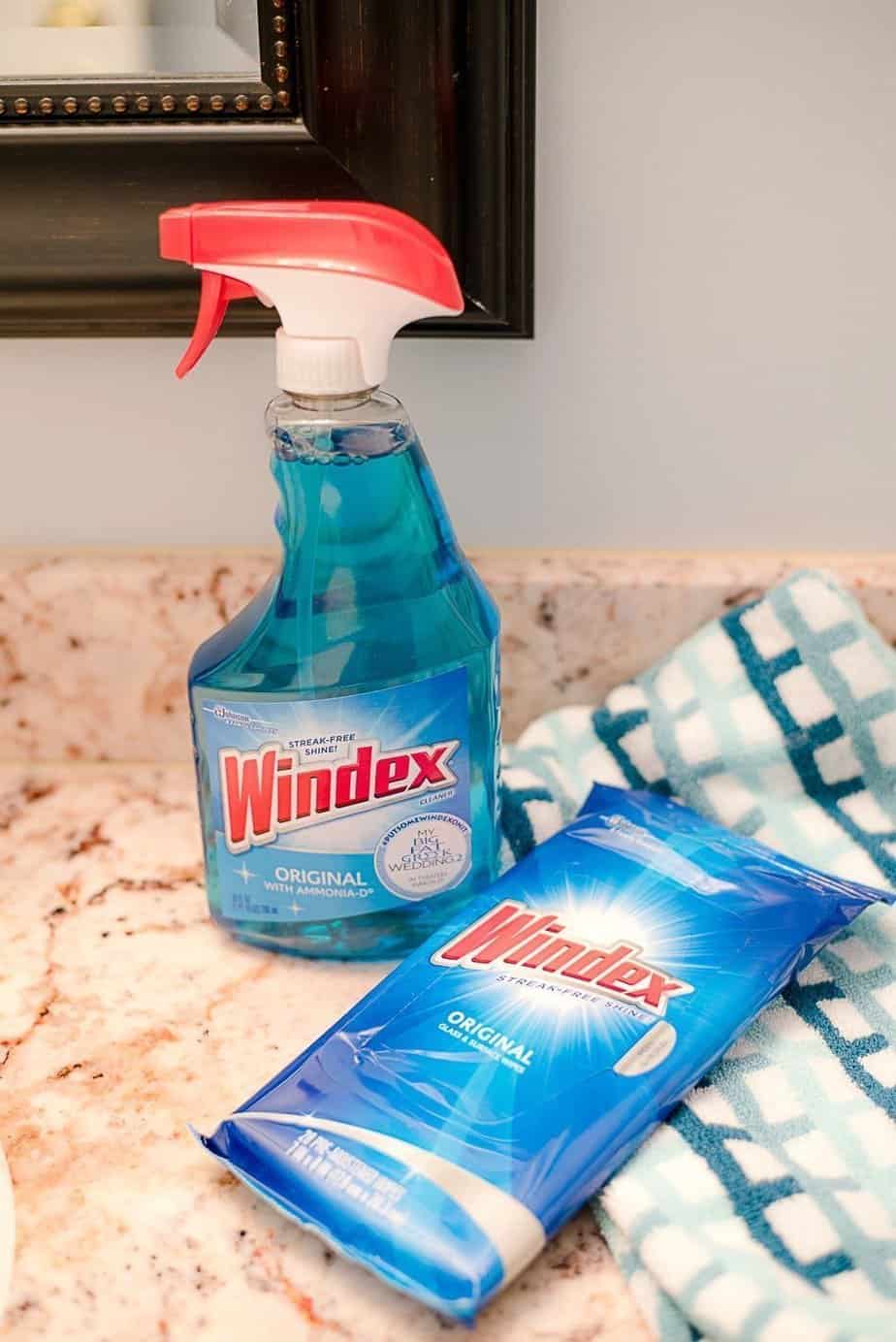 Helpful Hint:  I keep a check-list in my bathroom so I can see at a glance if I forgot anything. I'm sharing my free Bathroom-Cleaning-Checklist printable with you.
For more great cleaning tips, follow Windex® on Facebook. What are your favorite tips?