When I first created my twitter account in 2009, I just didn't get it.  At all.  I wasn't blogging yet, hence the @allismith77 non-creative-year-I-graduated-high-school handle. Sigh. I finally changed it today!  (You can change your handle to a new one, if it's available, without losing your followers, etc.)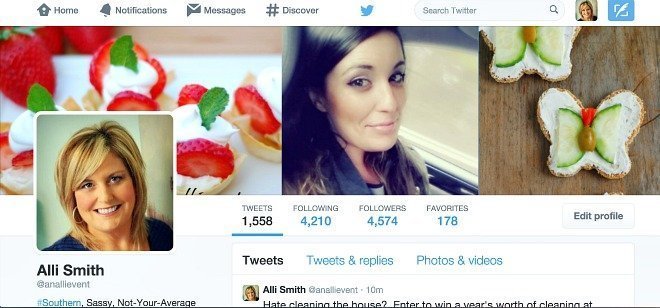 Back then, I immediately followed all of my favorite designers, magazines, etc.  Then I pretty much forgot about Twitter.  For years.  Until recently.
After I started blogging, I found myself in twitter jail (basically happens when you are following 2,000 and you have 900 followers).  I slowly unfollowed most of my favorite designers in exchange for my fellow bloggers.  Sorry, Gucci.
Then it happened.  Someone retweeted my tweet.  I didn't know what to do.  Should I thank them?  I'm southern.  We know how to say thank you.  I will thank you for the thank you card I receive AFTER giving YOU a gift.  We are over-the-top gracious.  I still say yes ma'am and yes sir to my elders.
Ignoring the retweet seemed rude.  I was clueless.  So I did what I always do.  I Googled it and found that there's much to be said about the subject of how to thank someone for retweets.
Here's a few things I've learned from the cool kids about twitter etiquette and it may help you the next time you don't know what to do when someone retweets your tweet.
1.  Thanking someone for a retweet is pointless.
I'll be the first to admit that I've thanked people in the past for retweeting my tweets. This was before I realized that I was basically thanking them for liking my tweet which equals thanking them for liking me. I'm blushing.  Would you ever thank someone for liking you in real life? No.  Stop thanking people for finding value in your tweet.
It's cool to comment in a conversational manner on one of your retweets.  Just leave out the gushing, over the top, thank you.
When Butterfinger replied to one of my tweets, I was over the moon.  Yes, I get excited about candy.  I didn't thank them for replying.  Here's how it played out:
Is it even practical to keep thanking people over and over?  Again, no.  Your feed gets clogged up with shout-outs to those who like what you said. This isn't the academy awards.  It's just Twitter.
2.  The best way to thank someone is to retweet one of their tweets.
Of course, if you're getting lots of retweets a day, it's next to impossible to reciprocate.  Take a deep breath, relax.  Do what you can, but don't beat yourself up when you don't immediately retweet.
Before you go, I've got to share this embarrassing Twitter moment: I've been referred to more than once as the grammar police. I hate typos with a passion.  I shared a tweet early one morning (I'm blaming it on not being fully awake) and after it was retweeted a few times I saw it again and realized there was a typo – an "r" instead of an "n."  I was mortified.  Why, oh why doesn't twitter have an edit button???
If you're not following me on twitter, you can do so here.  I'll follow back, but  I won't thank you for following or retweeting.  I hate those spammy auto replies!  But I will occasionally retweet your stuff, too.
Oh, and don't do a twitter one-night-stand!  That's when you follow someone and the minute they follow you, you unfollow.  That is NOT cool and downright rude.
One last thing: Here's one of my favorite articles about twitter:  62 Twitter Tips in 140 Characters or Less!
What creative ways do you thank someone for retweeting your tweet?
Other Blogging 101 Posts:  Ridiculously Easy Way to Add Images to Your Sidebar, Top 10 Things I've Learned About Blogging, How to Blog Like A Pro
How to Change Your Twitter Handle: Changing your twitter handle is easy as long as it's available. Log in to Twitter and visit your account settings pages from the dropdown menu in the top right corner. On your account settings page, change the username listed in your username field.
If the username is taken, you'll be prompted to choose another one. Click save changes at the bottom of the page. That's it.