Interior Landscaping Ideas for Your Work Place is sponsored content for Plantscapes Inc. All opinions are my own. 
I'm in my happy place when I'm gardening. Back in the fall, I transplanted some flowers and small trees from my mom's cabin in GA to my home in SC. It's a great way to remember her. Every time I water my new plants, I think of mom.
However, when it comes to indoor plants, my green thumb turns brown. I love the pop of color greenery adds to my indoor decor, but I hate remembering to water the plants, etc. Thanks to Plantscape Inc, you can enjoy the beauty of indoor plants without the maintenance. Score!
Plantscape Inc was founded in 1974 and is a leading national interior landscape firm located in Minneapolis, MN. For over 30 years, Plantscape Inc has been professionally designing interior landscapes using contract grown live tropical plants.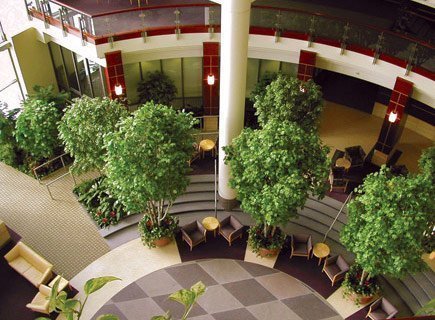 Plantscape Inc has expanded it's landscaping design business to include an artificial plant division. They design exclusively for commercial projects and the wholesale trade.
I recently received two silk topiaries from Plantscape Inc. Pretty bows dress up the topiaries for the holidays. My buffet table is the perfect place to add a touch of Christmas cheer.
The plants look realistic, but they're not.  I don't have to worry about leaves falling into my dessert bar once Christmas Day arrives.
The benefits of green plants are well documented. Studies show that interior office plants offer aesthetic stimulants to the people in a room. Office plants also help reduce tension, depression, anger and fatigue. Tropical plants also increase employee productivity.
If you're looking for interior landscaping ideas, be sure and visit Plantscape Inc for all your office needs. Their services include interior plant design & maintenance, office plant rental & care, and holiday decorating.