Please welcome the newest addition to An Alli Event! My daughter, Rebekah, has joined the team and How to Have an Amazing Time at Legoland is her first article.
If you've ever stepped on a lego in the middle of the night, you may despise legos. I'm a mom of four boys and have stepped on my fair share of legos, but because my boys adore them, I've had to get over my aversion towards them. I mean really, how can something so small hurt so bad?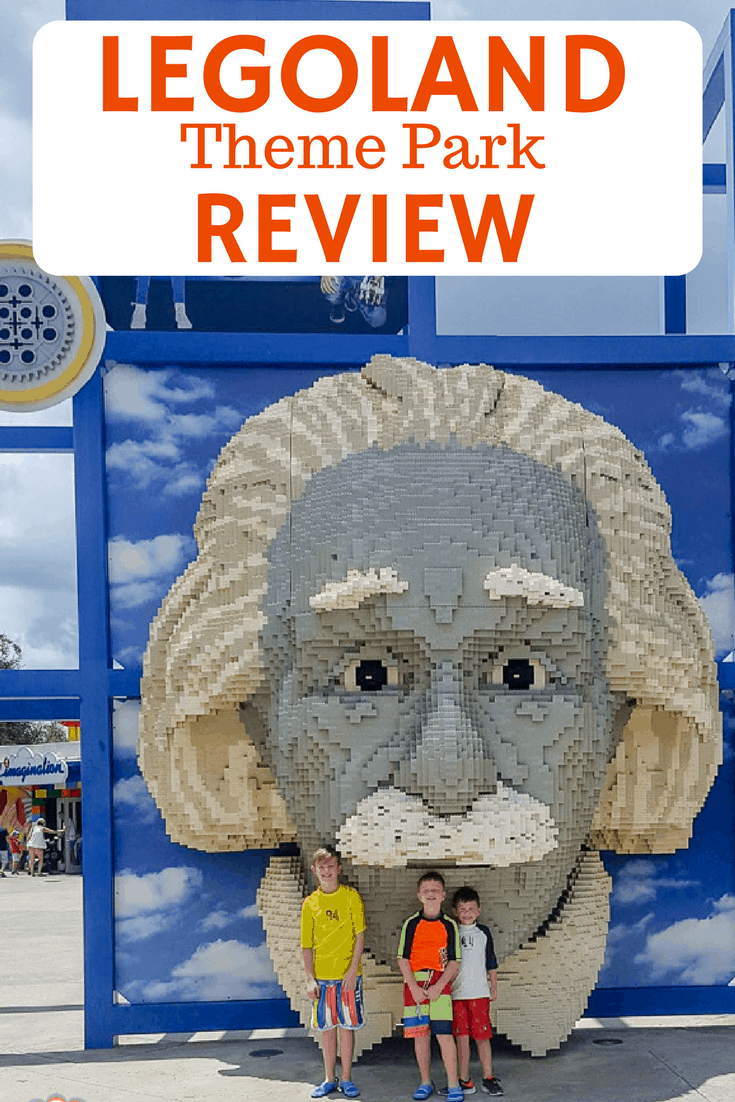 Recently, my husband and I took our four boys back to Orlando, FL for vacation. We've visited Orlando several times over the years and it has become a favorite vacation spot for our family. We love Disney World, Sea World, Islands of Adventure and Universal Studios, but this trip we wanted to take our boys somewhere they had never been. I knew there was one place that my lego loving boys wanted to go. Legoland!
Since it was July, we decided to go to Legoland and Legoland Water Park. We purchased our tickets in advance to avoid the lines. The park opens at 10 and we were there when the gates opened.  After applying sunscreen to myself and my kids, we rented a locker to hold our bags and were ready to explore.
Legoland caters to children 12 and under. My boys are 13, 11, 8 and 5. The younger three enjoyed the park a bit more than my 13 (going on 20) year old.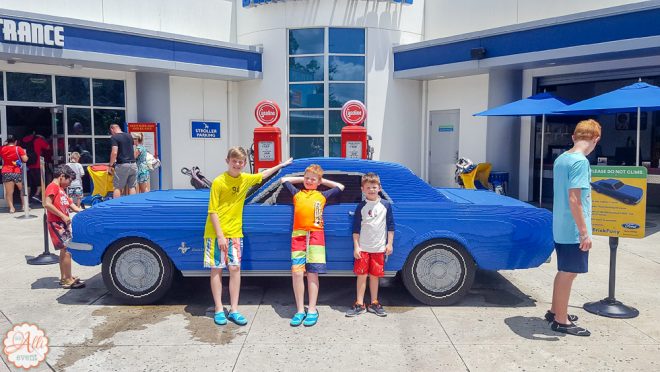 Legoland offers rides, shows, displays, building stations, classes and more. My boys didn't get to take any of the classes, but I thought it was really neat that they offered classes that taught how to build robots out of Legos.
 There are several roller coasters that have just the right amount of hills and speed for me and my younger boys. Caden, my 8-year-old, rode most of the roller coasters with me. We held hands and screamed together. My favorite roller coaster is The Dragon, but as a family, we vote for Ninjago as our favorite ride.
We ate lunch at Burger Kitchen. Everyone enjoyed their food and we thought it was reasonably priced for an amusement park.
Lego Displays
The lego displays were amazing! Miniland USA contains over 32 million lego bricks and amazing scenes from coast to coast. It was too hard to pick a favorite, but New York, The White House, and Kennedy Space Center were all superb. Logan, my 11 yr old, loves Star Wars. He was in heaven as we viewed the Star War displays. Darth Vader was his favorite.
Legoland Waterpark
Around 4 pm, we decided to head to the Water Park. We still had not seen or done all that Legoland had to offer, but it was HOT and we were ready to get wet. I let my boys wear their swimsuits all day to avoid having to change in the bathroom. They also wore water shoes in hopes that they could wear them in the Water Park and not have to keep up with shoes. This didn't go as planned because we were informed that you can't wear shoes on the slides. Bummer!
We enjoyed the wave pool, lazy river, Joker Soaker, and slides, but my boys had the best time at the Build Your Own Boat Station. They built boats out of legos and then raced them down slides to see whose boat was the fastest. My husband loved floating around in the lazy river collecting bricks with our 5 yr old son, Tegan.  After a couple of hours, a thunderstorm ran us out of the park. Mom and Dad were thankful. 🙂
If you have a lego lover, Legoland is a must. My boys loved it and want to go back.
Helpful Hint: Legoland is located in Winter Haven, FL, about an hour from Orlando. If you get there when the park opens, lines are short or nonexistent. Most rides we were able to just walk up and get on. We never waited more than 10 min.
Another Helpful Hint: Legoland also offers several dates to book at a discounted rate for homeschool groups that do not meet the 15 student minimum to qualify for School Group pricing. Reservations must be made at least two days in advance. We saved some serious money using the discount!
Have you visited the Legoland Theme Park?