I have been compensated by Vibrant Influencer network campaign for L'Oréal Excellence Age Perfect. All opinions are my own. 
I'm sure you all think I'm a natural blonde (cough, cough) and I admit that I haven't colored my hair at home in years.  🙂 When I was given the opportunity to be one of the very first to try L'Oréal Excellence Age Perfect, I was intrigued by their breakthrough innovation.
L'Oréal Excellence Age Perfect
So far, I only have a few grays. It's great to know that L'Oréal Excellence Age Perfect is full of highlights. Plus, it provides a new type of coverage.  Formulated with pro-keratin complex, it adapts to gray hair differently than pigmented hair. This creates natural looking highs and lows for a highlighted effect.
Conditioning Treatment with Collagen
L'Oréal Excellence includes a conditioning treatment with collagen (a girl's best friend) and provides 8 weekly treatments to help protect the hair and add volume, shine, and smoothness.
L'Oréal is way more advanced than the at-home hair color my mom used.  There's a patented application brush to make it easier to apply the color, even at the back of the head.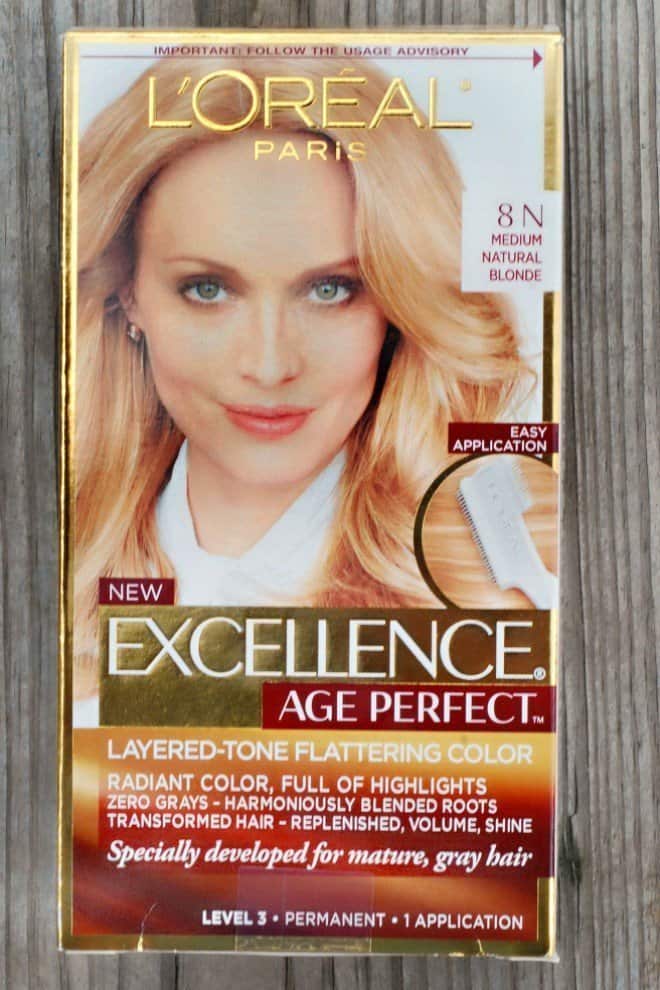 Moment of Truth
Let the process begin . . .
No Mess
I hate messy! Thankfully, the color créme doesn't drip at all. Plus, there's no drastic change in the color of my hair.  Basically, the color covers the gray. It is full of highlights and blends my roots with the rest of my hair.
Shiny, Soft Hair
Right after I used the L'Oréal Age Perfect, my daughter came over and I asked her if she noticed anything different about my hair.  She told me that it looked soft, shinier and healthier. She didn't notice the subtle coverage at all.  And that's what I was going for.
L'Oréal Age Perfect is specially developed for mature, gray hair. It will provide radiant color and blended roots.  Take the L'Oréal hair color consultation and find your perfect color here!
Do you color your hair?