I have the most fun shopping for my centerpiece . . . in my house and yard! It's fun trying to come up with an easy, low-cost Thanksgiving tablescape.
And don't be hatin' because I live in the south and have hydrangeas, roses, and gardenias in full bloom! Instant centerpiece.
Last Thanksgiving I went with a traditional pumpkin, gourds and branches theme. Click here to read about that tablescape.
This year I decided to go with a completely different theme. I'm calling it rustic chic. Remember the cute little pears I made with light bulbs a while back? You can find them here! I knew I wanted to use them in my table decor for Thanksgiving.
And since I have an entire stack of those $1.00 gold chargers that I used for a project years ago, I added some jute rope. My trusty glue gun helps turn these into chic rustic chargers.
Helpful Hint: You only have to glue the rope to the area that will be seen. Here's how it looks before you begin the layering process. This was before I pulled the glue strands off. Oops. 🙂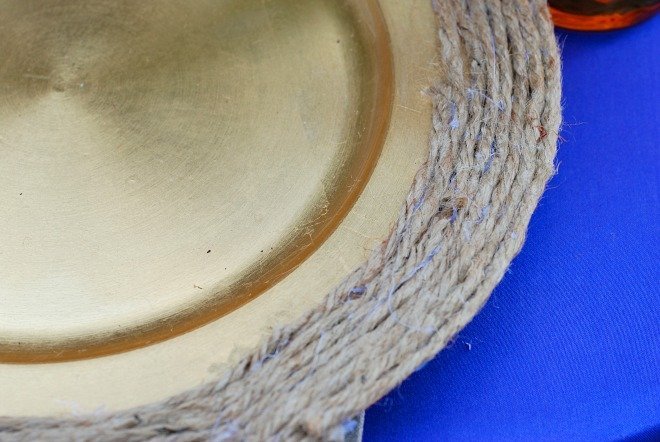 I always have a large crowd for Thanksgiving dinner and I wouldn't have it any other way. So, I always try to find a way to present the silverware without having to take a lot of time to set the table. Here are my tips on setting a formal table!
Last year I placed the silverware in the cutest little envelopes. This time around, I found some rustic little burlap bags to use for the cutlery. I can assemble the bags while watching TV a few nights beforehand.
I also like to mix and match china! The green bowl brings out the green in the plate. It belongs with a set of dishes that were passed down from my grandmother. Flowered-patterned china was given to me by my aunt. The colors pick up the purple and blues from the hydrangeas. These flowers are freshly picked from my flower garden.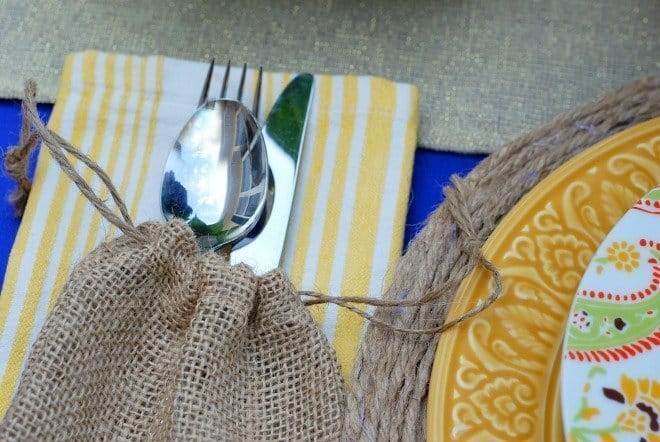 To show you how easy it is to mix and match, here's another look using the same centerpiece, just using different dishes and a $1.00 pumpkin I glammed up with white spray paint and some gold thumbtacks. It's a more traditional Thanksgiving tablescape, staying with the rustic-chic vibe.
I used my hobnail milk glass pitcher and two smaller white bowls for the centerpieces. The runner is burlap with metallic threads running through it. The purple tablecloth is an overlay from my daughter's wedding. I have lots of those babies hanging around. The napkins are from my linen closet.
Helpful Hint: It pays to shop your house, your yard, and your mom's house when hosting a dinner party. Don't be afraid to mix patterns, dinnerware, etc. If you do need to shop for china, head to your local thrift store. You'll probably find a great bargain!
And don't be afraid to step away from the traditional Thanksgiving table. You'll give 'um something to talk about!
No flowers in bloom? Here are some more great ideas for DIY centerpieces.
And if you missed my kid's Thanksgiving table, find it here!
Do you host Thanksgiving at your home?