Thanks to Disney World for courtesy theme park tickets. All opinions are my own.
We recently returned home from a week in Orlando with our daughter, son-in-law and four of our grandkids. It was the grandkids' winter break and we visited the Magic Kingdom Theme Park and Universal Studios. We try to visit parks that the smaller kids will like and some that the older kids will enjoy.
On previous visits, we'd hit more than 2 parks during the week, but those days are over. I can only take so much. Plus, I like to spend time by the pool reading and relaxing.
Yes, I bought them Disney shirts. Matching Disney family shirts for these boys would have been over the top and a big No from them.
To the best of my knowledge, this was my 10th or 11th trip to Disney World. Maybe 12th. We were trying to figure it all out but I'm sure I missed a trip or two.
I first visited Disney when I was 17. We visited right after Christmas and spent New Years in the park. It was truly magical! This time around, the crowds were not nearly as bad as they are during spring break, special holidays, etc. Don't get me wrong, there was a wait for all rides, but only two were really long.
Space Mountain was closed during our visit. That's fine. I've had my fair share of Space Mountain over the years. Also, Small World was unanimously vetoed by everyone except me. Waa!
We are now at that place in life where we're always with the grandkids when we visit the Magic Kingdom and other theme parks. I'm proud to say that I rode every ride the grandkids rode.
Magic Kingdom Theme Park Favorites
I'm a sucker for a good parade and Disney never lets me down. The Disney Festival of Fantasy Parade at the Magic Kingdom is awesome! I may be even more excited than the boys!
I packed my DSLR camera in a waterproof backpack type case so I could get some great photos and I did. Yay! We had a great spot on the parade route and was able to get up close and personal. We didn't cross the taped-off line, but you know what I mean.
I won't share all 89 photos, but I do have quite a few of my favorites!
Tinker Bell
I love Snow White, especially when she's surrounded by the seven dwarfs.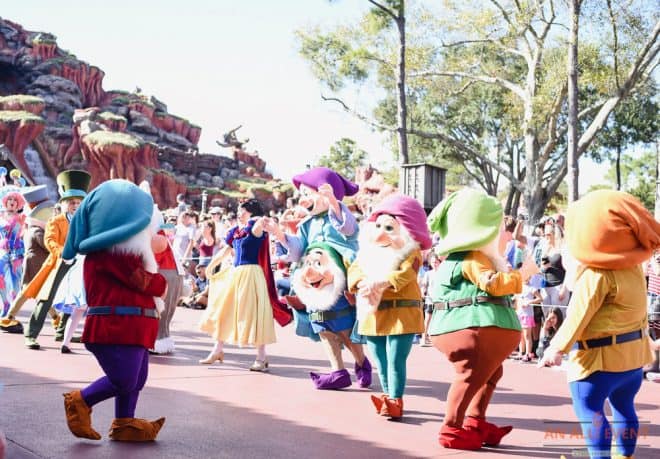 Prince Charming is so charming! Too bad Cinderella is on the other side. Oh, well.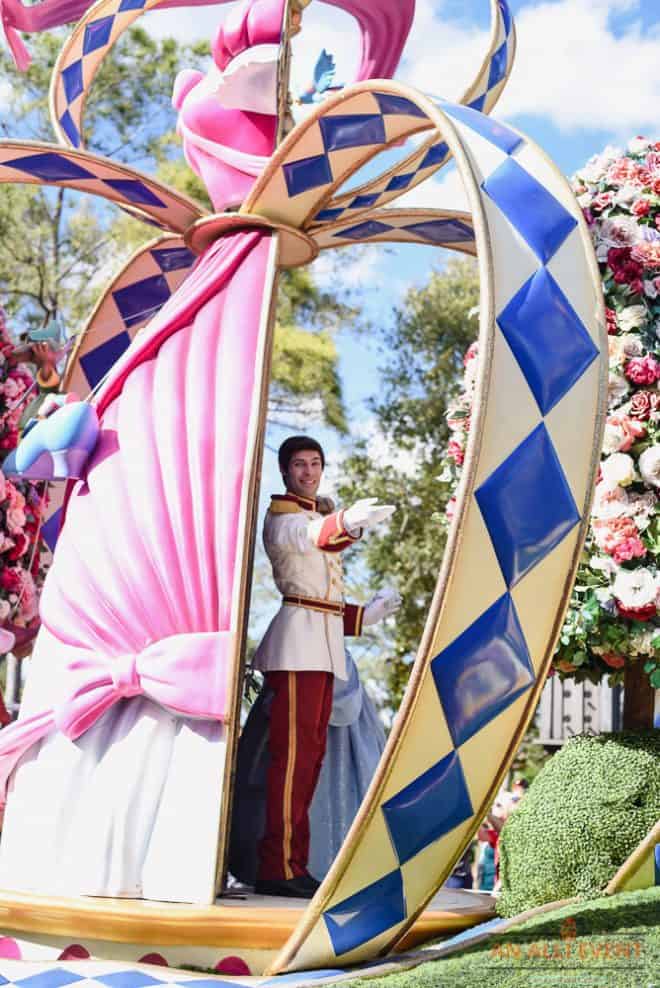 The Festival of Fantasy Parade is so colorful!
I always get Goofy and Pluto mixed up but this is Goofy (according to my daughter.)
Where's Pluto? Here he is!
Beauty and the Beast are always big favorites and now I want to watch the movie again.
How about a fire-breathing dragon?
I have so many photos, but I'm only going to share a couple more. I can't end the parade without Donald Duck.
There are so many more characters in the parade and of course, they save the best for last – Mickey and Minnie!
Favorite Rides at the Magic Kingdom
Big Thunder Mountain Railroad
You must be 40″ to ride this one. My youngest grandkid (age 7) was plenty tall enough. You race through a haunted gold-mining town aboard a runaway mine train. There are small drops, lots of twists and turns and lots of fun.
Buzz Lightyear's Space Ranger Spin
This is one of my very favorites! The competitive kid in me comes out on this one. You "fire your laser to earn points and defeat the Evil Emperor Zurg as you journey through a galactic space battle." This one is suitable for all ages.
Pirates of the Caribbean
This is another ride that's suitable for all ages. It reminds me of Small World but with a scary pirate theme.
Dumbo The Flying Elephant
I love riding this one. Yes, it's a kid's ride but it's suitable for all ages. Of course, a selfie is required when you're riding an elephant. I even got four of the other family members behind us on the ride.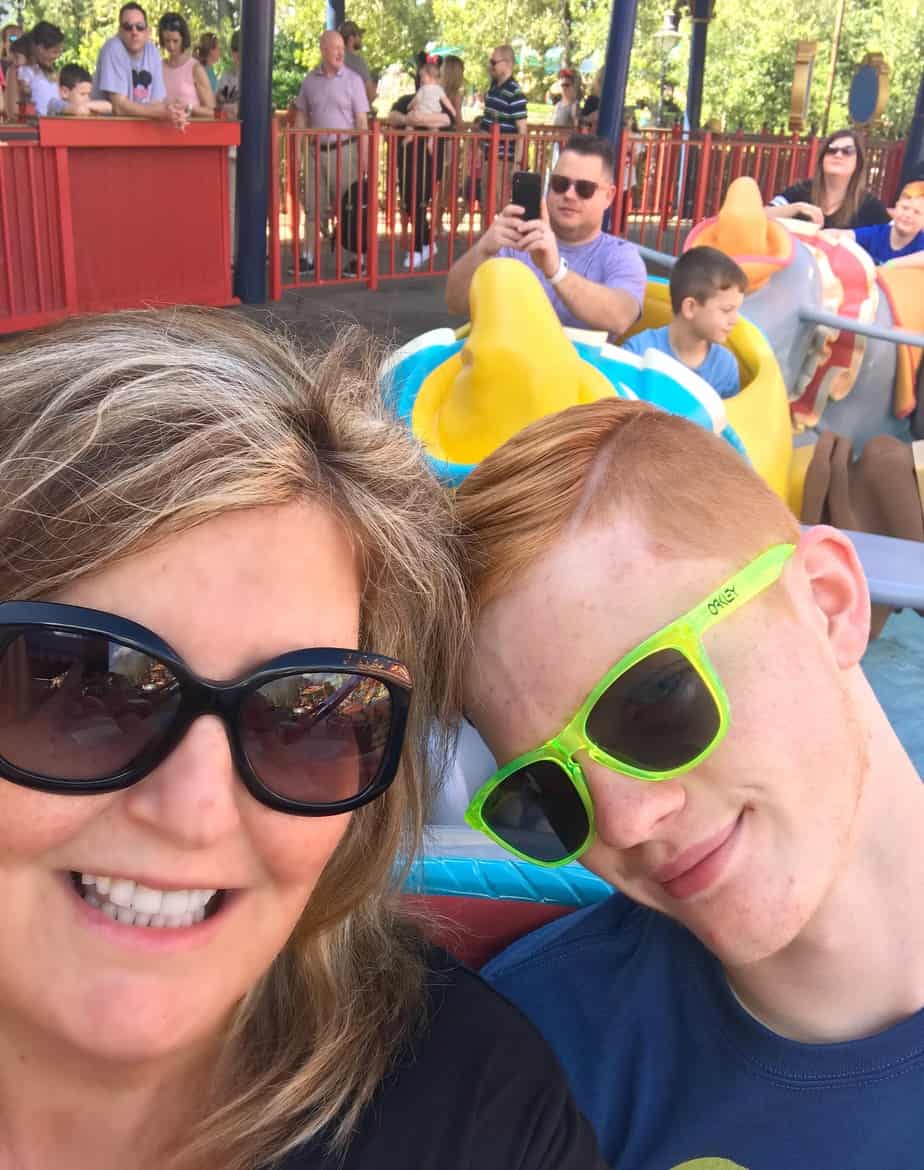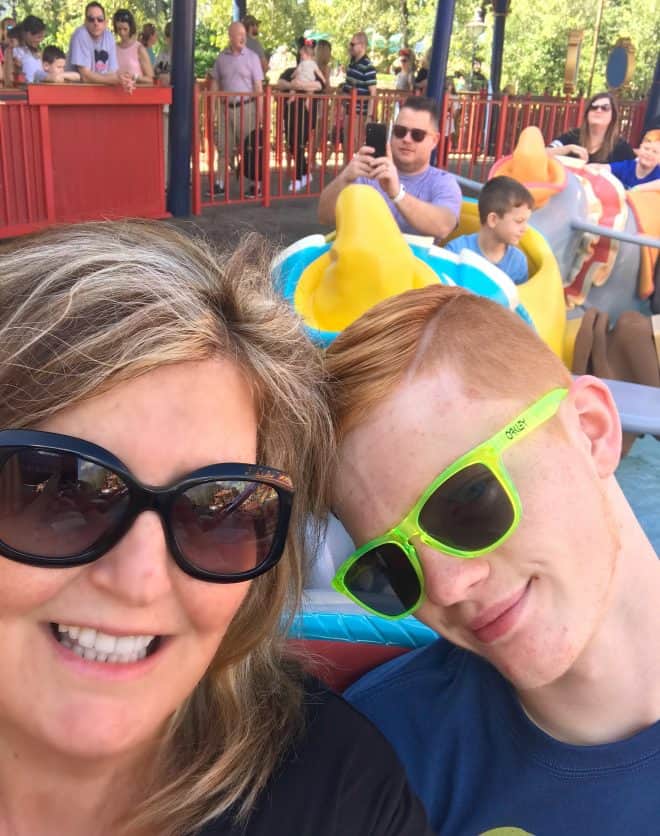 Monster's Inc. Laugh Floor
This is a fun interactive show for the kids and my grandson, Caden, was picked to participate in the show. He did such a good job! He had a microphone and everything.
The One Ride We Missed
The Seven Dwarfs Mine Train is one of the rides we skipped. The wait time was off the chain and the fast pass times were gone when we tried to get ours. You snooze, you lose. This is a great article to learn more about fast passes.
Wait times for most rides were reasonable and we only used one of our three fast passes.
In other news, Universal was practically a ghost town. On many of the rides, you could hop off one ride, jump in line and ride it again.
Once again, we've made precious memories with the grandkids.
P.S. – Don't forget to grab a Dole Whip at Aloha Isle when visiting the Magic Kingdom. This classic can be found in Adventureland next to the Enchanted Tiki Room, near the Magic Carpets of Aladdin. They also have a pineapple upside down cake topped with Dole Whip and a Dole Whip Float (with pineapple juice). Our favorite is the twist – Dole Whip and Vanilla. Yum!
P.P.S. – The boys aren't really into having their photos made with the Disney characters, so there's that (no waiting in character lines). Yay!