Thanks to Johnsonville for providing the delicious sausage for this post!  All opinions are my own.
I'm always searching for new breakfast ideas that are easy, quick and tasty.  And, since my family prefers sausage links to sausage patties (insert eye roll) I created mini sausage, egg & waffle sandwiches with Johnsonville original sausage links and I did it all in under 20 minutes.  Of course, feel free to use Johnsonville sausage patties if you'd like.
First of all, I baked the eggs instead of frying them.  It's so much easier to spray a muffin tin with cooking spray, break an egg into each tin and bake at 350º for 10-15 minutes.  That's it!  And they are so pretty!
While the eggs were baking, I cooked the Johnsonville Original Sausage Links  in a skillet, following the directions on the package.  When the eggs and sausage were almost done, I popped the mini waffles in the oven for a few minutes.  You can use a toaster, of course, but I donated mine a while back.  It's a long story.
Once everything is done, assemble the sandwiches by placing an egg on top of a mini waffle, add a sausage link (cut in half) and another waffle.  You can also add cheese if you'd like, but I add a drizzle of maple syrup.  Syrup makes everything taste better in my opinion.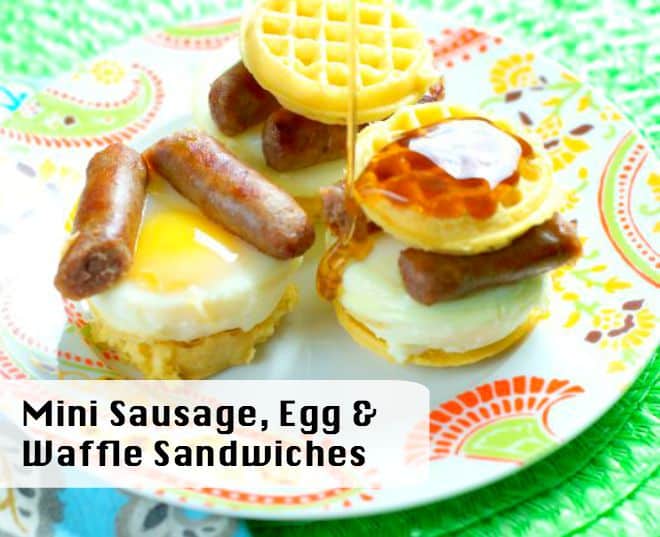 Mini Sausage, Egg & Waffle Sandwiches
Author:
Ingredients
Johnsonville Original Recipe Breakfast Sausage Links
Eggs
Mini Waffles
Maple Syrup
Instructions
Preheat oven to 350º.
Spray a muffin tin with cooking spray and crack an egg into each muffin tin.
Bake for 10-15 minutes.
Meanwhile, cook Johnsonville sausage according to package directions.
About 5-6 minutes before sausage is done, pop the mini waffles into a toaster or a preheated oven and bake according to package directions.
Assemble by placing an egg on top of a mini waffle. Add the sausage and top with another mini waffle. Enjoy.
My family really enjoys digging into my mini sausage, egg and waffle sandwiches.  Hope you family enjoys them, too!
I've got to know:  Do you like link sausage or patties the best?