Game Day Snack Ideas is sponsored by Farm Rich. All opinions are my own.
Fall is just around the corner and all thoughts turn to . . . football. Make sure you check out my Best Game Day Recipes!
I've enjoyed the game of football since I was a little girl. I was a cheerleader from 1st grade through high school and I actually know the rules of the game – well, most of them.
True Confession: I'd much rather enjoy game-day from the comfort of my own home than in a packed stadium.
I don't have to fight the traffic, the crowds at the concession stand or all the packing and unpacking of tailgating. The game can be paused at any time and I don't miss a thing.
Game Day Snack Ideas
Since the official start of college football is September 3rd, I've come up with a couple of snacks to serve on game day that won't keep me in the kitchen all day.
Plus, I wanted to get out of the rut of always serving the same snacks every single time. I not only got out of the rut, but I also scored a touchdown and made the extra point when I presented these game day snack ideas to my family.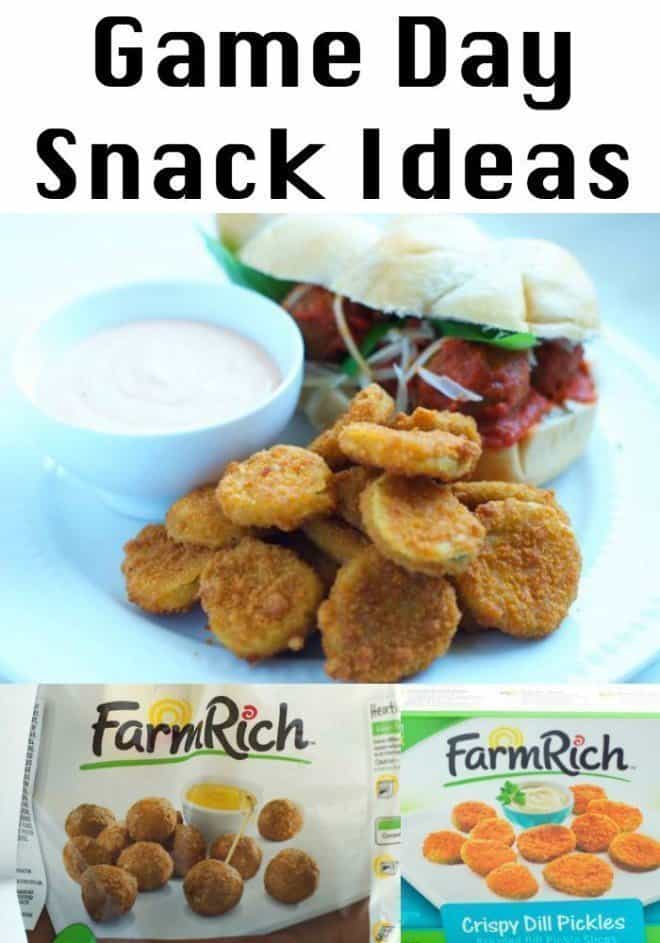 Actually, Farm Rich made the touchdown. All I have to do is follow the heating directions on the package and whip up a dipping sauce and I'm done.
Crispy Dill Pickles With Sriracha Mayo Dipping Sauce
My game day snack ideas include Farm Rich Crispy Dill Pickles with a Sriracha Mayo Dipping Sauce and Farm Rich Turkey Meatball Subs.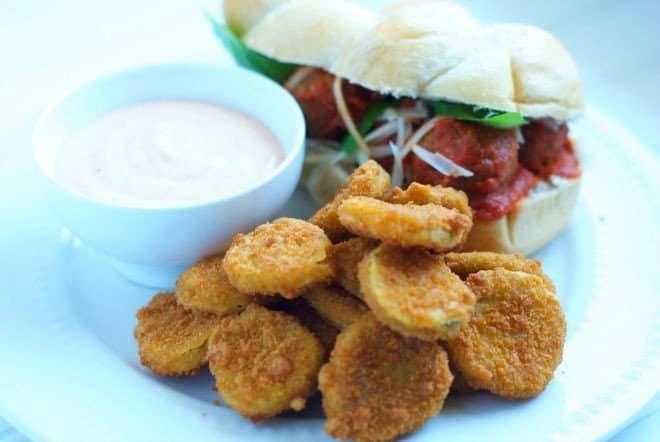 The crispy dill pickles are the best I've ever eaten. When you dip a crispy pickle into the Sriracha Mayo Dipping Sauce, the combination is out-of-this-world good. Everyone in my family thinks so.
Helpful Hint: Make sure you have plenty of crispy dill pickles on hand. Trust me, you'll need this backup plan.
Sriracha Mayo Dipping Sauce
Ingredients
1/2 C. mayonnaise
2 tsp. ketchup
2 Tbs. sriracha
1/4 tsp. salt
1/8 tsp. garlic powder
dash ground pepper
Instructions
Combine all ingredients in a medium sized bowl and chill until ready to serve.
I always triple the recipe when I'm serving a crowd.
The Turkey Meatballs can be made in the slow cooker, but I was in a hurry, so I followed the stove-top directions.
Add a jar of marinara sauce and after they are done, served the meatballs in sub bread with grated Parmesan cheese and basil.
Easy Turkey Meatball Subs
For the subs, you will need:
1 package Farm Rich turkey meatballs
1 jar marinara sauce (24 oz.)
Parmesan cheese, grated
Basil, optional
Sub rolls
Combine the jar of marinara sauce and the turkey meatballs and cook according to the directions on the package.
Make sub sandwiches and sprinkle with parmesan cheese.
Add basil, if desired.
All of the Farm Rich meatballs are gluten-free and the turkey meatballs have 50% less fat than the traditional meatballs. You can also serve them on toothpicks with the marinara sauce on the side.
What's your favorite Farm Rich snack?