Did you know that November is Lung Cancer Awareness Month? I didn't until I was recently contacted by the beautiful Heather Von St. James.  She's approaching her 10-year cancer-free anniversary after having her left lung removed due to a preventable disease called mesothelioma. 
When Heather was a little girl, her dad worked in drywall construction.  She inhaled the asbestos when her dad would grab her up for a big hug when he came home from work.  Her dad had no idea that asbestos was clinging to his work jacket.
The day Heather was diagnosed with malignant pleural mesothelioma, she was given 15 months to live if she chose to do nothing.  Her baby was only three months old and she had been married for six and a half years.
If you have a few minutes, I encourage you to click here to read Heather's story of her courageous fight against lung cancer.  I can't do it justice like she can.
Basically, the only thing I've ever really known about mesothelioma is that commercial on TV where an older man says, "Hi, I'm Doug and I have mesothelioma."  I, however, was heartbroken when I watched one of my favorite aunts die from lung cancer.
After reading Heather's story, I was extremely upset to find out that asbestos has not been banned in the U.S. or Canada and it's the only known cause of mesothelioma.
Healthy Lung Facts:

Approximately 1.5 Billion people are breathing in dangerous levels of pollution each day.
Respiratory illnesses such as lung cancer, asthma, and COPD can be genetic.
Mesothelioma Facts:
Mesothelioma is an aggressive cancer that most commonly attacks the lining of the lungs.
Mesothelioma is caused by exposure to asbestos, a carcinogen used in many consumer construction products. Asbestos is NOT yet banned in the U.S. or Canada. (It is banned in 60 other countries worldwide)
Exposure to asbestos can also cause asbestosis, a disease that causes shortness of breath, coughing, and scarring of lungs.
In Heather's Own Words:
"I was a salon owner and hairdresser, and with the loss of my lung, I also lost the stamina it takes to stand behind the chair for 8 hours a day. All of that, gone when I was told I had mesothelioma.
Where is the justice for the countless victims that have died from being exposed to asbestos? For their families? Why are we still fighting for a ban all these years later when we know, without a doubt, the only known cause of mesothelioma is asbestos?
This is why I fight for a ban, why I go to Washington with The Asbestos Disease Awareness Organization and The Environmental Working Group. My voice as a victim of asbestos is a strong one, and people listen. We won't stop until we know Washington is listening. Mesothelioma may not be curable, but it is preventable. We will continue to educate, to inform, and to fight until there is a ban."
It's so important to love your lungs and keep them healthy!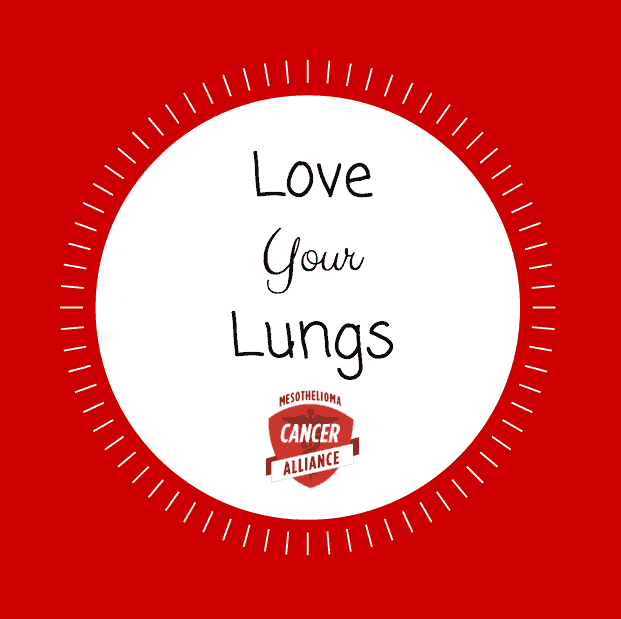 Thanks, Heather, for allowing me to share your story.  I've learned so much just by reading your incredible journey.  Prayers from me to you and yours and Happy 10-Year Cancer-Free Anniversary!
If you'd like to follow Heather's story, she's on Facebook, Twitter and g+.