This shop has been compensated by Collective Bias, Inc. and its advertiser. All opinions are mine alone. #HolidayWithGlade #CollectiveBias
I think it's wonderful how certain smells can evoke feelings and distinct memories!
When I get one whiff of apple cinnamon, I'm instantly caught up in the holiday mood!  That smell whispers of Christmases past. Plus, it helps get me excited about the upcoming holidays and making an easy DIY holiday centerpiece.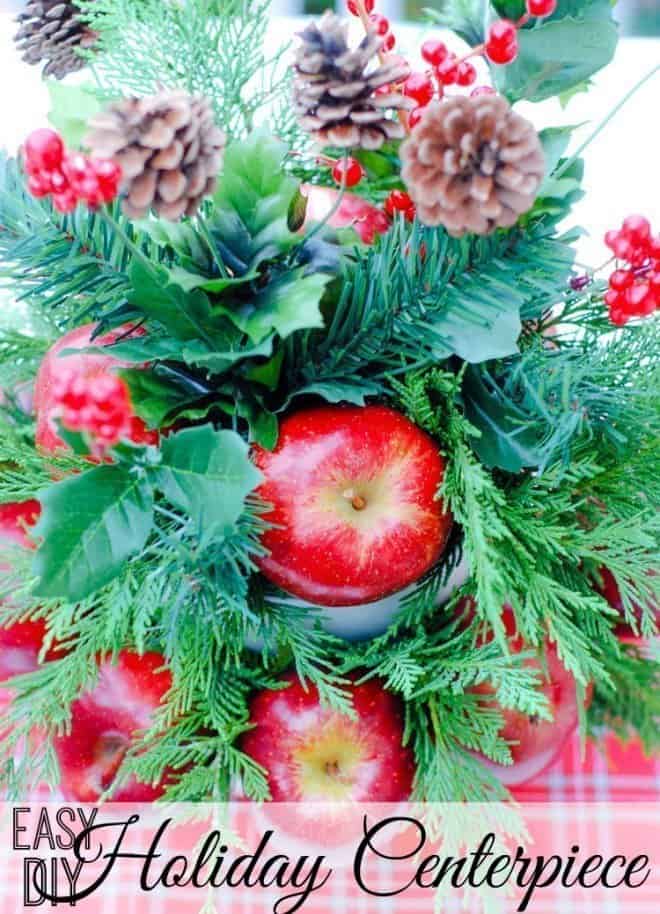 I inherited my love of Christmas from my mom.  She's always thought Christmas morning should be over-the-top.
Holiday Memories
One year, when I was about 10 years old, she hung shiny new watches on the tree.  My sister and I thought we had opened all of our gifts until we were told that there was one more.  We played the hot/cold game until we found those watches. They were dangling like sparkly Christmas ornaments upon the branches of that freshly-cut cedar tree.
Of course, the holidays are way more than just presents under (or dangling from) the tree. For me, it's all about traditions – holding onto and cherishing the old and creating new customs.
One of our present-day traditions is having cinnamon rolls and mocha punch on Christmas morning. One year I used a different cinnamon roll recipe and my kids immediately knew that something was wrong and the next year they reminded me that they liked the original the best. Don't mess with holiday traditions!
Easy DIY Holiday Centerpiece
Another tradition of mine is creating a DIY centerpiece for my holiday table.  I make a game out of it by searching my yard for natural decorations like berries and greenery. For this year's celebration, I looked to my favorite scent (apple cinnamon) for inspiration. I love the way my centerpiece turned out and it was incredibly easy to do.
Here's what you'll need:
2 White Bowls – one a little smaller than the other.  You can use any color bowls, but I think white is festive and compliments the reds and greens.
Red apples
Florist picks OR toothpicks
Greenery and berries
Florist foam
Cut The Foam
Cut foam to size and place in the larger bowl.  Then do the same for the smaller bowl. The smaller bowl will be sitting on the foam in the larger bowl, so make sure it's fitted tight and is sturdy.
Insert Picks
Insert a pick into the bottom of each apple and secure the apples to the foam, going all the way around in a circle.  In the photo below, you can see where I inserted the pick in the bottom of the apple.
Fill With Apples & Greenery
Place the smallest bowl on top and fill with apples,  greenery, and berries.  Next, randomly place greenery around the bottom circle of apples, filling in the blank areas so that you can't see the foam.
You now have a beautiful and Easy DIY Holiday Centerpiece.  Wasn't that easy?
Favorite Holiday Fragrance
I guess you know by now that CHERISH THE PRESENT™ is my new favorite fragrance when it comes to the holidays, but Glade® has several new scents in the Limited Edition Winter Collection that I'll be including in gift baskets for friends and relatives.
Some of the new scents include:
BE AT PEACE™
CHERISH THE PRESENT™
SEND A LITTLE LOVE™
SHARE THE SPIRIT™
Which Glade® scent do you think you'll enjoy the most?
I plan on savoring every moment of the holiday season while cherishing and remembering special memories of the past.  And I hope your holidays are filled with joy, peace, and the wonderful smells of Apple Cinnamon!