Are you hosting a July 4th party? I love a good July 4th party because it's an easy, breezy party that's fun to throw together. I shopped my garden, kitchen cabinets and freezer (for the vanilla ice cream) for my patriotic tabletop.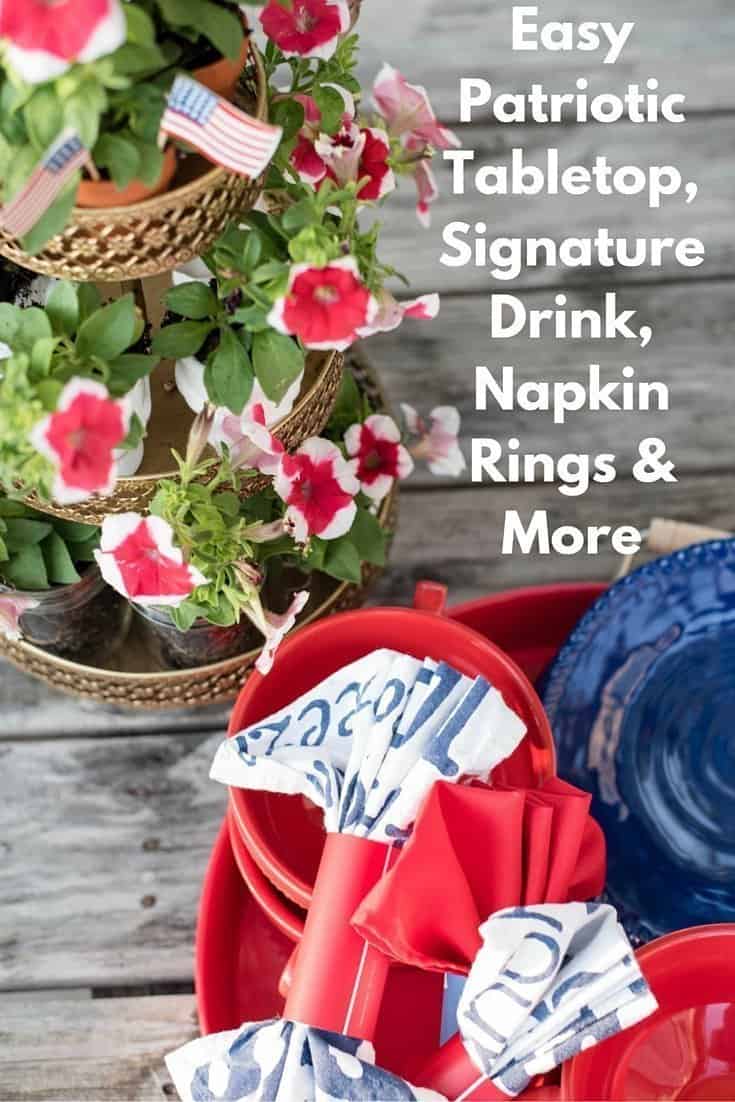 I've got a red and white (with a touch of gold) centerpiece, no-cost napkin rings, and my signature drink is a piña colada milkshake.
Whether you're grilling steaks, ribs, hotdogs or a little bit of everything, keep it casual, keep it fun and keep it red, white and blue.
Patriotic Tabletop
When we're eating outside, I like to keep (my favorite word for this post) things rustic. A few years ago, my husband and I made a table out of wood pallets. We originally made it for potting plants, but we use it for everything. The best part – it's still standing. 🙂
For the centerpiece, I had a thought to use my gold 3-tier serving tray. I grabbed little terra cotta (rustic) pots and filled them with red and white petunias. I was going to spray paint the pots red, white and blue, but I was too lazy and I kinda like them the way they are. But if it floats your boat, go ahead and grab that spray paint.
I realized that I didn't have enough terra cotta pots, so I searched my cabinets and found little mason jars and little white bowls. I think my mix-and-match centerpiece is a winner.
At the end of the party, I'll send the flowers home with my guests. Centerpiece = take-home favors. Done.
My red bowls are perfect for holding big scoops of ice cream! You can't have a 4th of July bash without homemade ice cream.
Napkin Rings
Have you been to the home improvement store looking for paint lately? Did you grab a handful of paint sample cards? Run to the store, grab blue paint samples and tape them around red napkins.
If you have white napkins, grab a few red cards and you're set. I just so happened to have more red napkins than white. (Yes, I use them during Christmas, too)
Signature Drink
You'll probably have a couple of coolers full of assorted drinks, but I always like to serve a signature drink as well. For my 4th of July party, I'm serving Pinã Colada Milkshakes. Yum! It's a keeper, y'all!
Helpful Hint: I use rum extract for my family friendly milkshakes. If you want the real deal, substitute the rum extract with 1/2 cup rum (makes 2 shakes).
Piña Colada Milkshake
Ingredients
2 cups vanilla ice cream
2 Tablespoons rum extract
6 Tablespoons cream of coconut
6 Tablespoons chilled pineapple juice
Garnish with maraschino cherries or pineapple slices
Instructions
For every 2 drinks, mix all ingredients (except cherries) in a blender. Pour evenly into 2 glasses.
Garnish with cherries or pineapple slices.
Whether you're hosting a large group of family and friends or an intimate dinner for two, my patriotic tabletop is easy, and fun. Plus, you'll have more time to enjoy the fireworks or maybe make some fireworks yourself. 🙂
PS – Need a few patriotic dessert ideas?
How about this red, white, and blue ice cream cake?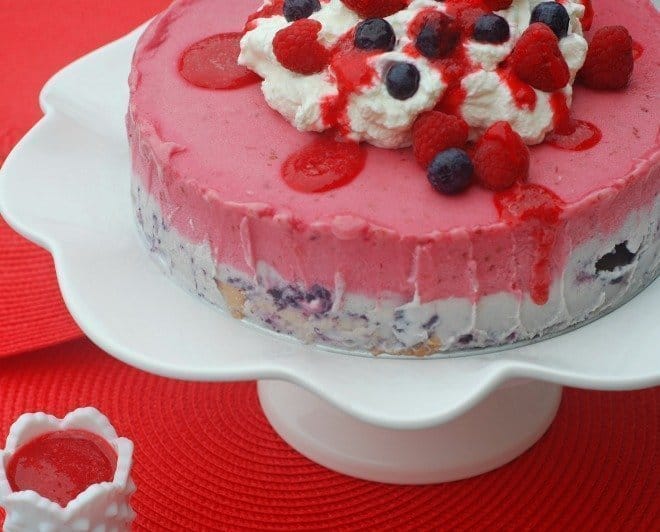 Or, try my red, white and blue cobbler.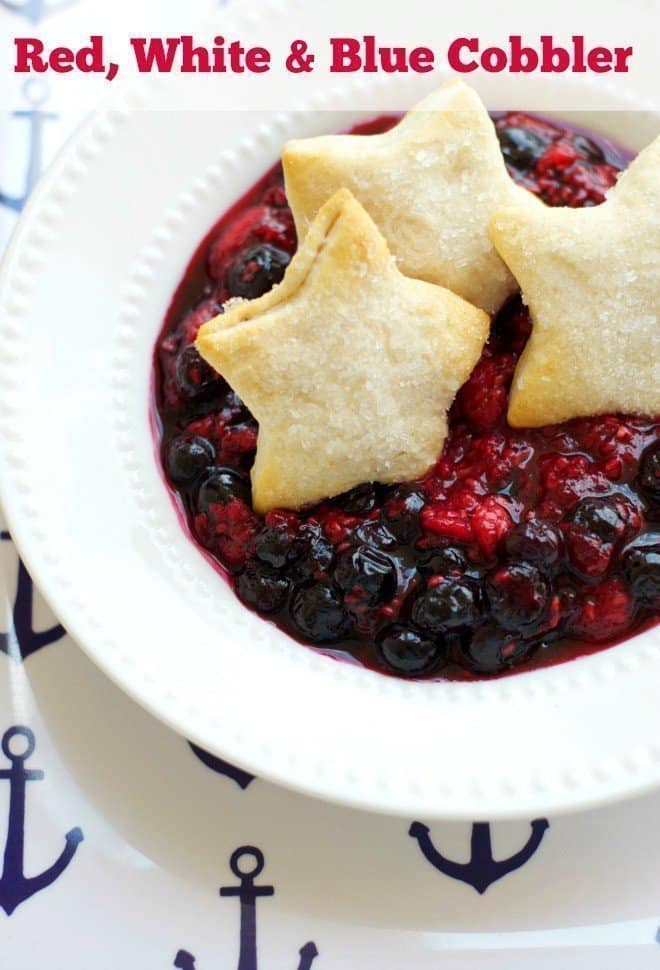 You can never go wrong with red, white and blue cupcakes.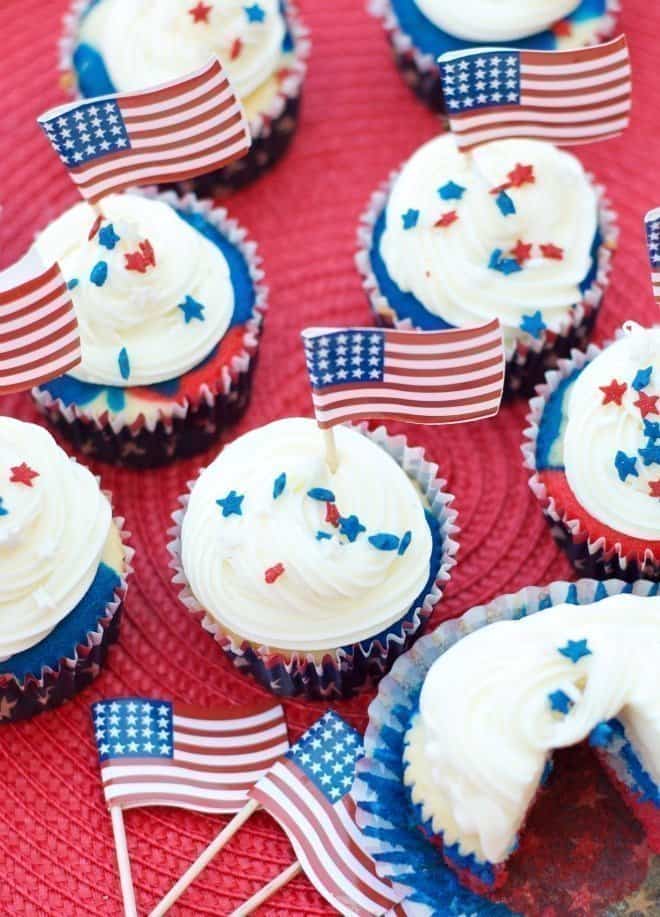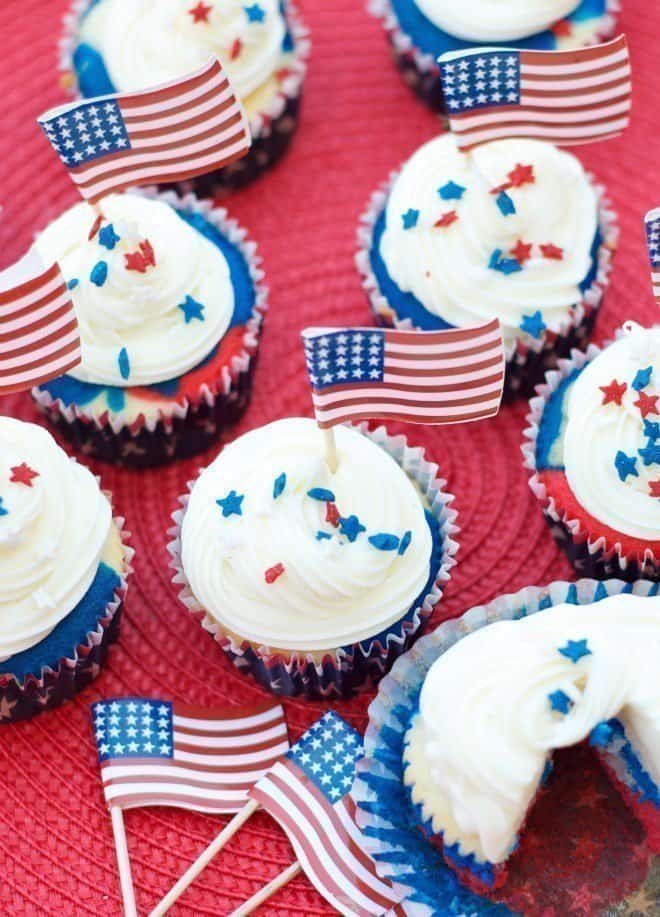 The kids may love these red, white and blue snack cups.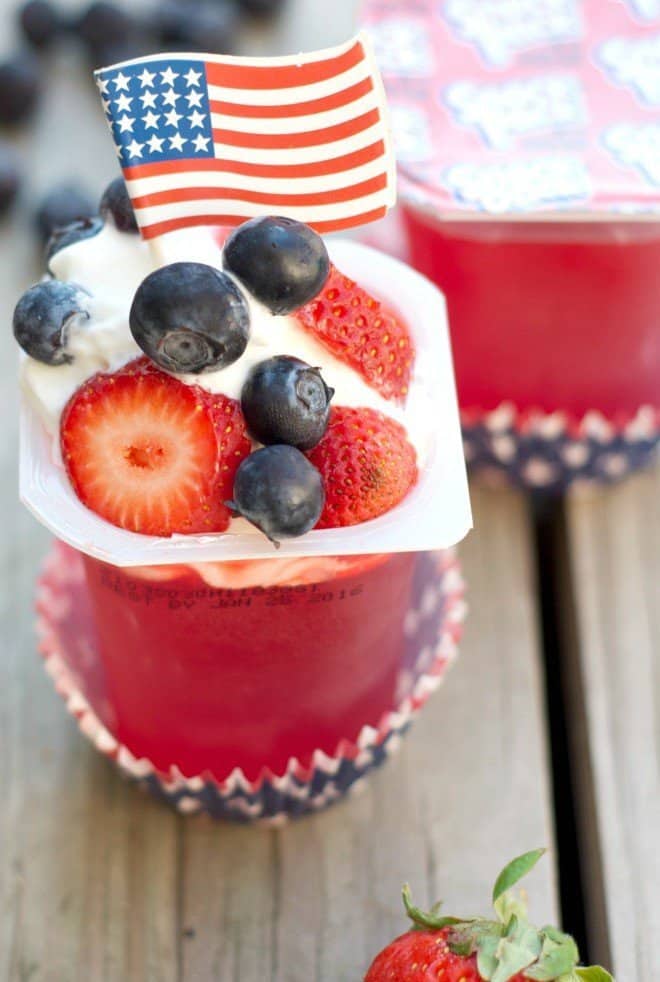 What are your plans for the 4th of July?