Maybe it's because I'm looking forward to spending a week at the beach in June. Maybe it's because I love all things tropical including pineapple, mango, and tropical islands.
Or, maybe it's because I'm yearning for summer. I can't help it. I'm a summer girl and Pineapple Mango Bowl is calling my name.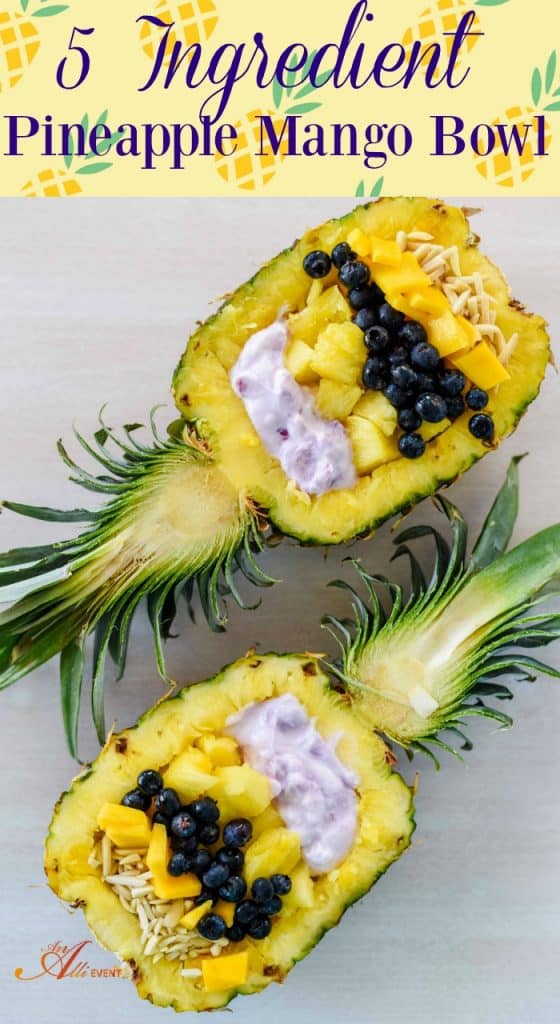 Actually, this Pineapple Mango Bowl is a breakfast bowl. But it's so pretty, we can rename it Pineapple Mango Snack Bowl or Pineapple Mango Party Bowl. It's way too cute to place in a breakfast box. Free the Pineapple Mango Bowl!
This recipe is so easy, a kid could do it – except for slicing the pineapple in half and cutting out the fruit. An adult needs to do that part.
Ingredients You'll Need To Make A Pineapple Mango Bowl (Complete Recipe Down Below!)
1 fresh pineapple
low-fat Greek yogurt
diced mango
blueberries
slivered almonds
For two servings, we'll need one for real pineapple – none of that canned stuff.
How To Tell If A Pineapple is Ripe
Once a pineapple is picked, it doesn't ripen any further. It is what it is.
There are three easy ways to tell if a pineapple is ripe.
Smell it – A pineapple should smell sweet, but not fermented. No smell means it's probably not ripe.
Squeeze it – It should be firm, but it should give very slightly when you squeeze it.
Weigh it – Pick up the pineapple to make sure it feels heavy for its size. The heavier the pineapple, the juicier. More juice also means a sweeter, riper pineapple.
Let's Make a Pineapple Mango Bowl with Slivered Almonds
Slice the pineapple in half length-wise. I think the crown adds beauty to this dish. However, if the crown of your pineapple is brown and dry, you can cut it off and toss it.
Carefully remove and dispose of the hard center core.
Cut out the fruit and chop it into bite-size pieces.
You will notice that my yogurt is blue in the photo below. Yes, it's blueberry Greek yogurt.
I asked my husband to stop by the grocery store and pick up low-fat Greek yogurt. I didn't know I needed to specify plain yogurt. So, he picked up blueberry. Actually, it's really good in my Pineapple Mango Bowl.
Arrange yogurt, chopped pineapple, chopped mango, blueberries, and almonds in rows in both pineapple halves. That's it.
Yield: 2 servings
Pineapple Mango Bowl with Slivered Almonds
Pineapple Mango Bowl is perfect for breakfast, brunch, or even dessert.
Ingredients
1 pineapple
1 cup low-fat Greek yogurt
1/2 cup diced mango
1/2 cup blueberries
1 Tablespoon slivered almonds
Instructions
Cut the pineapple in half vertically. Remove the hard center core and dispose of it. Scoop out the pineapple and chop it into bite-size pieces.
Dice the mango and layer the yogurt, pineapple, mango, blueberries, and almonds in rows.
Enjoy!
Nutrition Information
Yield
2
Serving Size
1
Amount Per Serving
Calories

188
Total Fat

4g
Saturated Fat

2g
Trans Fat

0g
Unsaturated Fat

2g
Cholesterol

11mg
Sodium

40mg
Carbohydrates

27g
Fiber

3g
Sugar

22g
Protein

13g
I propose a toast to tropical islands, pineapple, and mangos. Oh, and flamingos. I love flamingos. What's your favorite tropical fruit?
You May Also Like: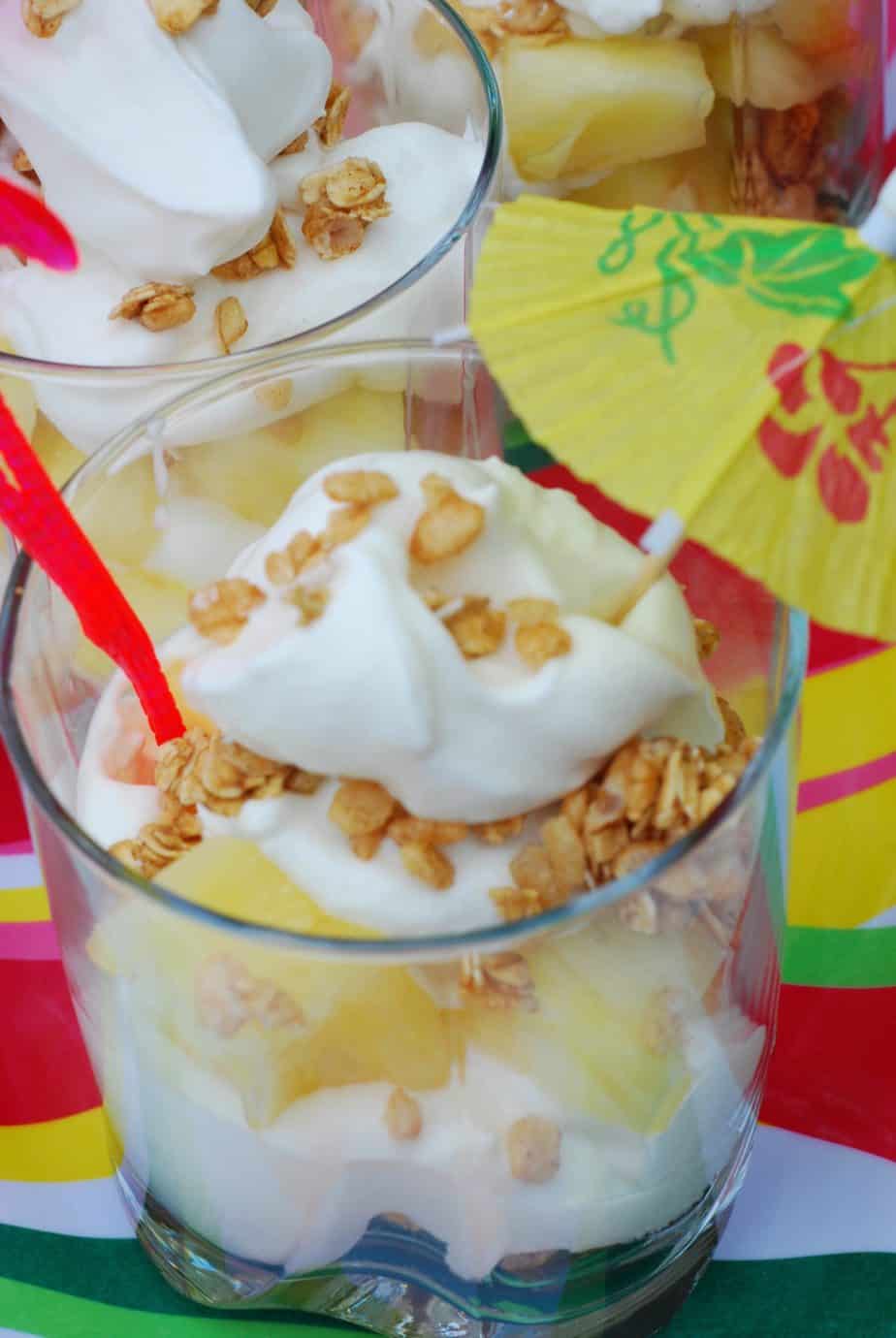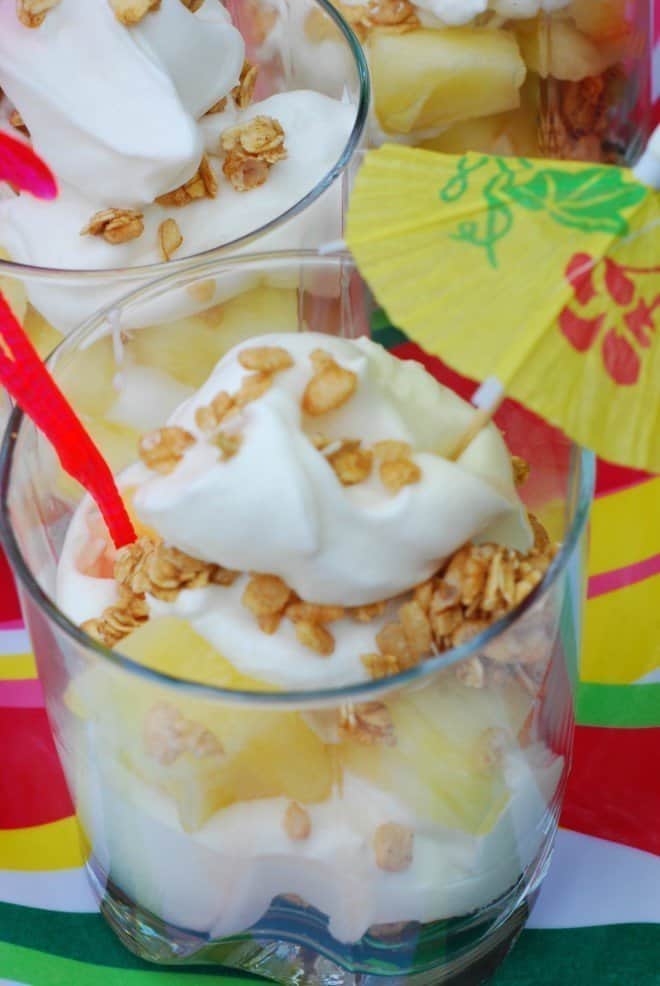 Grilled Ribs with Tropical Basting Sauce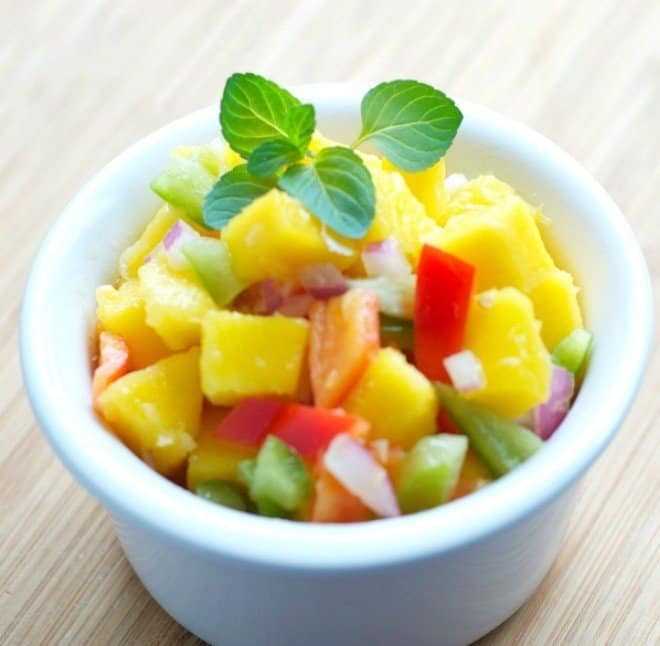 Originally posted in 2017 and updated in April 2022