It's been said, repeatedly, that breakfast is the most important meal of the day.  We've all heard it, right?
According to Web MD:
"Your mother was right: Breakfast really is the most important meal of the day. Not only does it give you energy to start a new day, but breakfast is linked to many health benefits, including weight control and improved performance. 
Studies show that eating a healthy breakfast (as opposed to the kind containing doughnuts) can help give you:
A more nutritionally complete diet, higher in nutrients, vitamins and minerals
Improved concentration and performance in the classroom or the boardroom
More strength and endurance to engage in physical activity
Lower cholesterol levels
Eating breakfast is important for everyone, but is especially so for children and adolescents. According to the American Dietetic Association, children who eat breakfast perform better in the classroom and on the playground, with better concentration, problem-solving skills, and eye-hand coordination."
When I was growing up I never ate breakfast – ever.  I was nauseated at the thought of eating so early in the morning and would gag when I brushed my teeth.
My mom would awaken me and I'd stumble bleary-eyed to the table and drink my cup of black coffee with 2 sugars while she begged me to eat just a few bites of breakfast.  No thanks to the food part, but thanks, mom, for letting me drink coffee when I was a child.  Starbucks thanks you, too and  I've carried on the tradition.  I let the grands drink decaf sometimes (with lots more milk than coffee).
Once I grew up (not quite there, yet) I continued to shun breakfast until about 3-1/2 years ago.  I'll tell you why I started eating breakfast in a later post.  It's too long and detailed to mention here.
If I was naturally thin I would probably have cinnamon rolls, waffles, pancakes or cookies every morning for breakfast. Since I'm not (why did I have to get the fat genes?) and I have to work hard to stay healthy, I only indulge in waffles and pancakes occasionally.
My mainstay, the breakfast I eat just about every morning once the weather turns cool, is my quick, easy & healthy winter breakfast.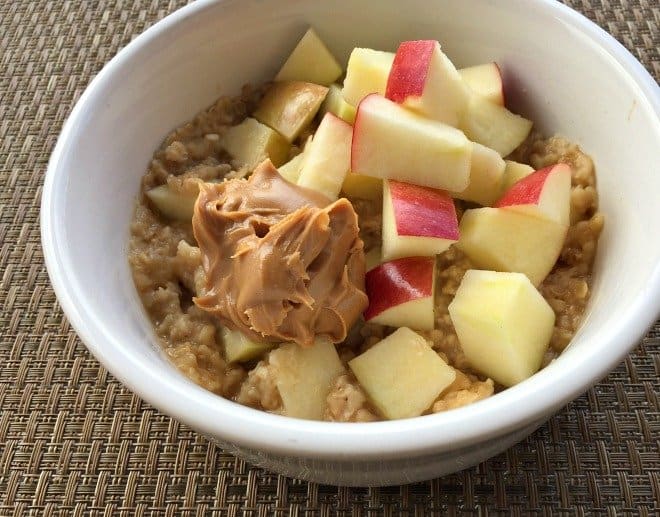 Maple & Brown Sugar Oatmeal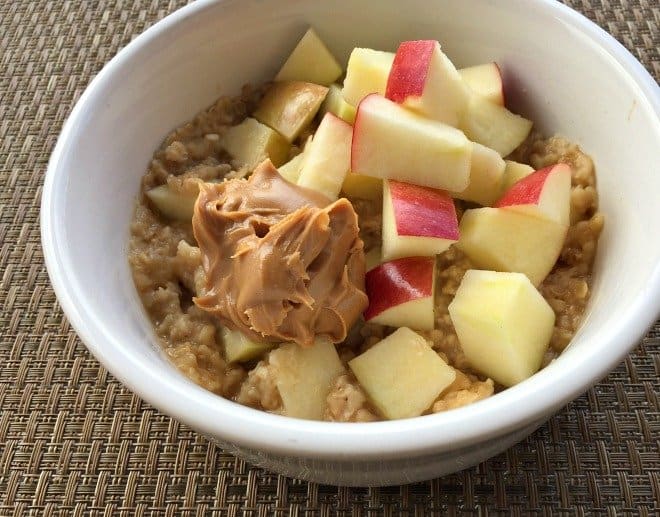 Ingredients
1 serving of Lower Sugar Maple & Brown Sugar Instant Oatmeal
Almond milk, unsweetened
1 Tablespoon peanut butter (I use all natural)
1 medium apple (I like honeycrisp)
Instructions
In a microwave safe bowl, combine oatmeal and 1/2 cup of unsweetened almond milk. Mix well. Microwave for one minute.
Stir in peanut butter.
Chop apple and add to oatmeal.
Nutrition Information
Amount Per Serving
Calories

300
 Helpful Hint:
 Sometimes I use a banana instead of an apple.  I've also added in dried cranberries and chopped pecans in place of the peanut butter.
Of course, you can substitute the instant oatmeal for regular oatmeal or steel-cut oats, but I like the convenience of instant.  It's partially cooked and dried for fast preparation. Contrary to popular belief, instant oats have the same nutritional benefits of regular oats. The biggest problem with instant varieties? The added sugar!   Your typical flavored brand will set you back at least 3 to 4 teaspoons of added sweeteners. Some brands may also add sodium as a preservative, but there are brands out there without it.  Check the box and find the best fit for you!
I'm not an expert, but I think the addition of the peanut butter (protein) helps me stay full longer.  And we all know that an apple a day keeps the doctor away.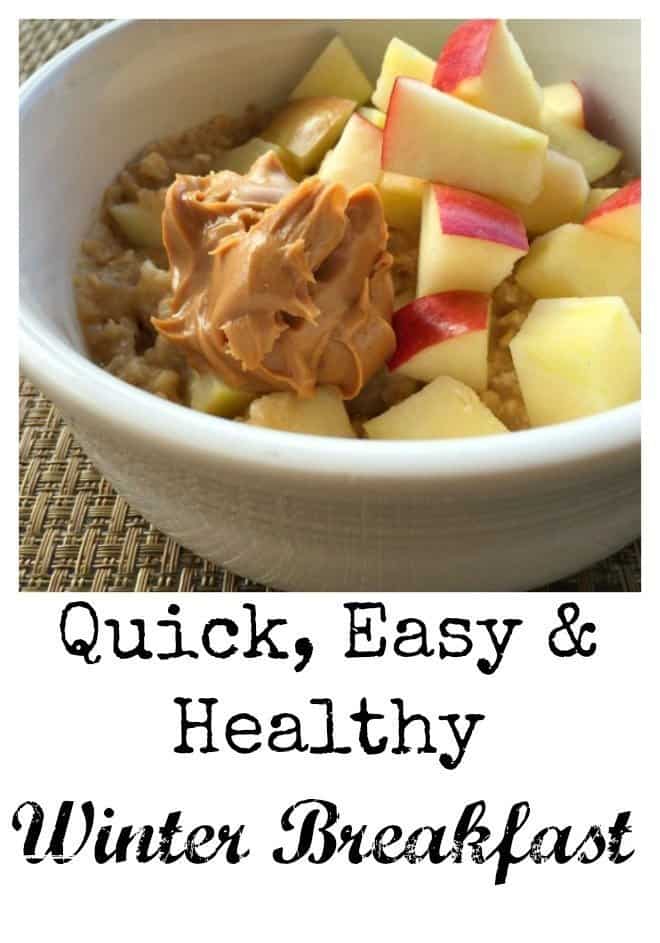 Do you eat breakfast?  If so, what's your favorite breakfast food?