Red Velvet Trifle is pretty, patriotic, and oh, so delectable. I forgot to mention easy. And the whipped cream cheese filling is out of this world good.
So, I'll use any excuse to make a red velvet cake. I mean, just think about all the holidays that red velvet can represent. There's Christmas, Valentine's Day, 4th of July, Labor Day and the list goes on and on.
Hey, you don't even have to be celebrating a special occasion to make this Red Velvet Trifle. I made it for Sunday dessert and it was the talk of the table.
If I had to name my favorite cake, red velvet is right up there at the tip top. I don't know if it's the cake or the cream cheese frosting. I guess it's both.
I'm also crazy about trifles. I once had a bundt cake stick to the pan and it looked horrible. So, I made a trifle. Ain't no shame in my game. I did everything right with that bundt cake but it still stuck. Twice – but not the same day.
Red Velvet Trifle
Grease and flour two 9-inch cake pans.
Sift together flour, sugar, soda, salt, and cocoa. Add the remaining ingredients to the mixing bowl and mix until well combined, about 2 minutes.
Pour batter into the prepared pans and bake at 350ºF for 25 minutes or until a toothpick inserted near center comes out clean. Cool for 10 minutes in the pan on a cooling rack. Remove and cool completely on cooling racks.
The Filling
I don't use my regular cream cheese frosting for this trifle. A whipped cream cheese frosting is perfect for this. I double the cream cheese and add heavy whipping cream to make a light, delicious filling.
Beat cream cheese, sugar, salt, and vanilla together until creamy. Slowly add the heavy whipping cream. Beat on low until thick and creamy. Be careful not to overbeat. You'll end up with butter.
I use my stand mixer with the whisk attached. When the whipped cream starts to barely thicken, I stop the mixer every 20 seconds and check the thickness. If you overwhip, the cream becomes grainy and separates.
How to Layer The Trifle
In a large trifle dish or glass bowl, place one of the red velvet cake layers.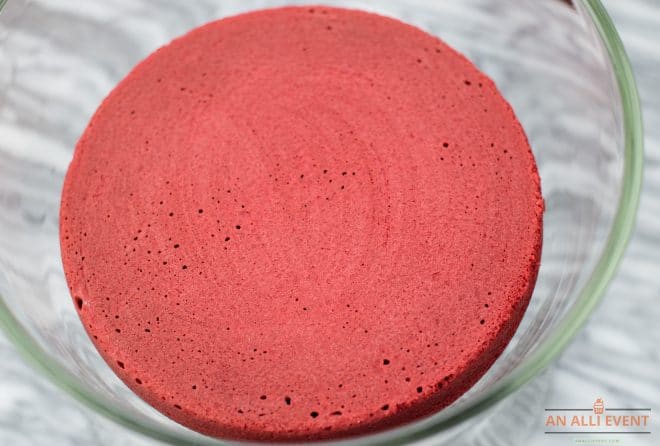 Spoon half the cream cheese mixture over the cake.
Add a layer of blueberries.
Top with the other red velvet layer and spread the remaining frosting on top. Add a layer of halved strawberries.
Add a few blueberries. Chill, covered, in the fridge until time to serve.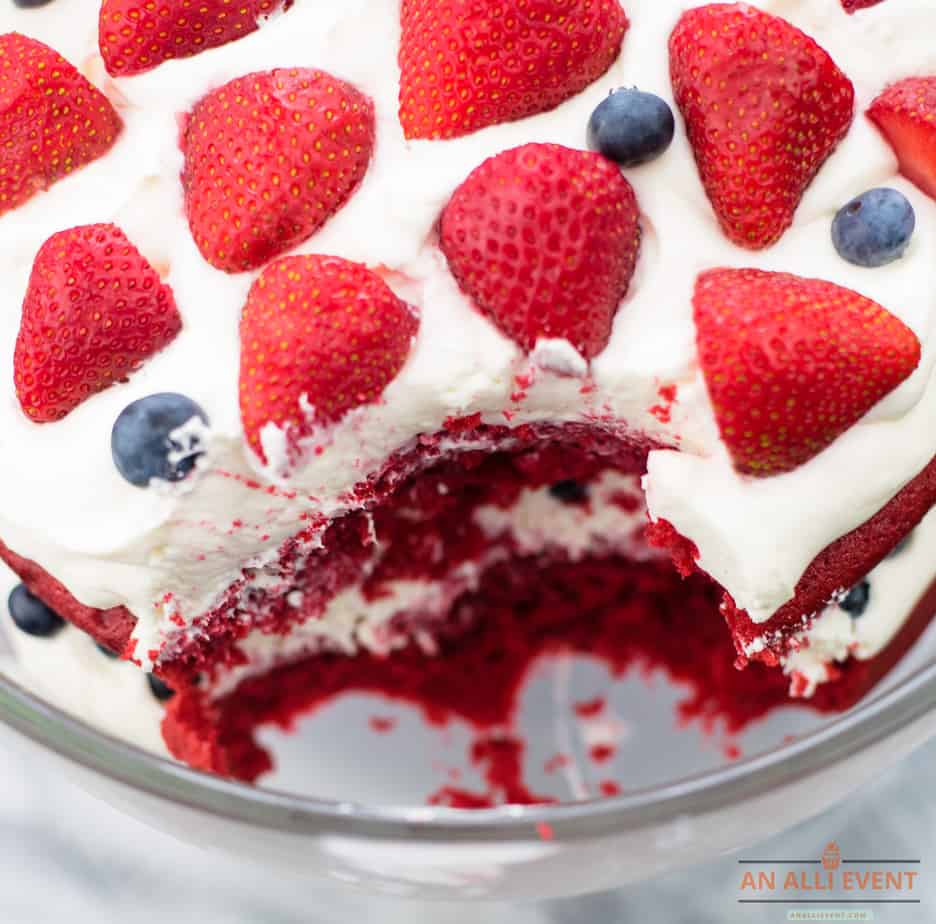 You Can Also Use a Red Velvet Cake Mix
If you don't want to make a red velvet cake from scratch, use a cake mix. Add a teaspoon of vanilla and bam. I won't tell.
At one time, I was a boxed mix snob. I learned that I could gussy up a boxed mix and no one would be the wiser. When I'm hard-pressed for time, I'll grab a boxed mix in a New York minute.
Yield: 14 Servings
Red Velvet Trifle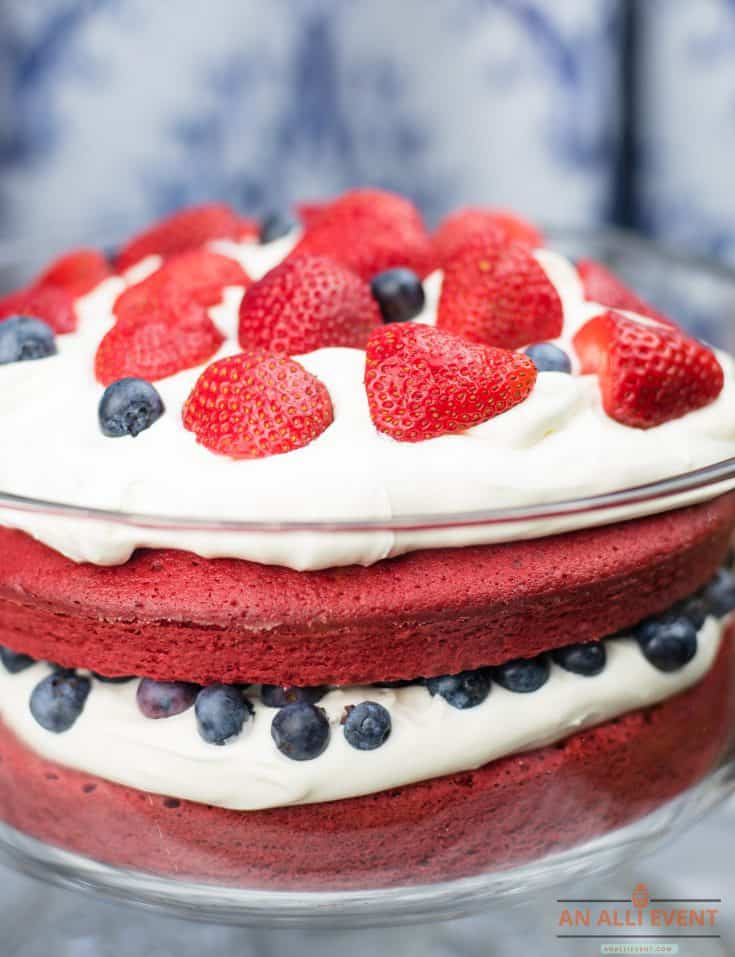 Additional Time
10 minutes
Ingredients
2-1/2 cups all-purpose flour
1-1/2 cups sugar
1 teaspoon baking soda
1 teaspoon salt
2 Tablespoons cocoa powder
1 cup buttermilk
1-1/2 cups vegetable oil
1 teaspoon vinegar
2 eggs
1 (1 oz.) bottle red food coloring
1 teaspoon vanilla
Filling
2 (8 oz. each) packages cream cheese, softened
1 cup granulated sugar
1/8 teaspoon salt
1 teaspoon vanilla
2 cups heavy whipping cream
2 cups blueberries
1 cup strawberries, hulled and halved
Instructions
Preheat oven to 350º F.
Grease and flour two 9-inch cake pans.
In a mixing bowl, sift together the flour, sugar, soda, salt and cocoa.
Add the buttermilk, vegetable oil, vinegar, eggs, food coloring and vanilla. Mix on low until moistened. Mix on medium until well combined, about 2 minutes.
Pour into cake pans and bake for 25 minutes or until a toothpick inserted near the center comes out clean.
Let cool for 10 minutes in pans on cooling racks.
Remove from pans and cool completely.
Filling
On medium speed, beat cream cheese, sugar and salt together in a mixing bowl. On slow speed, add the heavy whipping cream slowly. Continue to beat until creamy and thick, being careful not to over beat.
Layer the Trifle
Add a cake layer to the bottom of a trifle dish. Spread half of the cream cheese filling over the cake. Add a single layer of blueberries.
Add the other cake layer. Spread the remaining cream cheese mixture over the cake. Top with halved strawberries and a few blueberries.
Nutrition Information
Yield
14
Serving Size
1
Amount Per Serving
Calories

587
Total Fat

38g
Saturated Fat

10g
Trans Fat

1g
Unsaturated Fat

25g
Cholesterol

68mg
Sodium

319mg
Carbohydrates

59g
Fiber

2g
Sugar

40g
Protein

5g
If you're looking for the perfect dessert for your next celebration, this is it.
You May Also Like
Patriotic Party & Flourless Chocolate Chip Peanut Butter Cookies