This post, How to Self-Water Container Plants While on Vacation, contains affiliate links. If you click on a link and make a purchase, I may receive a small commision, with no additional cost to you. 
Summer vacation season is finally here. Now that I've got flowers blooming on my front porch in containers, we're headed to the beach for a week. Great! How will I keep those plants alive? I could ask someone to stop by my house and water my plants, but I hate to bother my friends. So, instead, I'm going to self-water container plants while on vacation.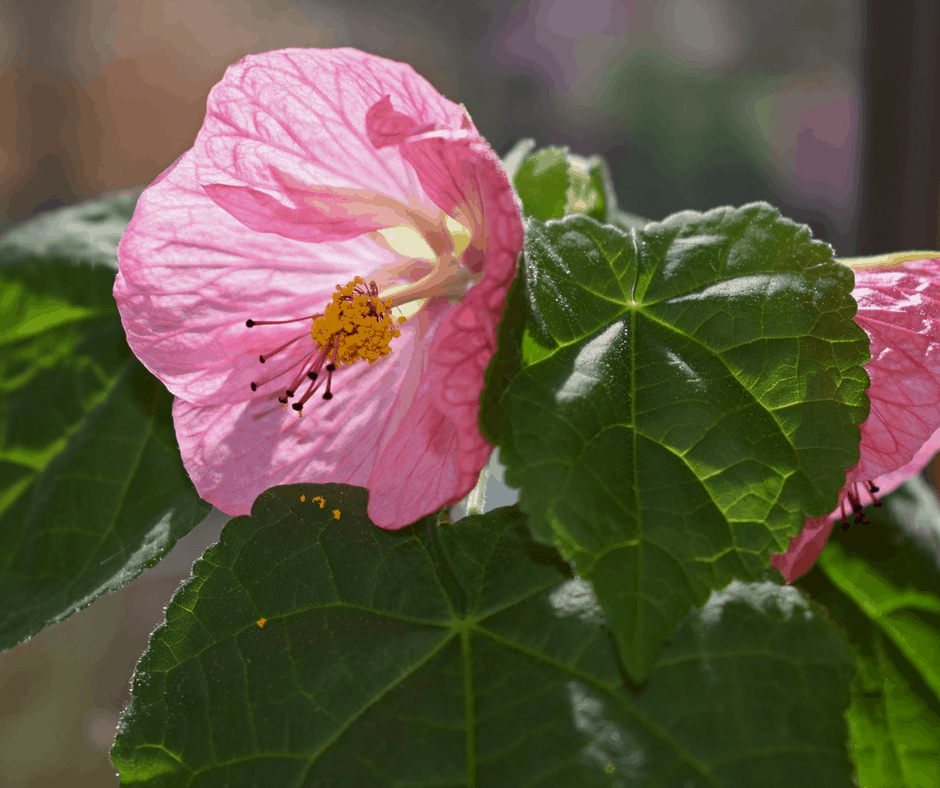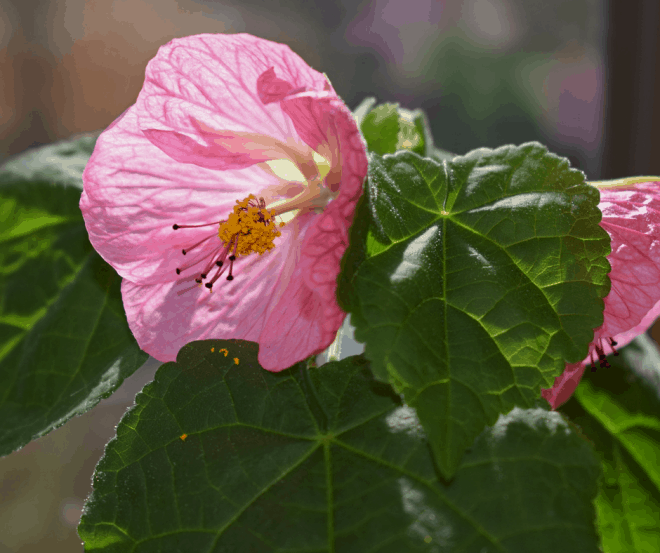 I always spend months dreaming of summer vacations. We usually vacation with the kids and grandkids at our favorite home state beach. We've been enjoying family vacations in North Myrtle Beach for over 20 years. Every July, my husband and I spend two weeks on a Caribbean island. It's our own little getaway for just the two of us. That never happened until the kids grew up and flew the nest. Now, it's an annual thing.
Beach vacations are always a blast and a half. I'm such a beach bum! However, I don't want to return home to dead flowers and plants after spending so much time planting and watering them.  With that in mind, I'll show you how I self-water container plants while on vacation. It works every time.
Self-Water Container Plants While On Vacation
Use Plastic Bottles 
You can use two-liter plastic soda bottles to water your plants while you're away on vacation.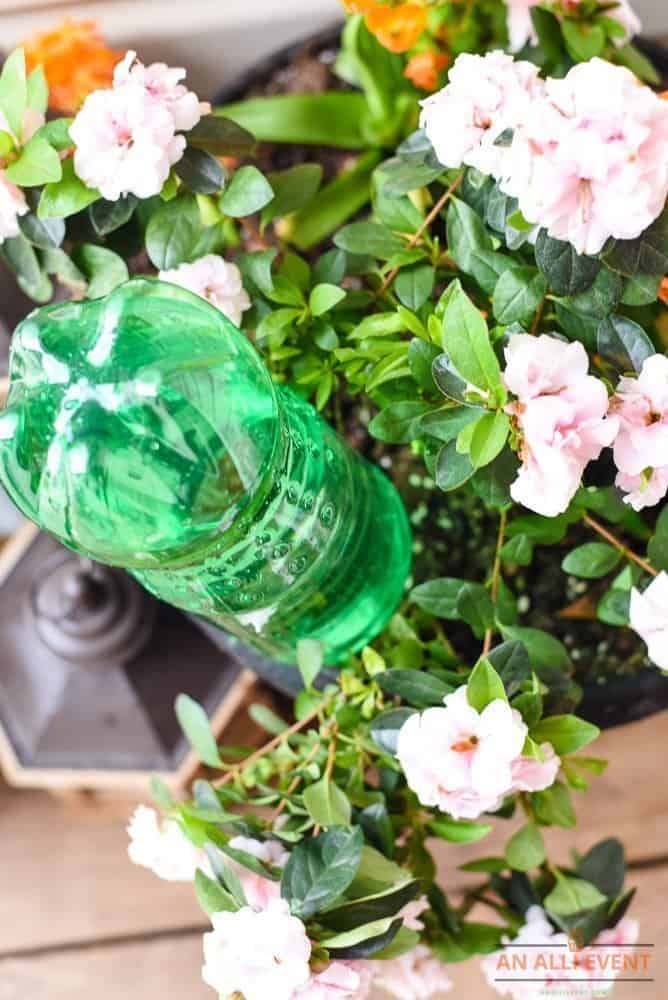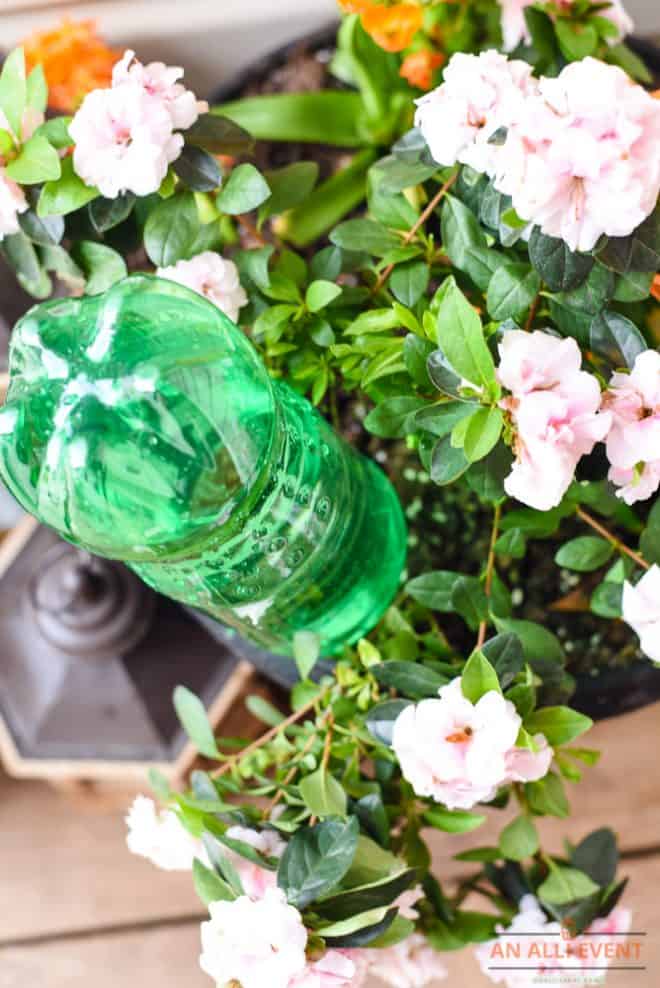 Use a small nail and a hammer to tap the nail into the center of the cap of a two-liter bottle. I went ahead and made two little holes. Oops. I should have gone with one.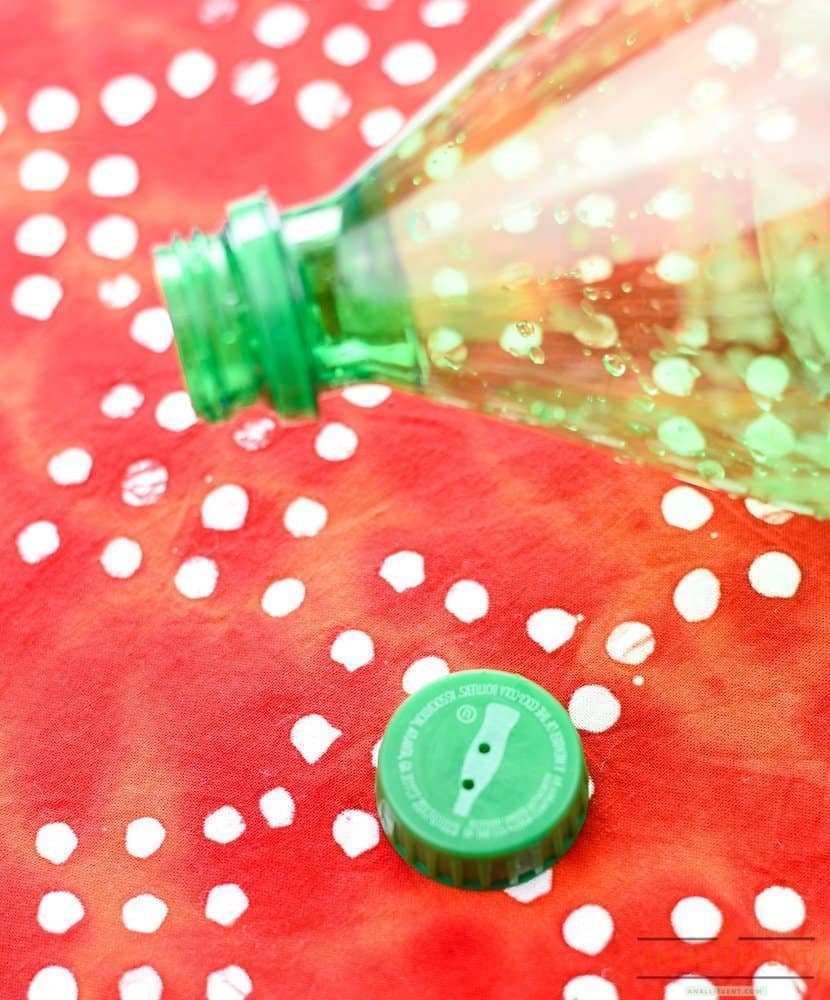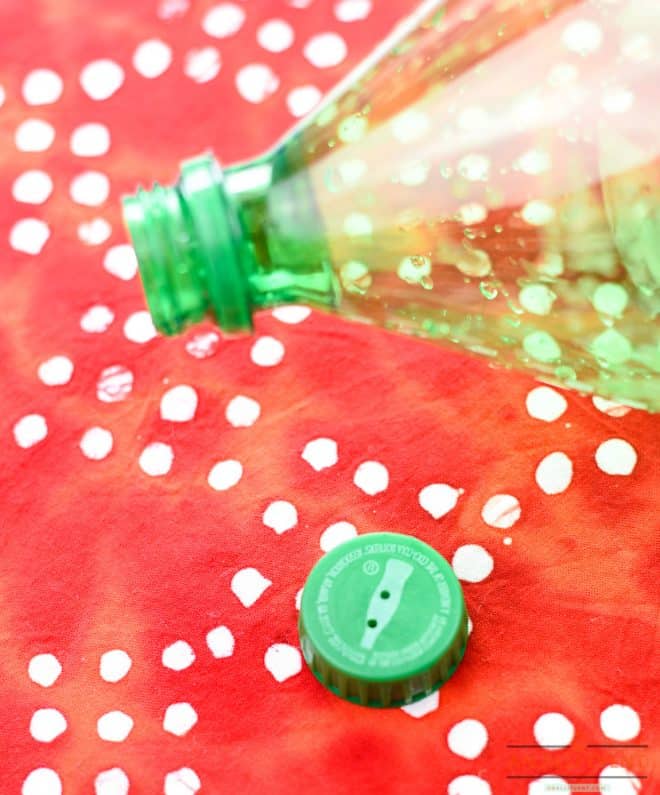 Fill the bottle with water and screw on the cap with the nail hole in the center.
Water the soil thoroughly.
Insert the bottle upside down into the soil, making sure it won't tip over.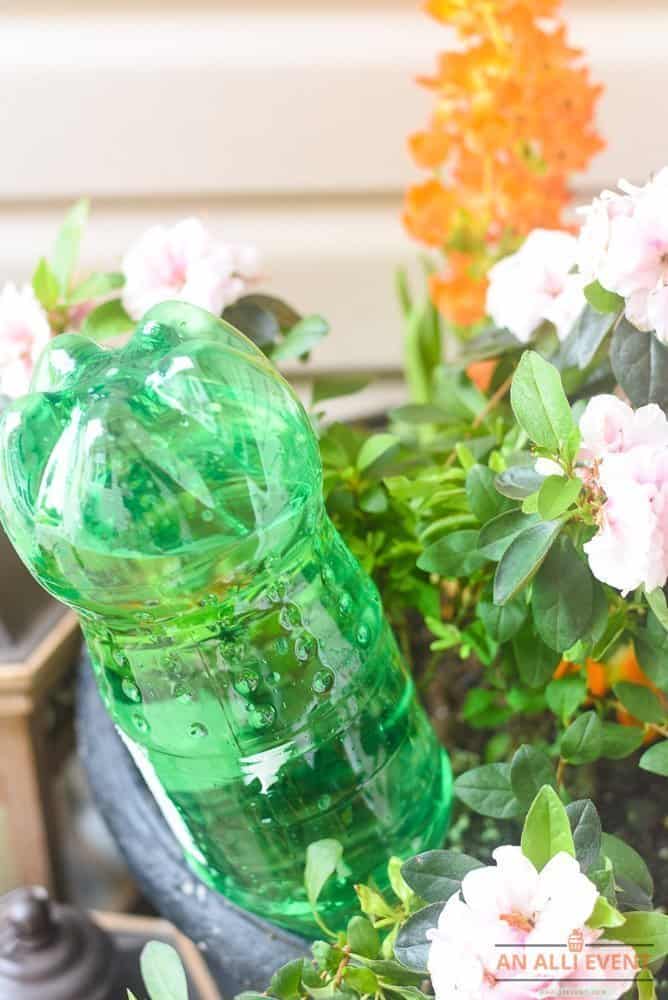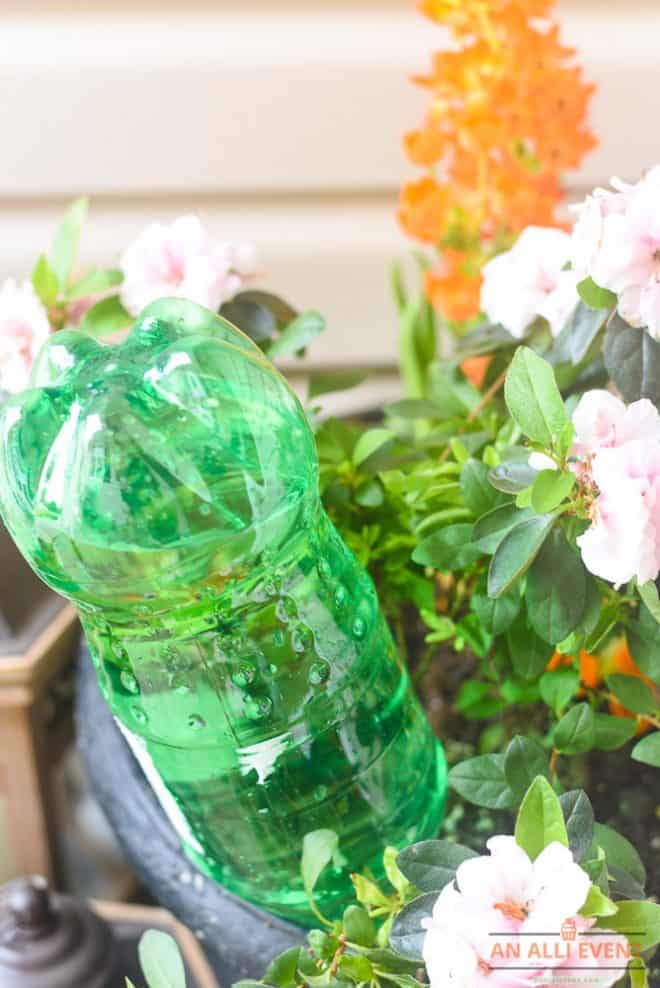 Repeat the process with other container plants (one bottler per container).
Buy Plant Watering Globes
If you don't want to take the time to make your own self-watering system, grab some plant watering globes. They are inexpensive and prettier than plastic two-liter bottles.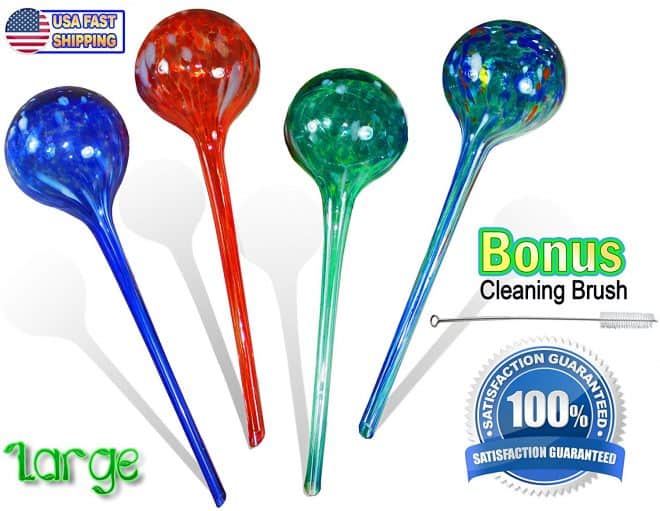 What About Self-Watering Spikes?
Terracotta Wine Bottle Stake Set works with wine bottles. You can use them indoors or outdoors. "Soak the terracotta plant waterer in water first. It will prevent them from pulling moisture quickly from the bottle. Fill long neck glass bottles with water and set the terracotta plant waterer on the top of the bottles. Simply flip them over and place the self -irrigation watering system into your indoor/outdoor planter."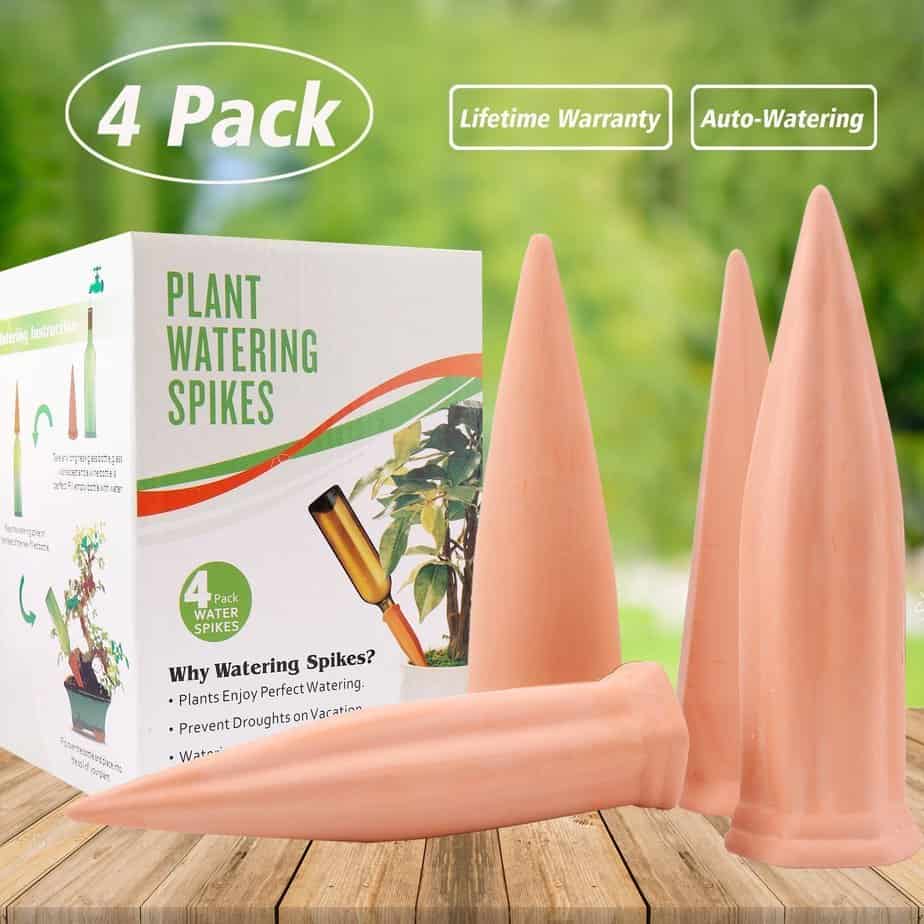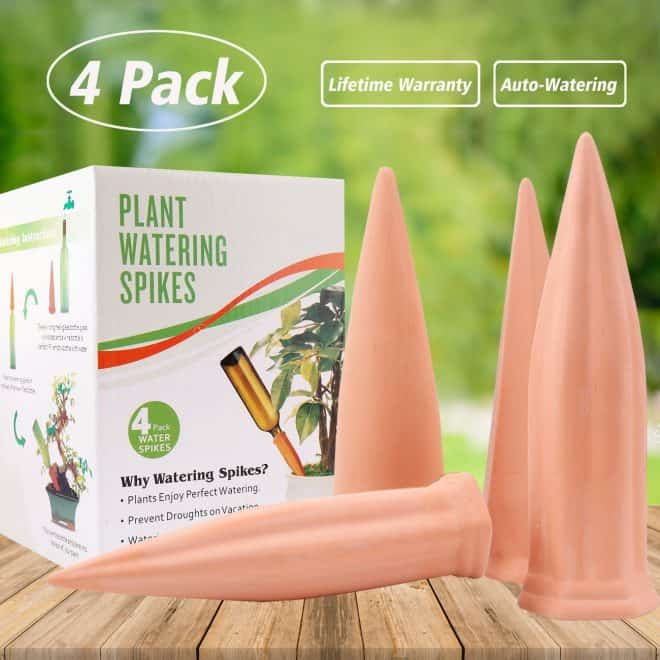 DIY String Drip System
You will need:
A gallon jug – Place a gallon size jug next to your container plant. Again, saturate the soil well before leaving for vacation.
Cotton or Nylon Twine
Place one end of the string in the jug. It needs to touch the bottom. Place the other end of the string into the soil at the base of the plant. Fill the jug with water. Make sure the mouth of the jug is above the base of the plant. Sit it on something to elevate it so that the mouth of the jug is higher than the plant base. The water must be able to drip down the string.
Helpful Hint: Be sure and use the correct type string. It must be able to hold water for this to work.
How do you water container plants while on vacation? Do you get a neighbor or friend to water your plants or do you self-water container plants?