Our Sunday family dinners wouldn't be complete without banana pudding. Usually, I make half with bananas and the other half without.
The grandkids like bananas, but they don't like them in banana pudding. I know, it's way weird, but it is what it is. My son, on the other hand, likes a banana in every bite.
This time around, on a whim, I decided to ditch the vanilla wafers and use Pecan Sandies to make Pecan Sandies Banana Pudding. For even more pecan recipes, check out my best recipes featuring pecans.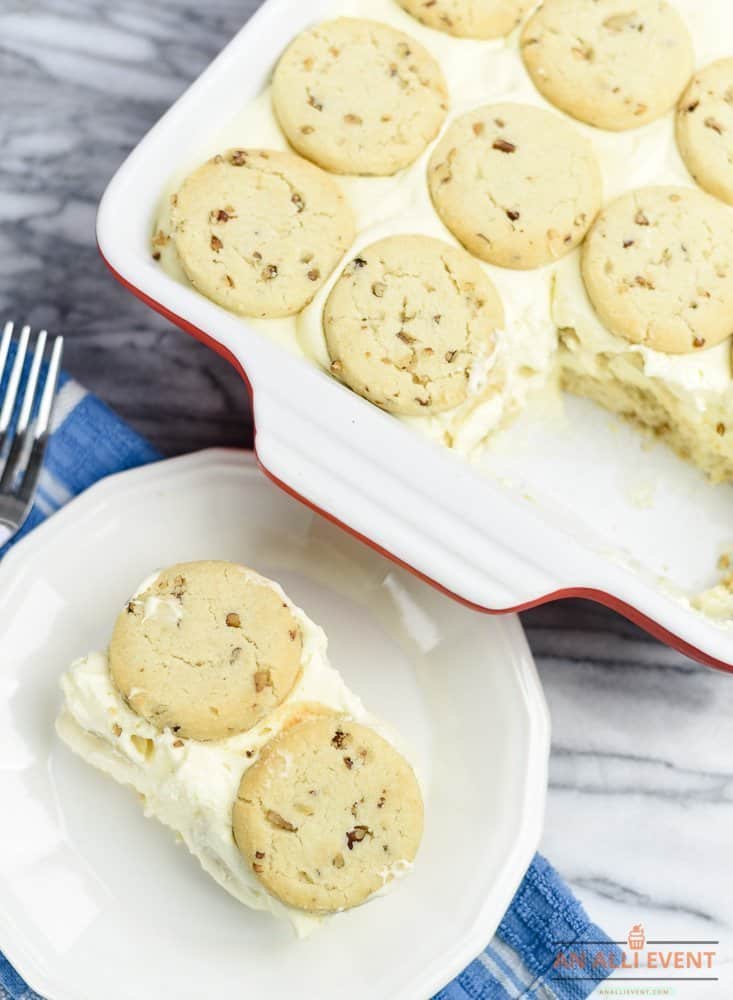 When I make banana pudding, it's never the old fashioned "from scratch" kind. I never developed a taste for it (sorry, grandma). So, it's instant pudding for this girl.
My regular banana pudding is made with instant vanilla pudding, milk, whipped topping, bananas (half bananas) and vanilla wafers. My daughter always adds sweetened condensed milk and cream cheese. A friend always uses Paula Dean's recipe.
So, I thought I'd throw caution to the wind and come up with my own version replacing the vanilla wafers with pecan sandies. Why? Because I can. And I like to experiment. Just in case you don't know, pecan sandies are way up on the list of my all-time favorite cookies.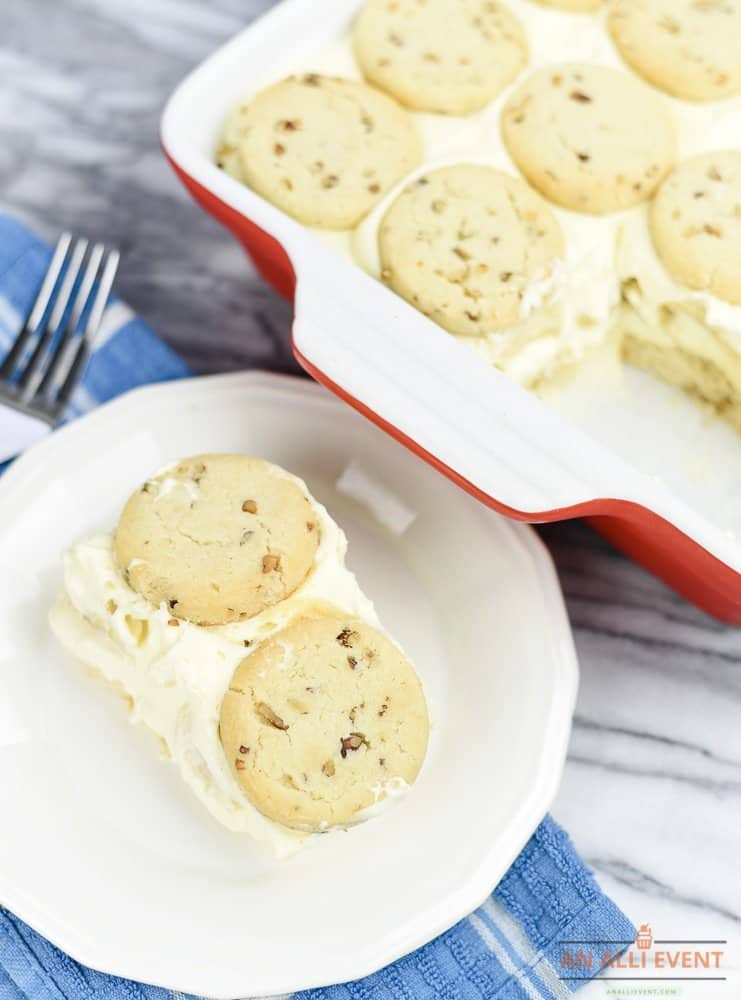 My family members are brutally honest when I ask them to try a new recipe I've whipped up. They will let me know if something is a hit or a miss. So, I'm going to let them be the judge of this dessert.
Pecan Sandies Banana Pudding
According to my family, I hit it out of the park when I created Pecan Sandies Banana Pudding. Most of my family likes it better than the traditional kind. One of the grandkids doesn't like nuts in his cookies so he ate the pudding around the cookies. There were no leftovers. Score!
When I was putting Pecan Sandies Banana Pudding together, I was tempted to leave out the sweetened condensed milk. I thought it may be way too sweet. Surprisingly, it was not overly sweet at all. Yay!
To make the banana pudding, whisk together the instant pudding mix and milk according to the package directions. Set aside.
Combine softened cream cheese and sweetened condensed milk in a mixing bowl. Beat with an electric mixer until smooth. Mix together the instant pudding mixture and cream cheese mixture. Fold in the whipped cream.
Line a 13×9 pan with pecan sandies.
Add half the pudding mixture. Top with sliced bananas.
Add the remaining pudding mixture. Top with pecan sandies. Refrigerate for a couple of hours or until ready to serve.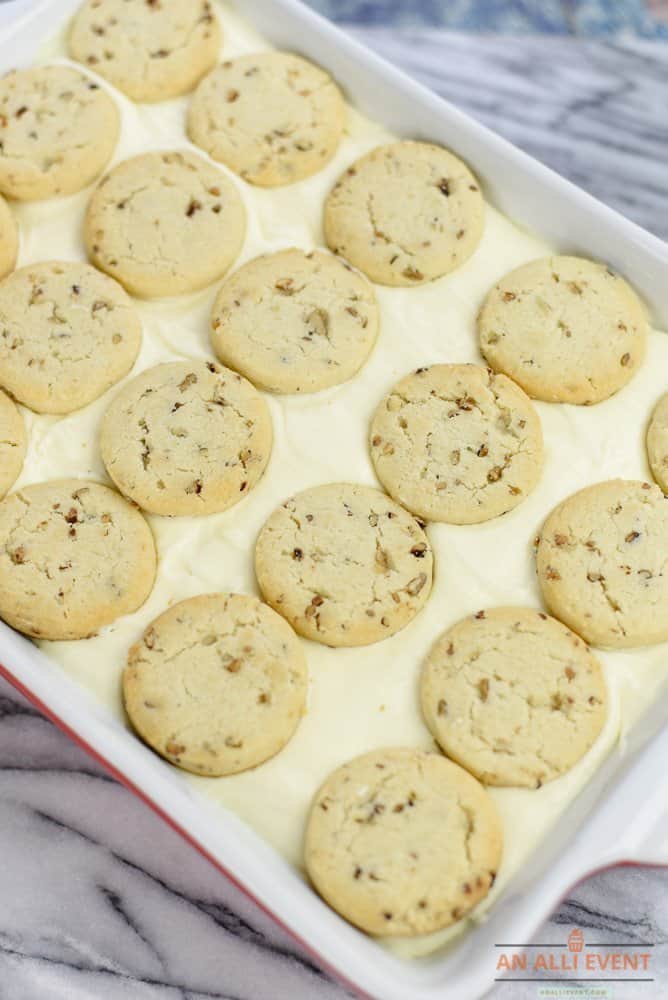 Yield: 12 servings
Pecan Sandies Banana Pudding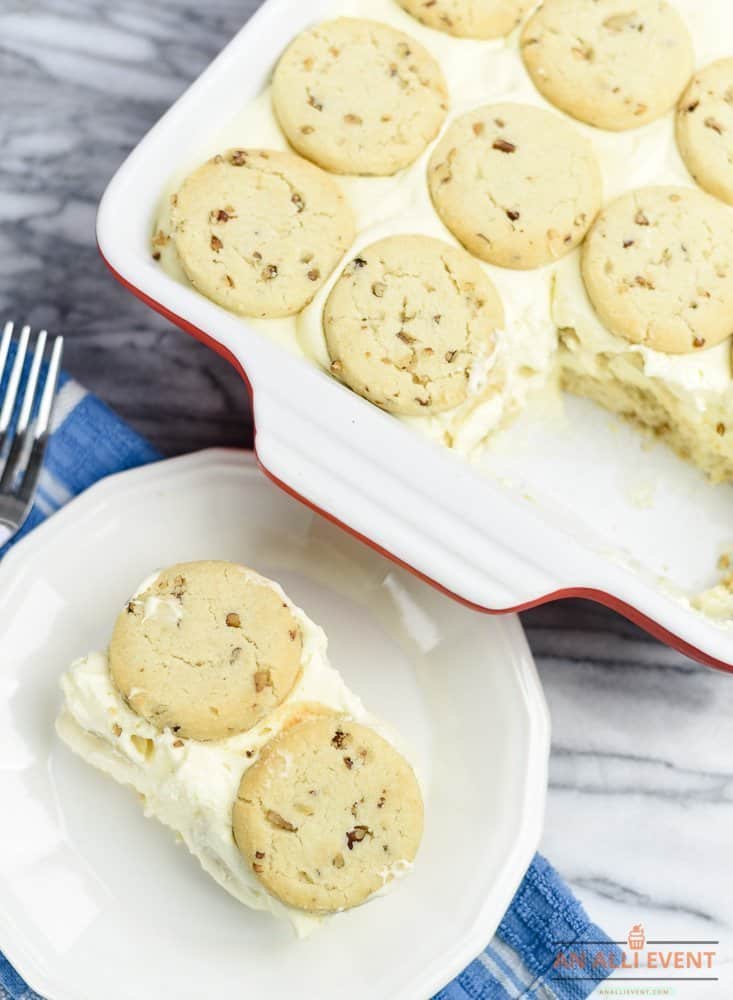 Pecan Sandies have always been a favorite of mine. I like them so much that I decided to make a Pecan Sandies Banana Pudding. This is a crowd favorite. It's creamy and the cookies soften a bit as they chill in the fridge.
Ingredients
2 packages Pecan Sandies
2 cups milk
1 large box instant vanilla pudding (5.1 oz)
1 12-oz container whipped topping
1 14-oz can sweetened condensed milk
1 8-oz package cream cheese, softened
4-5 bananas, sliced
Instructions
In a bowl, whisk together the milk and vanilla pudding. Set aside.
In a mixing bowl, combine softened cream cheese and sweetened condensed milk. Beat with an electric mixer until smooth.
Combine the vanilla pudding mixture and the cream cheese mixture until well combined. Fold in the whipped topping.
Line the bottom of a 13x9 baking dish with the cookies. Add half the pudding mixture. Top with sliced bananas. Add the rest of the pudding and top with cookies. Refrigerate until ready to serve.
Nutrition Information
Yield
12
Serving Size
1
Amount Per Serving
Calories

390
Total Fat

20g
Saturated Fat

13g
Trans Fat

0g
Unsaturated Fat

5g
Cholesterol

38mg
Sodium

167mg
Carbohydrates

49g
Fiber

1g
Sugar

40g
Protein

7g
Pecan Sandies Banana Pudding is the perfect sized dessert when you're feeding a large crowd like mine. If you're fortunate enough to have leftovers, it's good the next day too. I rarely have leftover dessert and if I do I send it home with the kids because it's way too tempting.
When you try this dessert (and you should) don't make it too far in advance. Make sure you make it a few hours before you're serving it so that the pudding mixture can soften the cookies a bit. I usually make it on Saturday night and it's amazing when I serve it after Sunday lunch.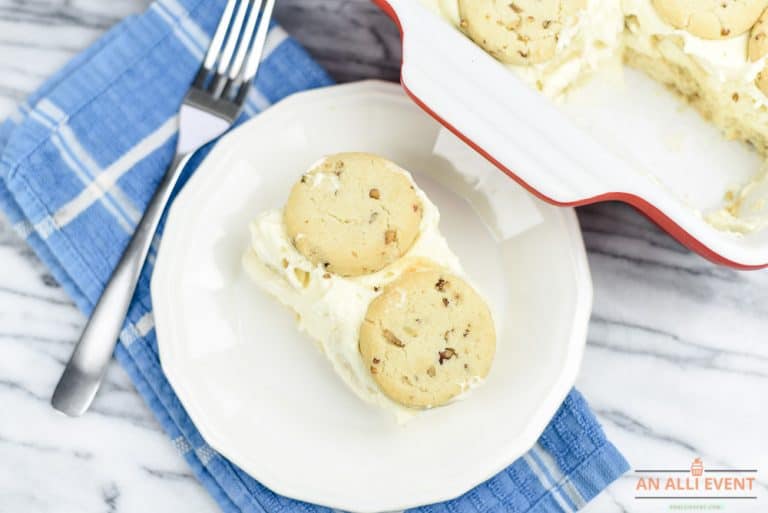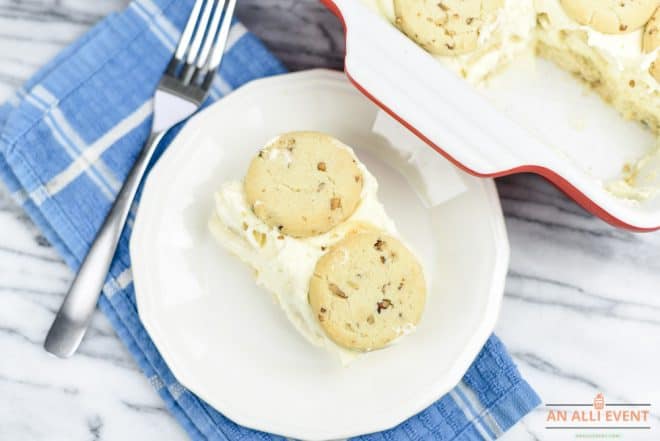 Now, I need to decide what I'm making for the entree. It has to be made in the slow cooker (because, church, you know) and enough to feed 16. Decisions. Decisions.
P.S. – I went with beef brisket for the entree.
You May Also Like
Milano Cookies Chocolate Eclair